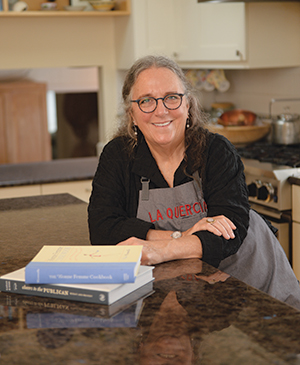 Writer: Wini Moranville
Photographer: Duane Tinkey
One of my favorite "I'm from Iowa and proud of it" moments occurred when I was eating my way through Los Angeles. At the renowned A.O.C. restaurant (which honors food and wines made from very specific regions of the world), I spotted La Quercia Prosciutto Americano on the menu. I couldn't resist mentioning to our server that La Quercia's cured meats were made in Norwalk, down the road from where I live in Iowa. I also happened to let it drop that its founders, Herb and Kathy Eckhouse, lived in my neighborhood and that I crossed paths with them frequently.
"You know those people?" our waiter said. He couldn't have been any more impressed had the subject of my name-dropping been Bruce Springsteen.
The Eckhouses are indeed rock stars in the food world; they've consistently earned accolades and recommendations in newspaper food sections from The New York Times to the Los Angeles Times; they've also been featured on the pages of Vogue, Bon Appétit, Esquire and Saveur, among other glossy national publications. Their cured meats appear on the tables of many esteemed restaurants as well.
As fans of La Quercia ourselves, we asked Kathy to cook up a recipe that showcases the couple's cured meats and also speaks to the way they cook at home, especially at the end of a long day at the Norwalk plant.
"I am a firm believer of using great ingredients and not screwing them up, which I think is the genius of Italian cooking," Kathy says. Easygoing pasta dishes, such as this one with pancetta and leeks, make their way to the Eckhouses' table and can vary depending on what she has on hand. She takes a similar approach to salads, soups and homemade pizza (with homemade dough she makes ahead and freezes).
We loved Kathy's pasta recipe for its combination of delicate flavors and utter simplicity. We thought it was also perfect for spring: The light green leeks hint at the growing season to come, but the dish's heartiness will see us through some cooler days still headed our way.
---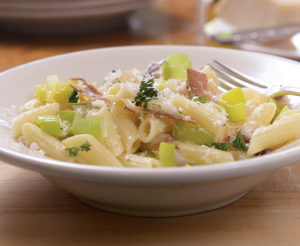 Pasta With Pancetta and Leeks
Courtesy of Kathy Eckhouse, La Quercia
2 tablespoons olive oil
2 to 3 tablespoons butter, divided
6 leeks, white and pale green parts only, split lengthwise, cut in 1/4-inch pieces rinsed and drained well (about 4 cups total)
1 3-ounce package of La Quercia Pancetta Americano sliced into 1/4- to 1/2-inch pieces
1 pound package dried pasta, such as cannolicchi, farfalloni, fusilli, rigatoni or penne rigate
1 cup finely grated Parmigiano-Reggiano cheese, plus some cheese for serving
Salt and freshly ground black pepper to taste
Fresh minced parsley
Heat the olive oil and 1 tablespoon of the butter in a large skillet over moderate heat. Cook the leeks in the hot oil/butter mixture, stirring, until soft but not brown. Add the pancetta and cook until pancetta is cooked through; do not allow the meat to crisp. Season to taste with salt and pepper. Set aside.
Bring a large pot of salted water to boil. Add pasta and cook according to timing recommended in package directions.
Do not drain.
Set the leek mixture on low heat next to the pasta pan. Using a slotted spoon or a mesh strainer, transfer the pasta in batches to the leek mixture. Once all the pasta has been added, cook and stir the pasta and leek mixture over moderate heat, adding some hot pasta-cooking water (up to 1 cup) if it seems dry.
Once everything is mixed together, add the cheese and 1 to 2 tablespoons of additional butter; stir well and check seasoning again, adding salt and pepper as needed.
Serve in warmed pasta bowls, topped with minced fresh parsley; pass a bowl of grated Parmigiano-Reggiano cheese at the table. Makes 6 servings.
---
Tips From the Cook
It's all in the details! Kathy Eckhouse offers the following tips for turning a handful of ingredients into something divine:
Use a high-quality imported pasta. Kathy likes the Rustichella d'Abruzzo brand (available at Gateway Market).
Rinse the leeks well, as grit from the fields may have settled into their layers. After slicing, place in a deep bowl of water. "Swish them around a bit, drain, repeat," Kathy advises.
To slice the pancetta, leave the pieces together after removing them from the package. Slice crosswise, then lengthwise. The pieces will separate during cooking.
Use a microplane to grate the Parmigiano-Reggiano, as this dish is all about delicacy. "That way, the cheese is extremely fine and fluffy," Kathy says.
Don't drain the pasta after cooking. Rather, fish the pasta out with a slotted spoon or mesh scoop. "This keeps the pasta nice and moist; plus you have the pot of water to add to moisten the dish as needed," Kathy advises.
Like many great pasta tosses, this recipe is adaptable to what you have on hand and what's looking great at the market. "You can add mushrooms or peas or whatever you have around," Kathy says. "Add more pancetta, more cheese, more leeks, if you like." Kathy sometimes adds 1/3 cup of white wine when she adds the leeks. "It adds some depth and a touch of acidity," she says. (Personally, we loved the inspired simplicity of the recipe as written.)