Above: Above Santa Fe, Sun Mountain beckons hikers to explore the region's natural beauty. Photography courtesy of tourism Santa Fe.
The New Mexico city's culture and history captivate Ellen and Jim Hubbell.
Writer: Lisa Lavia Ryan
Jim and Ellen Hubbell's love affair with Santa Fe, New Mexico, happened by accident.
"Jim and I had both been to Santa Fe, independently and together, earlier in our lives and in visiting friends while we were dating, and we both had a positive impression of the city," Ellen Hubbell says. "It just so happened that as time went on, many of our friends ended up owning homes there."
On one of their visits, when they were at breakfast, one of those friends "suddenly said, 'Ellen and Jim, you have one more day in Santa Fe, and I know a real estate person. Let's go!' "
The Hubbells immediately staked their claim, Ellen says: "We saw a particular house, liked it, came back to Des Moines, and I was in a meeting one day when Jim texted me—he never texts me, so I knew it was a big deal—and said, 'It's ours.' 
"It took me a moment to realize he was talking about the house. I didn't even know he was putting in an offer—but you either 'get' Santa Fe or you don't, and he knew I was smitten."
Five years later, the Hubbells remain smitten, spending half the year in Des Moines and the other half in the arts-and-culture destination whose full name remains La Villa Real de la Santa Fe de San Francisco de Asis—"The Royal Town of the Holy Faith of Saint Francis of Assisi."
Here are some of Ellen Hubbell's recommendations for ways to enjoy Santa Fe like a local.
Immerse yourself in history: The oldest capital city in North America and the oldest European community west of the Mississippi, Santa Fe "builds quite the cultural study," Hubbell says. 
She advises researching the 400-year-old city before you visit. "From the history of Native American populations there to Spanish Colonial history, there is so much to learn," she says. "There are many museums that pay homage not only to Santa Fe's history, but to its arts and culture. Museum Hill has four world-class museums, and we have been enthralled by all of them." 
The Museum Hill cultural area is home to the Museum of Spanish Colonial Art, the Museum of Indian Arts and Culture, the Museum of International Folk Art, and the Wheelwright Museum of the American Indian. The Santa Fe Botanical Garden also is located there.
Get your art on: The annual International Folk Art Market is July 12-14 this year, and Hubbell, who's on the board of the Des Moines Art Center, "thought it might be fun to organize a 'field trip' to the festival," she says. "I'm delighted that people from our own Art Center in Des Moines will be able to experience this incredible array of arts and crafts from all over the world. 
"The best folk artists on the planet are here," she adds, "creating everything from jewelry to ceramics to the most amazing textiles you will ever see. Folk art from Mexico has a huge presence here, and it is wondrous." 
Hubbell also is a fan of the Santa Fe Indian Market, held annually in August (17-18 this year), but she recommends getting there early: "It's one of the most beautifully curated markets I've ever seen, but it's so popular that if you go at 7 a.m., some of the stands are already sold out." It's still a must-see, she says, whether you're a collector or simply want to learn more about Native American art.
Hubbell also recommends visiting the city's renowned art galleries. No matter what type of art you prefer, you'll find it in Santa Fe, she says, adding that you'll likely make friends with an artist or two. She favors Gerald Peters Gallery for contemporary ceramics—"It's pottery heaven there"—King Galleries for "examples of any type of pottery you could ever think of purchasing," and Adobe Gallery for Southwestern pieces. 
Dance to la musica: From classical to mariachi, Santa Fe's music scene is as diverse as its history. Hubbell says attending a performance of the world-acclaimed Santa Fe Opera, which was established in 1957, is "one of the most phenomenal experiences you'll ever have; the big opera house is out in the desert, and the sun sets behind the stage." 
She also suggests planning a trip around the Santa Fe Chamber Music Festival; the season runs from mid-July to mid-August and includes a variety of performances. Other considerations: The New Mexico Performing Arts Society is recognized as one of the state's top music presenters, bringing artists of all disciplines to Santa Fe for concerts, educational programs and immersive experiences. The Santa Fe Bandstand is a destination, as are the city's many theater-performance centers; street musicians are numerous and worth a stop-and-listen.
Grab a bite: The Hubbells' home is within walking distance of three top restaurants, including the famous Coyote Cafe, which was one of the progenitors, in the 1980s, of the fresh-and-local movement. "They serve modern Southwestern cuisine that is like nothing you'll ever taste," she says. "We're also big fans of Geronimo, which serves American cuisine in some really unique ways, and Compound, which is my favorite place for lunch." (Her go-to meal there? Chicken schnitzel with a side of onion rings.)  Other Hubbell honorable mentions: the Shed, the Plaza Cafe and Tomasita's.
Shop: A shopping destination, Canyon Road has more than 100 shops, galleries and restaurants. Hubbell's picks: Cicada Collection ("one-of-a-kind [women's clothing] in an incredibly lovely setting"); Santa Fe Dry Goods ("high-end, with fine jewelry and a lot of the brands that I look for"); and La Boheme ("well-curated with a wonderful aesthetic").
Visitors and residents stroll among abundant downtown shopping opportunities.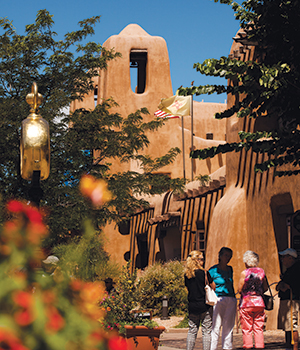 The Santa Fe Plaza downtown is a National Historic Landmark. Photography courtesy of Tourism Santa Fe.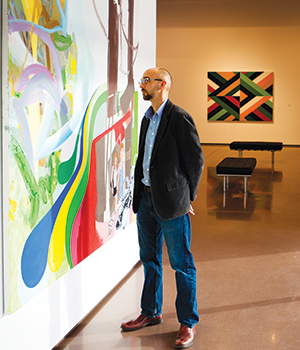 The city has nearly 250 art galleries. Photography courtesy of Tourism Santa Fe.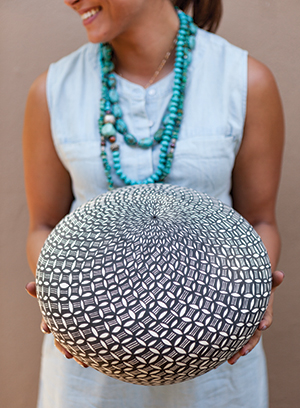 Visitors will find well-curated selections of pottery and jewelry.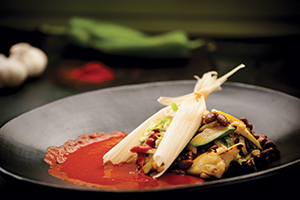 Modern Southwestern cuisine is a star of the local dining scene.