Writer: Karla Walsh
Photographer: Duane Tinkey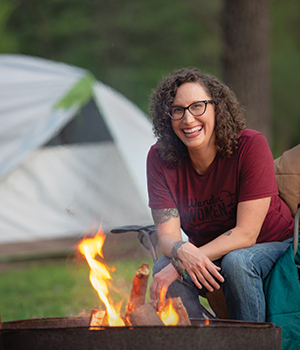 "A sense of wonder is so important—for kids and adults," says Jenn Riggs of Des Moines.
That sense of wonder includes the need to wander for Riggs, who, as the founder of Wander Women Iowa, is now devoted to getting women outdoors, where they can explore nature on hikes and weekend campouts with other women. 
As a child of the 1980s, the now-37-year-old Riggs first found that wonderment along the Mississippi River and in local parks near Wilton, a town of about 2,800 people in eastern Iowa.
"A lot of my childhood was spent outside," she says. "My cousins and I entertained ourselves biking around the neighborhood and fishing at creeks and ponds around town." 
The wonder continued in college, where Riggs majored in cultural anthropology and environmental studies. That's also where she met Jake Larson, who enjoyed all things outdoorsy, too. "We got into hiking and camping together, [though we] admittedly started out very much as amateurs," Riggs recalls. "One time we forgot utensils and had to make them out of sticks and tin foil—but we loved the freedom and the fresh air."
Eventually, Riggs and Larson, who works in environmental policy, got married and started a family. Nine years ago, Nena arrived, and Hugo joined her three years later. "It was very important to me that Nena and Hugo be outside as often as possible," Riggs says. "Seeing it through their eyes was very cool."
Through those awesome moments, however, Riggs struggled with postpartum anxiety and depression and felt like her sense of wonder was lost. Seeking to feel more like herself, she tried everything from exercise to therapy to antidepressants. Eventually she realized she hadn't spent time outside by herself since having her children.
"Going outside solo again—whether it was walking through the neighborhood or hiking through the woods—was a turning point for me," she says. "I feel like I'm home when I'm outdoors. Honestly, nature healed me."
Riggs returned to school at Des Moines Area Community College to study more about science and the environment, which led to an internship with a water quality education program at Iowa State University and eventually to a position with DMACC's Urban Campus as its sustainability coordinator. 
In the spring of 2018, Riggs gathered a handful of friends to pitch the idea of Wander Women Iowa after she was inspired by Trail Women, a California group she heard about on the podcast "She Explores."
Her friends wholeheartedly supported the concepts promoted by Wander Women Iowa, which aims to expose more women to the outdoors in a welcoming, nonintimidating way through all-inclusive trips. Riggs founded it specifically for hikes and adventures in Iowa.
"By December 2018, we launched the website [wanderwomeniowa.com] and it's taken off. Our first five weekend trips have sold out. It's been a wild, crazy and fun ride," Riggs says. 
In addition to all food and drink, Wander Women guides provide sleeping pads and bags, tents, camp chairs, and hands-on outdoors skill instruction to eliminate some of the common barriers to entry.
"I want to challenge the norms of what an outdoorsy person is," Riggs says. "People may feel out of place outdoors because of their experience level, abilities, skin color or size. But nature doesn't judge." 
After the slate of summertime weekend trips sold out, Riggs and her three fellow guides began planning cabin trips for late fall and winter (including snowshoeing and winter hiking) and day hikes as a lower-cost, shorter-term option. 
"Our hope is that after a Wander Women trip, women then organize a trip or hike on their own," she says. "We fall into our roles as parents and employees, and being outside helps adults find delight in experiences again."