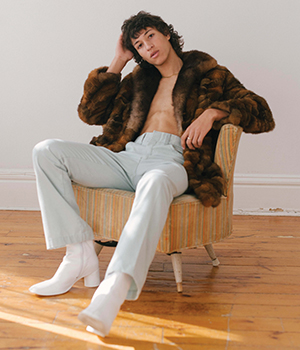 Paxton Morgan
Age: 17
Job or avocation: Model for the Peak Agency, artist, incoming freshman at California Institute of the Arts.
How would you describe your style? Vintage '70s vibe. I adore everything about the '70s, including the platform shoes, the bell bottoms and the collared shirts. The piece of clothing or accessory you couldn't live without: A turtleneck—timeless and great for layering pieces.
Style icons: Stevie Nicks, Tyler Mazaheri, David Bowie, Freddie Mercury, Elijah Quebrada and Elton John. They all push the boundaries of fashion while maintaining their own unique styles, which I envy.
The part of your style you're most known for: My hair, which is a huge part of my look. Right now I've got a mini shag mullet goin' on, inspired by Mick Jagger and Tyler Mazaheri.
Where you shop: I mostly thrift or go to local vintage boutiques. I love Atomic Garage, Rumors Vintage and Funky Finds Vintage & Retro. I always hit up the Goodwill outlet and try to steer away from fast fashion.
Beyond fashion, what are your passions? Painting, drawing, practicing yoga, singing and dancing in show choir, and reading self-improvement books. I will be attending California Institute of the Arts for a visual arts major this fall. I love how free art makes me feel; I'm able to express my creativity and emotions however I please.
Photographer: Joelle Blanchard