Writer: Karla Walsh
Photographer: Duane Tinkey
The concept of "plant-based" is nothing new to Jordan Clasen, owner of Grade A Gardens. In fact, he's worked around fruits and veggies for decades.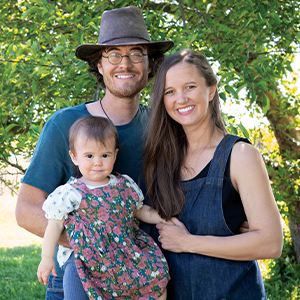 "I worked in the produce aisle in grocery stores from the time I was 14, and have always enjoyed being outside and working with my hands," Clasen says. "So working with plants has always been my dream job."
After five years managing the produce department at Gateway Market, Clasen took the leap and made the outdoor portion of the dream come true in 2009. That's when Clasen—urged on by his friend and local farming icon Larry Cleverly—jumped into the garlic-growing game. Now, Clasen and his wife, Whitney, (and farmer-in-training 1 1/2-year-old daughter Willa) grow more than 100 varieties of certified organic fruits and vegetables that they sell at the Downtown Des Moines Farmers' Market, to 100 CSA (community-supported agriculture) members, and to local restaurants including Aposto, the Cheese Shop, Cheese Bar and Lucky Lotus.
This summer will be busy as the Clasens move into a new home and move forward with construction on a barn on their new farm near Earlham. In early 2021, more than 400 people donated to their "Barn Raising" event on Kickstarter to help the couple reach their $150,000 goal to fund the barn build-out.
But the Clasens still plan to carve out enough time to enjoy the literal fruits of their labor, such as this family-favorite fruit salsa.
"We cook with our produce almost every day, which is quite a blessing," Clasen says. "My favorite season is the 'first' of everything. The first greens, the first tomatoes, the first garlic head."
Celebrate the best of summer with this salsa, a "fun, cooling twist on a summertime favorite," he says.
---
Secrets for Success
With no cooking required and ready to devour in about five minutes, "the beauty of this recipe is it is easy," Clasen says. Here are a few of his tricks that will make it even easier.
Gear up. To make assembly even speedier, round up the equipment you'll need for this recipe before you begin: a large bowl, a chef's knife, a Microplane grater or a zester, and a citrus juicer.
Scoop smartly. Since this salsa is really chunky, serve it with a sturdy tortilla chip. Three brands to consider: Garden of Eatin', Food Should Taste Good, and Way Better.
Make it a meal. Alternatively, you can use this as a condiment instead of a dip. Spoon over grilled chicken or pork, or use as a replacement for tomato salsa in fish tacos or other Mexican-inspired main dishes.
Move over, melon. When watermelon season is over—or if you're simply not a huge fan—Clasen says this also works great with an equal amount of fresh peaches or nectarines.
Sip on any surplus. If you have extra melon after making the salsa, Clasen suggests transforming the fruit into a batch of margaritas. Freeze the watermelon cubes, then blend them up with tequila, triple sec, fresh lime juice and ice. Serve in a glass with a salted rim.
---
Watermelon Salsa
Yield: 16 1/2-cup servings
Ingredients
1 jalapeño pepper, diced
3 tomatillos, diced
1 teaspoon fresh lime juice
6 cups of watermelon, peeled and cut into 1-inch pieces
1 bunch each fresh mint, cilantro and basil, chopped
Zest of 1/2 lime
Salt, olive oil and extra lime juice, to taste
Directions
1. In a large bowl, add jalapeño, tomatillos and lime juice. Stir to combine.
2. Add watermelon and herbs, then gently toss until the herbs are evenly distributed.
3. Season with a pinch of salt and a drizzle of olive oil. Toss, taste and add more salt, olive oil and/or lime juice, if desired.
4. Serve immediately or store in the refrigerator for up to two days.