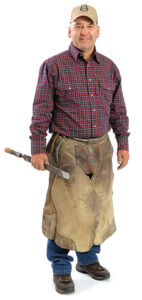 Photographer: Duane Tinkey
Ferrier Tim Reiste of rural Linden started training and shoeing horses in 1980, at age 18. He's dealt with all kinds—trail horses, show horses, racehorses, and hardworking draft and ranch horses. Driving between barns, pastures and paddocks, Reiste's pickup truck is a rolling smithy, laden with gear and tools, including a sturdy anvil and a portable forge. "The craft hasn't changed much in a thousand years," Reiste says. Here he tells us about some of the gear he uses most:
Tools, from left: 
Nailed It: This 14-ounce nailing hammer has just the right heft and balance for nailing horseshoes.
Flat Feet: The rasp is for maintaining the bottom of the hoof so it's smooth and level. When you've done a few, you can just eyeball it.
Nail Puller: To remove a horseshoe, you have to get the old nails out. This tool does the trick.
Li'l Nippers: Like giant fingernail clippers, to cut back growth of the hoof wall. These 15-inch nippers give me just the right amount of leverage.
Pick, Pick, Pick: I use this hoof pick for cleaning and checking feet.
In a Clinch: This clincher bends the tips of nails so they don't easily pull out. 
Just Right: Nail cutters give you a lot of torque, to cut the exposed point of a nail to the right length before clinching. 
Extra Wide: Like your shoes, horseshoes come in different sizes. This shoe spreader helps me adjust the shape precisely.
Lower Row: 
If the Shoe Fits: These are called "keg shoes." So basic, suppliers used to sell them by the keg. 
Sharp Edge: Along with the nippers and rasp, I use this hoof knife on every horse—to trim each hoof.
Clinch Cutter: This removes the clinch, the bent end of each nail, so a shoe can be easily removed from the hoof.