Above: International multimedia artist Yorame Mevorach, who works under the single moniker Oyoram, dazzled and delighted a riverside audience last fall with a work he called "Mental Banquet," projected on the World Food Prize Hall of Laureates. Photo: Ben Easter Photography for Greater Des Moines Public Art Foundation. 
Writer: Michael Morain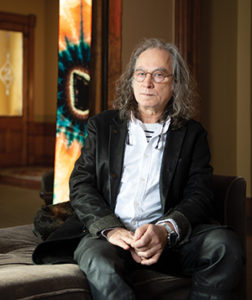 The crowd that gathered downtown along the Des Moines River on a chilly night last October wasn't quite sure what to expect. They had heard that some sort of video would light up the World Food Prize Hall of Laureates, but few could have foreseen how beautiful it would be.
Suddenly, waves of color washed across the historic building's limestone facade, each glowing image melting into another. A giant sunflower bloomed and wilted into a verdant field. Flames flared up, then lightning, then a rainbow of abstract fractals—all painted with lasers from a high-powered projector across the river.
The whole spectacle lasted just 10 minutes, then repeated two nights later.
But its creator has stuck around a little longer. The Israeli-born artist Yorame Mevorach splits his time between Paris, Des Moines and Grinnell, where his wife teaches at Grinnell College. In Des Moines, he plans to open a studio in May in the 1883 Sherman Hill house where they live. From there, he'll continue to dream up videos for luxury empires like Cartier and Dior—plus a few bonus projects for the rest of us here in Iowa. Mevorach also plans to open the space for exhibits, artist talks and other special events, including a solo exhibit and open house on May 2 from 6 to 8 p.m. 
"I'd like to make a bridge, to make art in both [Paris and Des Moines] and create feedback," says Mevorach, who uses the single name Oyoram (Oh YOUR em) for his career.
He discussed his new plans during a recent tour of the towering hillside house—the one next door to Hoyt Sherman Place—where a boxy new addition juts out of the building's north side. A stairway in the house leads up to a rooftop deck. Another leads down to a small maze of rooms in the basement, each filled with computers and gear. The setup is a smaller version of his home studio in an old warehouse on the east side of Paris.
Woodland 1605
He calls the Sherman Hill space Woodland 1605 and will fill it with video panels and a wrap-around green-screen, like the ones the weather people use on TV. Soon he'd like to rent out the house's third-floor apartment to artists in residence.
At 67, Mevorach wears elegant wire-rimmed glasses and an unruly gray mane that hovers above his shoulders. If you spotted him at the grocery store, you might guess he was a composer or a mad scientist. He might remind you of Ben Franklin.
He was born in Jerusalem, like six previous generations of his family, whose surname means "blessed" in Hebrew. His father was a painter. He fought with the British during World War II and spoke seven languages, including the French that Mevorach's mother spoke when she and her family moved from Algeria to the new state of Israel in 1950. 
"My father, he liked her accent," Mevorach says in his own hard-to-place accent. He recently found a black-and-white snapshot of his mother with her sisters and their father on the ship that carried them across the Mediterranean Sea to Israel, sporting sunglasses and scarves as glamorous as anything  from "Casablanca."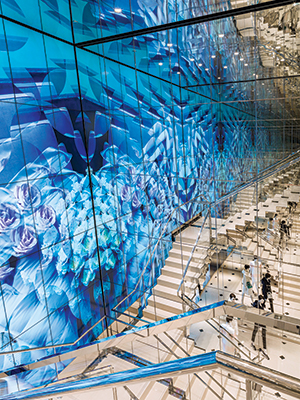 Creative Interests
Mevorach studied filmmaking at the Beit Zvi School for the Performing Arts in Tel Aviv and loved how it combined his creative interests, especially writing, designing and directing. 
"Cinema," he says, "is a mix of dreams and technology."
After graduation, he moved to Paris. He enrolled at the Sorbonne but learned more in the city itself, where movie theaters on every other block played films from around the world. Back then, in the 1970s and '80s, Parisian cinemas screened the sorts of shows we can now stream on Netflix and YouTube—music videos, documentaries, art films, the whole works. 
"It was like the Fleur multiplied by 100," he says, referring to the theater on the south side of Des Moines.
He started producing and directing short films of his own and made a name for himself with a series of videos for Charlie Hebdo, the satirical magazine most of us know as the target of a terrorist attack in 2015. From there, he produced films for European television and was among the first to use videocassettes and other formats to distribute films directly to consumers.
He also installed video art in increasingly prominent venues. At the Palais de Chaillot, in the shadow of the Eiffel Tower, he installed 26 four-and-a-half-minute videos in a gallery where visitors with wireless headphones could wander among the monitors and listen to whichever video they happened to be facing.
In 1993 he founded his own company, Off-Screen Motion Pictures, which produces his videos for out-of-the-box sites. When Dior bigwigs asked him to spiff up their flagship store near the Champs-Elysees, in 2007, he filled its gleaming rotunda with "digital frescoes" that enlivened the space with dreamlike animations.
Since then, he has installed other video artwork in boutiques and runways around the world—for Dior, Louis Vuitton, Van Cleef & Arpels and other high-end retailers eager to offer customers an experience they can't get by shopping online. Many stores look more like art museums, a trend that may have started when Christian Dior supported artists like Jean Cocteau and Salvador Dali back in the 1940s and '50s.
By now, with projects in more than 30 countries, Mevorach oversees thousands of screens, which he updates every few months. Lucky for him, he can work anywhere with an internet connection—especially since he fell in love with a professor from Grinnell.
He met Katya Gibel Mevorach in Paris during the summer of 2006, while she was studying French. She knew one of his cousins, who introduced them at a dinner party and, soon after, another outing continued late into the night, after the subways had shut down.
"Have you seen Paris at night?" he asked her. "Would you like to?"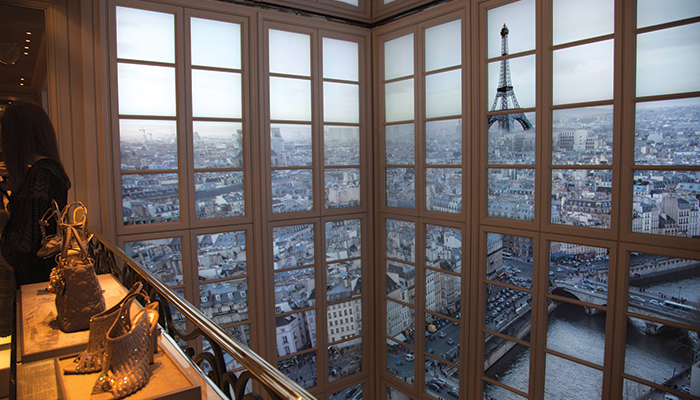 And just like that, she found herself on the back of his motorcycle, zipping through the streets until the cafes reopened at dawn. 
They were married in October that same year, at Temple B'Nai Jeshurun here in Des Moines, and settled into life in Grinnell, where she is a professor in anthropology and American studies at the college. 
"Grinnell, in my mind, is kind of an exotic kibbutz," Mevorach says. "It's like a small village where everybody knows each other. You can't do anything without being noticed."
But even in Des Moines, he stands out.
"People were blown away" when he proposed some ideas to the Greater Des Moines Art Foundation, says its director, Jessica Rowe. He suggested using a drone to project a video onto the surface of the river. He'd like to use the state Capitol's domes for a choreographed light show.
"He has a mind that observes and investigates in a way that not every artist does," Rowe says. "It's really a joy that he's here."
The artist displays one of his digital paintings on an easel in a corner of the living room in Sherman Hill, a piece he reclaimed from Bergdorf Goodman after the New York store no longer needed it. He calls it a "digi-toile"—a play on the French word for "canvas"—and part of it looks like a traditional painting. The other part magically morphs from one scene to another: a woman on a balcony overlooking the Paris skyline, another at Versailles watching water spill from a fountain.
If most pictures are worth a thousand words, this one merits a few more.