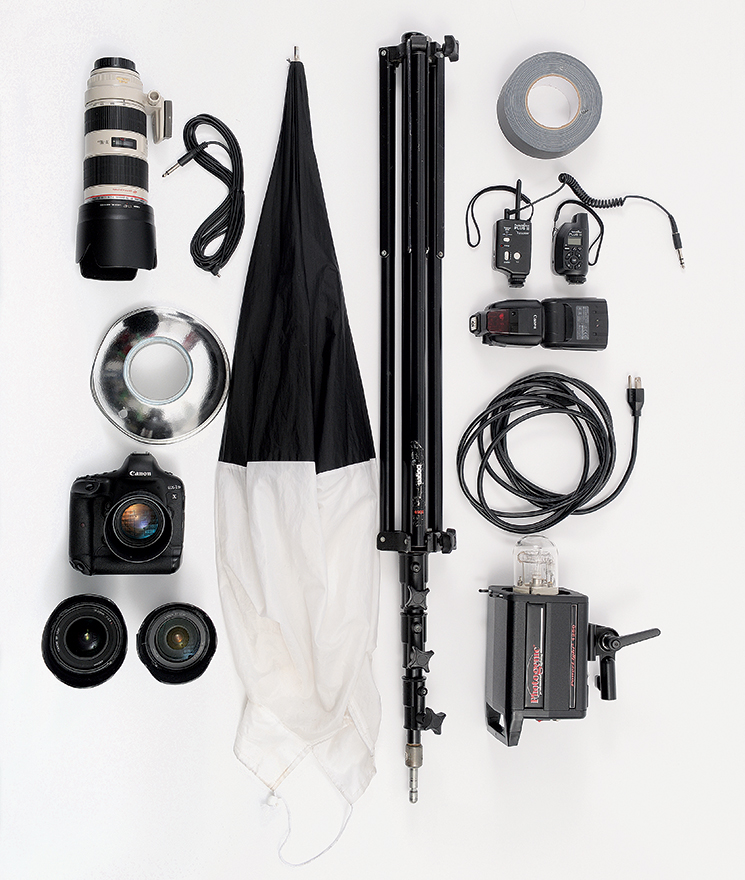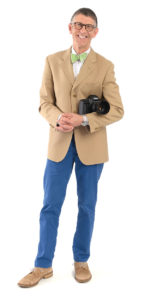 If you go to events in Greater Des Moines, you've seen Christopher Maharry at work. Often decked out in a snappy bow tie, he has photographed weddings, graduates, corporate executives and galas.
dsm asked Maharry to share some of what he typically packs along on a photo shoot and the cases and bags he uses to carry it all. Working our way down from the upper left corner:
Zoom-Zoom: This Canon 70-200mm zoom lens is the holy grail of lenses, thanks to its fast f2.8 aperture.
Vital Connection: Next to that lens is a piece of insurance. It's a cord that connects my camera to the strobe light if my wireless connection fails.
A Nice Reflection: This reflecting dish fits over a photo light and concentrates the illumination so it reaches farther.
Keeping Up With Kids: The camera is my new Canon 1DX, a top-of-the-line model. It can fire 15 frames per second, which really helps if you're shooting a portrait that includes little kids or dogs.
Workhorses: The one on the left is a wide-angle 16-35mm lens. It's great for broad scenes of crowds and events. On the right is my 24-105mm, the lens I use most. It's just a great, versatile lens. I can use it for nice artsy close-ups of details.
Umbrella Policy: The umbrella diffuses my light to capture portraits without harsh shadows.
Highlights: The tripod stand extends to a height of about 9 feet to support my light source wherever I need it.
On a Roll: I tape down cords to save people from tripping. And I put an X on the floor with tape so people know where to stand.
Let There Be Light: The two gizmos below the tape are Pocket Wizard controls to synchronize the camera and my flood light. One goes on the lamp, the other goes on my camera. The result has a high cool factor when that remote light fires and people go "whoooaaa."
Seizing Power: Cords aren't interesting, but I have to be sure I have them along.
Brilliant: The light is very powerful for large dark spaces, but mostly it's on its lowest setting, filling in shadows.