Photographer: Joelle Blanchard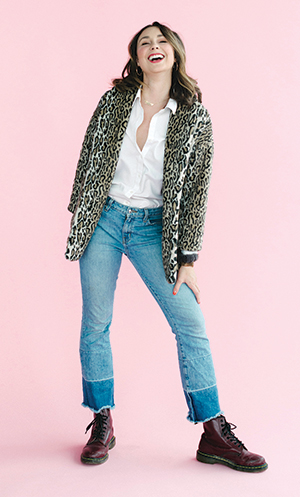 Age: 24
Career: Reporter and anchor with KCCI News.
How would you describe your style? Sporty, sassy and sometimes sophisticated.
The part of your style you're known for? I enjoy pairing structured coats with comfortable denim or joggers. When I'm not on air, I want to feel more relaxed. I'll experiment with new looks, but comfort always takes precedence.
The piece of clothing or accessory you couldn't live without? I'm always wearing Doc Martens. I've had mine for years now and they're so beat up.
Your style icon? I'm crazy for Audrey Hepburn. But modern day, I would say Dua Lipa.
Any fashion regrets? Leggings with jean shorts in seventh grade, as if junior high wasn't already traumatizing.
Where do you shop locally? As Seen on M.E. My girl Megan Evans finds thrifted gems. Also, Funky Finds, Preservation and Fischer Studio.
Favorite thing to do in Des Moines? I always feel fulfilled after a productive day at Horizon Line Coffee followed by an antiquing excursion. Maybe a nightcap at Black Sheep. I'm in a mezcal phase.