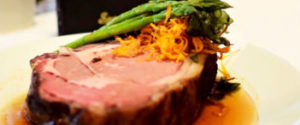 By Wini Moranville
Some nights, a couple of appetizers will do the trick; other nights, you crave a more complete dining experience — a gunpowder rib-eye, for instance. Now, you can enjoy either style of dining at Trostel's Dish in Clive, a spot that has been known mostly as a small-plates emporium. (Dish is a sister restaurant to Trostel's Greenbriar in Johnston.)
"For years our customers at Dish have told me they miss the Greenbriar prime rib or the gunpowder steak, but don't want to drive to Johnston," says owner Suzanne Summy. In addition to those two classics, she adds, Dish will also serve other popular Greenbriar entrees, including mac-and-cheese, New York strip steak, cedar-planked salmon and filet mignon.
Does this mean small plates are no longer a big deal at Dish?
"We have scaled back the small plates a little, but there are still 15 appetizers plus five pizzas and several lighter fare dishes that can be shared," Summy says. "I am mainly trying to give diners more choices. … I feel younger diners don't want to be tied to a 'type' of dining."
Likewise, she says, Greenbriar — once a mainstay for special occasions — now offers plenty of easygoing choices, such as pizzas, entree salads and sandwiches, in addition to fine-dining entrees. Summy implemented these changes in recent years, while remodeling the bar and dining room for a more casual look.
Find Trostel's Dish at 12851 University Ave., Suite 400, Clive; (515) 221-3474. Trostel's Greenbriar is at 5810 Merle Hay Road, Johnston; (515) 253-0124.