Writer: Karla Walsh
Photographer: Duane Tinkey
Food blogs are like modern (free!) cookbooks that are full of inspiration for avid home cooks and bakers like me. But I have to admit that I've been burned more than once—figuratively, that is—by following a beautiful blog recipe to a T, only to end up with less than stellar results.
You see, test kitchens and cookbook authors put every recipe through the paces using different styles of pans, ingredient levels and temperatures so they can land on the ultimate, tried-and-true recipe. Few bloggers have the resources (the receipts for all of the ingredients required to execute multiple tests add up quickly!) and the time to do the same. As of late, I've found myself experimenting more on my own or turning to recipes from classics like my trusty "Better Homes & Gardens Cookbook" or "The Joy of Cooking."
Filling the gap between Team Blog and Team Book is Des Moines-based Lauren Grant, who shares her culinary creations on Zestful Kitchen. I stumbled upon her blog while scrolling through Instagram. (She's at @zestfulkitchen, by the way.)
"I teach the rules of cooking, then help you break them with classic recipes made modern and healthy-ish," Grant says.
The freelance food photographer, writer and recipe developer started learning those rules at a young age. As a kid, she could often be found standing on a stool helping her mom cook dinner.
"It always felt like such a privilege to join her," she says. "Over the years, cooking became an escape for me. It allowed me the space to experiment, create and share—which are all still true today."
So when it came time to choose a college major, Grant leaned into that escape.
"During my college years, I interned at both America's Test Kitchen and Meredith," she says. "One of the biggest things I learned at both is the importance of adequate prep work. It's so important to prep ingredients consistently and accurately. This, of course, makes for a better end result while also making the cooking process more enjoyable."
Also vital: adequate research.
"Research and technical knowledge is what makes test kitchen recipes so reliable," Grant says. "Yes,
a recipe can technically come out correctly and be a success. But can it be better? Has every ingredient been scrutinized and used to its potential? Do certain ingredients overpower the dish while others seem to get lost? Is the cooking process efficient or replicable? Are the serving sizes adequate? These questions are all part of the recipe development process for professional test cooks and test kitchens—and I prioritize these in every recipe I develop, too."
One of the most seasonal and giftable recipes on her site is an irresistible pumpkin butter. Don't be fooled by its name. Unlike regular butter, this homemade condiment is just 47 calories per 2-tablespoon serving, fat-free, and loaded with fiber and vitamin A.
"I love to use this pumpkin butter as filling for homemade Pop-Tarts [find her recipe by searching 'Pumpkin Butter Pop Tarts' on zestfulkitchen.com]. I also like to swirl it into Greek yogurt or spread it onto toasted slices of seedy bread with a drizzle of honey or maple syrup," she says.
Come holiday season, I have my sights set on adding it to an epic charcuterie spread. Who's ready for a pumpkin party?
---
Chef's Tips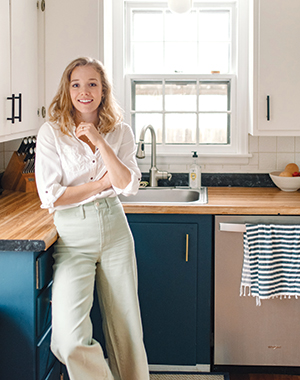 Prep ahead. This pumpkin butter lasts well in the refrigerator for up to a month, or can be frozen for up to four months. "I like to split the batch in two; refrigerate one half and freeze the other half," Grant says. "Store the butter in a glass container with a piece of plastic wrap pressed onto the surface of the butter, then secure with a lid."
Don't stop stirring. "I recommend using a rubber spatula to stir the pumpkin mixture," Grant says. "Stir constantly. Yes, I know it's a lot of stirring, but it's worth it to ace the texture!"
Choose the correct can. You want 100% canned pumpkin, not canned pie filling. 
Sweeten the deal. Opt for pure maple syrup rather than artificial pancake syrup products.
Grind nutmeg whole (rather than purchasing a jar of pre-ground spices) for the best flavor. A microplane is the perfect tool for the job.
---
Spiced Maple Pumpkin Butter 
Yield: 2 1/2 cups (20 servings)
Ingredients
2 15-ounce cans 100%
pumpkin purée
1/2 cup apple cider
1/2 cup pure maple syrup
1/4 cup turbinado sugar
2 tablespoons fresh lemon juice, divided  
2 teaspoons cinnamon
2 teaspoons ground ginger
1/2 teaspoon grated fresh nutmeg
1/2 teaspoon ground cardamom
1/4 teaspoon ground cloves
1 teaspoon pure vanilla extract
1/4 teaspoon salt
Directions
Combine pumpkin, cider, maple syrup, sugar, 1 tablespoon lemon juice, cinnamon, ginger, nutmeg, cardamom and cloves in a saucepan over medium-high heat.
Bring pumpkin mixture to a simmer and cook, stirring frequently, until thickened, 30 to 35 minutes.
Off heat, stir in remaining tablespoon lemon juice, vanilla and salt. Let pumpkin butter cool, then transfer to an airtight container and refrigerate for up to 1 month or freeze for up to 4 months.