Writer: Karla Walsh
Photographer: Dera Burreson
Stylist: Sammy Mila
Scotcheroos (noun): 
1. Dessert bars made with a base of peanut butter-coated cereal squares topped with melted chocolate butterscotch frosting; 
2. A treat that's a mainstay at any Midwestern bake sale, family celebration or neighborhood potluck. 
Now, thanks to Jacob Schroeder of Urbandale, the owner of Crafted Food Services and a corporate chef at Workiva, we can add: 3. The flavor inspiration for the ultimate cup of hot cocoa.
Schroeder's culinary career was sparked right around the time I devoured my first scotcheroo. "As a child, I was drawn to watching cooking shows and snacking on ingredients while my mom cooked. Plus, I just loved eating," Schroeder says. "Over time, the more I thought about it, the more cooking appealed to me as an occupation. I knew I wanted to have a job that was hands-on, that I could potentially travel with and that was something that made people happy." 
His first restaurant job was as a server, bartender and table busser at a restaurant in Ankeny. After that, Schroeder started moving toward the back of the house at Ohana Steakhouse in West Des Moines and other restaurants in the area while attending the Iowa Culinary Institute at DMACC. After graduation, Schroeder moved to Denver, where he worked at neighborhood restaurants, country clubs, fine-dining restaurants and even for a sushi food cart. Along the way, he spent six months working at Michelin-starred restaurants in Portugal, Germany and New York.
"I have an insatiable hunger to learn and to be as versatile as possible," he says.
Since November 2015, Schroeder has put that versatility to use as a corporate chef at Workiva in Ames. The culinary team that fuels the tech company's cafeterias changes the menu every three weeks and rotates through recipe development for stations including pasta, pizza and grill.
Never one to allow himself too much time to simmer, in April 2019 Schroeder launched Crafted Food Services (craftedfoodservices.com), his own private/pop-up dinner and cooking class company.
"Each of my Crafted Food Services menus are tailored to the event's season and the participants' personal tastes and dietary restrictions," Schroeder says. "I do have some items I like to think of as my 'signature' dishes, though, that I like to share with people as often as possible because I like them a lot and they represent my brand well."
Those include a split pea risotto with hickory-smoked balsamic brown butter-Parmesan hollandaise, shoyu chicken wing "lollipops" and buttermilk vanilla ice cream. Oh yes, and this Scotcheroo Hot Cocoa.
"I want to help people find the boundless joy that I have for food and cooking," he says. And after one sip of this warm-your-bones beverage, we are filled with exactly that.
Scotcheroo Hot Cocoa
Yield: About 20 cups
Ingredients
1 pound bag white rice, such as Mahatma Extra Long Grain Enriched Rice (available at most local Hy-Vee locations)
1 gallon (16 cups) water
1 11 1/2-ounce bag milk chocolate chips
1 11-ounce bag butterscotch chips
2 cups creamy peanut butter
2 teaspoons kosher salt
Directions
Day 1:
1. Put the rice in a heavy-bottomed pot or saute pan. Place the pan on the largest burner on your stove and turn the heat to high.
2. Using a straight-edged wooden spoon, stir the rice frequently until it is evenly toasted and brown. Be patient: This takes about 10 minutes. (There will be smoke involved and the rice gets very hot, so be careful not to burn yourself.)
3. Turn off the heat and move the pan to a cool burner. Continue to stir the rice every few seconds for another 5 minutes to allow it to continue to toast as it cools down.  
4. In a microwave-safe plastic pitcher or mixing bowl, add a few inches of water and then pour in the toasted rice. (This will keep the rice from melting the plastic.)
5. Add additional water to the pitcher to fill it to near the top. Place container in the refrigerator to chill overnight.
Day 2:
1. The rice will have almost tripled in size overnight. Use an immersion blender to "chop" the rice until it's the texture of course cornmeal. 
2. Strain the blended mixture through cheesecloth and a strainer or #120 mesh strainer (see chef's tips, right, for more details) and into a 6-quart heavy-bottomed pot until most of the liquid has passed through. If necessary, use a wooden spoon to "scrape" along the mesh of the strainer or cheesecloth. Discard rice solids.
3. Repeat steps 2 and 3 until you have nothing left to blend and strain.
4. Pour the toasted rice milk from the 6-quart pot back into the pitcher or bowl and allow to rest for 5 minutes. If there are any rice solids in the bottom of the pan, discard them.
5. Place the pot of rice milk on the stove over high heat. Stir with a wooden spoon every few minutes.
6. As the rice milk warms, combine the peanut butter, chocolate chips and butterscotch chips in a microwave-safe pitcher and microwave for 1 minute. Remove from the microwave and stir. Repeat 1 minute microwave, then stir, pattern until the mixture is evenly melted.
7. When the rice milk reaches a boil, turn the heat off.
8. Using a soup ladle, transfer a few ladles of hot rice milk into the pitcher with the peanut butter mixture, and stir until combined. Repeat this twice more, then return the entire contents back into the pot of rice milk.
9. Add salt, stir to dissolve and enjoy.
---
Tools of the Trade
To ace this recipe, Schroeder recommends rounding up the following equipment before beginning step one of the hot cocoa:
A heavy-bottomed 4- or 5-quart pot or straight-sided saute pan 
6-quart heavy-bottomed pot
Microwave-safe plastic pitcher or mixing bowl, at least 5 quarts in volume
Blender (Schroeder swears by his Vitamix)
One 18-inch-long piece of cheese cloth, folded into a square, and a strainer or a #120 mesh strainer 
Straight-edged wooden spoon
Soup ladle
Dress Up Your Drink
Once you've mastered the basic Scotcheroo Hot Cocoa recipe, try these twists to take it to the next level.
Chill and enjoy as scotcheroo chocolate milk.
Slice up half-inch cubes of scotcheroo bars or Rice Krispies Treats to float on top of each toasty mug of cocoa.
Garnish with marshmallows or whipped cream.
Spike with a shot of espresso.
Pour over a scoop of gelato or ice cream for scotcheroo affogato.
---
Chef's Tips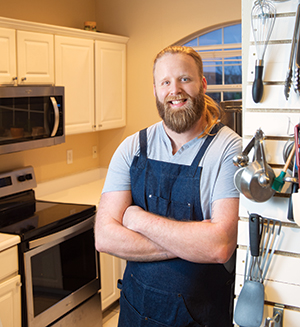 As you probably guessed by the number of steps in the directions, this drink can be deceptively tricky. Luckily, Schroeder is here to talk us through it.  
Get toasty. Day one, step two, is crucial, Schroeder says. "Toasting the rice properly is one of the most important steps to ace the flavor in this drink."
Strain smartly. Straining as much of the solid rice is important for the texture of the cocoa. "The second time I ever made this, I skipped the straining and finished with something the consistency of cake batter. That's not necessarily a bad thing, but isn't our goal here. I use a #120 mesh strainer," he says. If you don't want to drop the $68 for his favorite model on Amazon (8-Inch Advantech Stainless Steel Test Sieve #120 Mesh), you can use a triple layer of cheesecloth over a regular kitchen strainer or sieve.
Use the microwave to melt. Warm the peanut butter, butterscotch and chocolate in the microwave, then add a few cups of the hot rice milk to thin the mixture before adding it all back to the pot.