Above: Ishmael Muhikira, president of the Rwandan Community of Iowa, says he's living a "bonus life. That's why I am always happy and never get mad." Along with other local Rwandan families, he'll celebrate Kwibuka, which means "to remember," April 18 at Sheslow Auditorium.
Writer: Barbara Dietrich Boose
Photographer: Duane Tinkey
At age 14, when he should have been hanging out with friends, playing soccer or studying algebra, Ishmael Muhikira was standing with his parents on a street in Gisenyi, Rwanda, surrounded by neighbors wielding knives and guns.
It had been a horrific day: One of the neighbors, a man Ishmael's family considered a friend and who had dined in their home, had come over that afternoon, demanding to negotiate for the family members' lives. Depending on what they were able to pay, he might spare them or shoot them or hack them to death with a machete.
Other neighbors came over to watch the negotiation "like it was a game," Muhikira recalls.
The 50,000 Rwandan francs his mother had to give to the neighbor was declared insufficient. Standing on that darkening street in the rain, the teenager watched his mother get stabbed to death. The neighbor then attacked his father, who knew his oldest son was next.
"I remember the last words my daddy told me," Muhikira says. "He said in French, 'Sauves toi mon fils.' "
Save your life, Son.
Muhikira shoved his parents' murderer and fled. He'd spent much of his childhood in that area, along Rwanda's northwestern border with Congo, so he knew where to hide from the men chasing him.
It was April 7, 1994, the eve of the east-central African nation's descent into hell. The day after Rwandan President Juvénal Habyarimana's jet had been shot out of the sky, the conflict that had been boiling for decades between the previously ruling Tutsi and the majority Hutu—two groups based more on history and economics than on ethnicity—exploded into the worst genocide since the Holocaust.
Muhikira's family were Tutsi; those leading the government-incited slaughter were Hutu. In 100 days, an estimated million people were killed, including 75% of the nation's Tutsi population. An incomprehensible aspect of the horror is that despite the disputes between their leaders and vicious propaganda campaigns that led Hutu to dehumanize Tutsi as "cockroaches" and "snakes," many members of the two groups had lived side by side as neighbors, friends and even spouses.
Seeking Refuge
"April in my home country means 'milk,' and milk means health, but April 1994 became blood to me," says Muhikira, 40, who now lives in Urbandale. For the first 10 days after his parents were killed, he hid in banana fields and in the homes of people who knew him as the boy who sold tea in the local market.
"One lady hid me that first night but told me to be sure to be gone by 5 the next morning," he recalls. "She didn't want anyone coming to her house to kill her, too."
On April 17, Muhikira was taken in by a local militiaman for whom the boy used to fetch cigarettes at the market. Nicknamed "Machine," the man smuggled Muhikira out of Rwanda, across the then-porous border with Congo, by hiding him in a fuel drum. But when Machine learned Hutu extremists had learned of Muhikira's whereabouts, he brought him back.
"The people in Congo wouldn't be willing to protect a Tutsi," Muhikira says. His protector decided the boy would be safer in the home of a prominent local Hutu businessman, Hadji Ramadhan Maguru, who'd been a friend of Muhikira's father; Muhikira had been schoolmates with Maguru's children.
In July, as the rebel Rwandan Patriotic Front (RPF) forces captured Kigali, Rwanda's capital, and ended the genocide, Muhikira was swept up with Maguru's family in the miles-long march of Hutus fleeing the country. Most Hutus ended up in refugee camps, where the desperate squalor, rife with starvation, cholera and death, attracted the attention of world leaders who'd largely downplayed or ignored the genocide in Rwanda.
Muhikira and the Maguru family, though, temporarily lived in a house. "Then word came out the RPF wanted people to come back to Rwanda," Muhikira says. "The country was empty."
That reflects another nearly incomprehensible reality of the genocide against the Tutsi: Despite its atrocities, including the use of rape and HIV infection as weapons and mass murders of terrified people seeking refuge in churches and schools, the individuals who emerged as Rwanda's leaders after the genocide chose to reunite its citizens as one people, not as Hutu or Tutsi.
Leading that charge was RPF Commander Paul Kagame, who became the nation's vice president and then, in 2000, president, a position he continues to hold. That year, Muhikira, who lived alternatively with Maguru's family and a friend after returning to Rwanda, earned his high school diploma. As a testament to the teen's extraordinary resourcefulness, an RPF soldier who knew him had set aside a stash of candy for Muhikira to sell to pay for his schooling. He made enough to pay for three years of tuition.
"I still have the receipt," he says.
A Purpose
After graduating, Muhikira got a job as a receptionist at a hotel and attended night classes at the Kigali Independent University, where he majored in sociology. "I wanted to help people," he says. He went on to join the staff of the National Commission for the Fight Against Genocide, established to study the causes of the mass slaughter, preserve memories of the crimes and prevent it from happening again.
"That was a hard job," he says. "You're hearing people's stories, like a woman who was raped several times, became pregnant without knowing which man was the father, and getting HIV. She knew the man who was her child's father may have been the one who killed her family. You hear those stories 10 times a day. You don't sleep."
Still, after all he'd been through, life was looking up for Muhikira. He met the woman who would become his wife, Pauline. The couple established a "comfortable" life and eventually had two children. When their first son enrolled in school, the expense concerned Muhikira.
"I want to see my kids go to the best schools. That is my top priority," he says. "I asked my wife, 'If we have four kids, how are we going to pay for that?' I started playing the Green Card Lottery"—a chance selection process for a visa to enter the United States.
That took eight years. Even though Rwanda was healing—the International Criminal Tribunal for Rwanda concluded its decade of hearings in 2015—and Muhikira and Pauline were among the country's "up-and-comers," he was disturbed by news of Hutu-on-Tutsi violence in nearby Burundi.
"By that time, 'Black Lives Matter' [in the U.S.] was happening. A friend said, 'Don't go to the United States; they're killing black people there,'" Muhikira says. "But I thought of my parents. People told my father many times to leave Rwanda, but he wouldn't. Why would I wait till what happened to him happened to me? I saw what I never wish my kids or anybody else to see."
Iowa can thank Google for leading his family to the state. "When you ask Google for the best place to raise kids, Iowa is always in the top five," Muhikira says. He knew one person in Iowa, Des Moines resident Jules Muhunde, whom he asked for help in finding an apartment. Muhikira signed the rental contract while still in Rwanda. They moved in on Sept. 3, 2016.
A New Life
"We didn't have anything, not even a fork. But every time a problem came, so would a solution," Muhikira says. In part that was because of the Rwandan Community of Iowa. Claudien Karangwa, then a member of the organization, helped the couple with transportation and other needs. Muhikira and Pauline quickly settled in, working multiple jobs, including at DuPont Pioneer, Mosaic Family Counseling Center and Dr Pepper. He sometimes works more than 70 hours a week, including as an Uber driver.
"I remember the last words my daddy told me, when he was unable to help me," Muhikira says. "I immediately understood he wanted me to run. So even now when I feel like I am done, I remember his last words and I push my life until I make what was hard my motivation."
Last year, the couple bought a house and had a third child—and Muhikira became president of the Rwandan Community of Iowa. "I'm living a bonus life," he says. "That's why I am always happy and never get mad."
Muhikira is proud of his home country, its government and President Kagame for choosing reconciliation over hatred. Rwanda today is the product of an arduous process, for citizens as well as government officials. Muhikira recalls taking children to prisons to meet the Hutu men who became their fathers by committing rape. When American college students came to Rwanda, one of his jobs was to take them to reconciliation villages, where genocide victims and killers face each other to seek forgiveness and peace.
That reconciliation continues in Central Iowa. Muhikira and Pauline have hosted several Rwandan families and individuals, helping them find housing and jobs. They included one person whose parents are in prison for killing Tutsis.
"If I saw the man who killed my parents and asked him why, I know what he would say: 'The government told us to do it,' " Muhikira says with a light shrug. "When you forgive, you give yourself peace. You teach your kids that violence doesn't pay. You choose to be thankful."
---
Rwanda at a Glance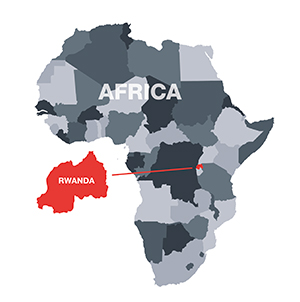 Population: 11.3 million; about 85% are Hutu, 14% Tutsi and 1% Twa.
Location: East-central Africa, a few degrees south of the equator. The country is bordered by Uganda, Tanzania, Burundi and the Democratic Republic of Congo.
Size: 10,169 square miles (about the size of Massachusetts), the fourth-smallest country on the African mainland.
System of government: Multiparty republic with a bicameral parliament. Paul Kagame has served as president since 2000.
Official languages: Kinyarwanda, English, French. Swahili is also widely spoken.
Economy: Based primarily on subsistence agriculture. Some 81% of Rwandans live in rural areas.
Religion: 43.7% of Rwandans are Roman Catholic; 37.7% Protestant; 11.8% Adventist.
For a timeline of recent history, go to dsmMagazine.com.
---
Rwandans in Central Iowa
Ishmael Muhikira is among a growing community of Rwandans in Central Iowa who arrived with aspirations and extraordinary resilience after their lives were forever changed by the savagery of genocide.
Last July 4, Rwanda's Liberation Day, Ishmael Muhikira became president of the Rwandan Community of Iowa, which he estimates includes up to 50 families. In addition to its annual July 4 picnic, on April 18 this year the organization will host in its third annual Kwibuka, which means "to remember." The event takes place in cities around the world to honor the victims of Rwandan genocide, to explain its history and to renew the determination to preserve peace.
Kwibuka 2020 in Des Moines will occur at Drake University's Sheslow Auditorium; it is free and open to the public. (The time and other details were still being determined at press time; visit rwandainiowa.com for updates.)  At Kwibuka, Iowa's Rwandan families will remember those who were lost, privately recall the terrors they survived and give thanks for their new lives in Iowa.
---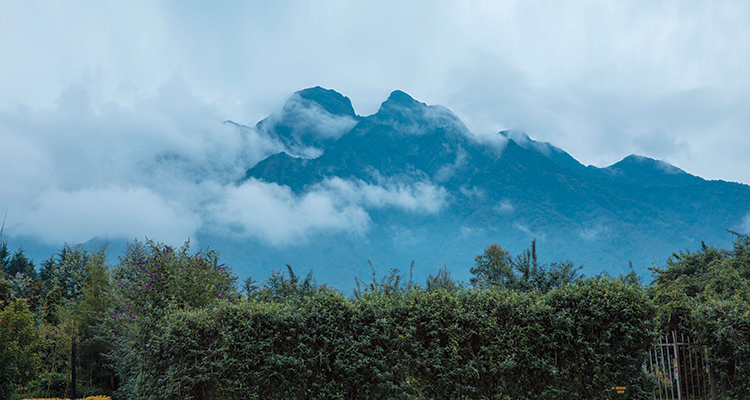 Above: The Virunga Mountains stretch along the northern border of Rwanda. Photo courtesy of Rwanda Development Board
The Miracle of Rwanda
Beauty and truth emerge from the darkness of recent history.
Writer: Barbara Dietrich Boose
Breathtakingly beautiful, the verdant republic of Rwanda offers endless sensual wonders—and solemn reminders of a gruesome past.
During a week there last year, I was enchanted by the landscape, the people and their culture. Colorfully dressed women carry seemingly everything atop their heads—bundles of sticks, huge baskets of bananas, two rakes—as
gracefully as fashionable hats. I shopped at a huge market of narrow aisles stuffed with bolts of dazzling cloth, jewelry, baskets, clothing, carvings, trinkets and much more, all hawked by eager vendors. I watched spotless streets being swept by assiduously focused government employees. I came within an arm's reach of a hulkingly majestic silverback mountain gorilla and his family in gorgeous Volcanoes National Park. And the coffee! The pineapple! My taste buds are still nostalgic.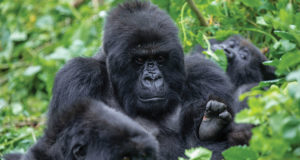 I had the amazing opportunity to travel to Rwanda thanks to my friend Steven Noah, whose careers in economic development, international trade and higher education led to his first trip there in 2008 and more than 30 trips since. I had the honor of accompanying Steve and Ambassador Kenneth Quinn, retired president of the World Food Prize Foundation, who was being honored for his humanitarian efforts by the Aegis Trust, a nonprofit organization that works to identify and counter threats of genocide. Although I had talked many times with Steve about Rwanda, nothing could have fully prepared me for the miracle and marvels that the nation represents.
The miracle, of course, is that the country rose from the haunting specter of genocide in 1994, the methodically planned murder of more than a million people in 100 days. Theories of how and why such a cataclysm occurred include a decades-earlier colonization process that planted the idea of a superior Tutsi race, a repressed Hutu majority hungry for a greater voice, a culture of obedience to authority, a vast number of citizens who'd fled the country but longed to return, and a venomous propaganda effort that created and dehumanized an enemy. So vicious was the hatred that neighbors killed neighbors, some spouses killed their spouses, some parents even killed their children.
It's a miracle that Rwanda not only has survived but also has progressed since the genocide, but its people will never forget it. Remembering the tragedy is a way to understand it and avoid its recurrence, a way to reconcile and even heal. The genocide memorials we visited taught us about its horrors and showed them: the hundreds of snapshots of people lost, displayed at the Kigali Genocide Memorial Center. The heaps of clothing piled upon the pews of the Nyamata Memorial Center, a former church where terrified Tutsis thought they would be safe. The bloodstained brick wall of the Ntarama Memorial Center, another former church, against which Hutu militias bashed the brains of babies.
As horrific as all of that is, I was equally struck by the guides I met at these memorials. Several spoke of losing parents, siblings, grandparents and other loved ones in the genocide. There was a palpable gravity among these young people as they retold the events that devastated the nation and their own lives. I also sensed how strongly they embraced their role in helping the country continue its healing. Bono, our guide at the Kigali Genocide Memorial, told me about a father who beseeched the guide to teach his three teenage sons what had happened.
"I cannot do that, as I'm too full of hate," the father told Bono. "But I don't want that for my children."
I also sensed, among these younger Rwandans, an optimism and confidence about their futures and that of their country. In Kigali, the nation's capital, brothers Emmanuel Nkuranga and Innocent Nkuruziza are sparking the country's growing creative industry as artists and co-founders of Inema Arts Center, where I marveled at huge paintings, sculptures, works by local youths and, in the main entrance, a gigantic gorilla that Emmanuel had constructed out of colorful computer components. In addition to selling artwork, the center offers programs to help women and young people explore their creative talent and generate income.
Of all my experiences in Rwanda, a comment by Freddy Mutanguha perhaps said the most to me about the country and its determination to move forward. Left an orphan by the genocide, he managed to work his way through school and then helped found AERG, Rwanda's student survivors association. After serving as secretary general of IBUKA, the national umbrella association for Rwandan genocide survivors, he became executive director of the Aegis Trust.
During a lunch hosted by U.S. Ambassador to Rwanda Peter Vrooman and his wife, Johnette, for Ambassador Quinn and our group, someone asked Freddy how it's possible he could forgive the people who murdered his family. He paused.
"I am forgiving," he stated—meaning it's a process still in progress but one he's committed to seeing through.
Just like Rwanda.