John Bosley barely remembers a time in his life when he wasn't doodling.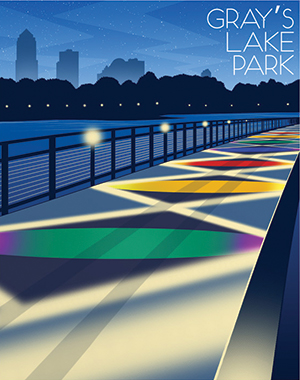 "I was always that kid that loved to draw. When I was 4, I'd create my own comic characters in the margins of coloring books," says Bosley, who eventually graduated with a fine arts degree from Iowa State. "Fast-forward to the present day—that love never left and now I get to make art for a living."
Since 2015, Bosley has been designing prints, posters and shirts using iconic Iowa places (Field of Dreams, Snookies) and events (Iowa State Fair, RAGBRAI) as inspiration. Bozz Prints, which he started in his basement, grew into a brick-and-mortar shop in Valley Junction last June.
True to his childhood hobbies, comic books and vintage Depression-era posters are the biggest influences for the artist, now 37. "I also pull a lot from contemporary artists like Aaron Draplin, Olly Moss, and Chip Kidd," Bosley says.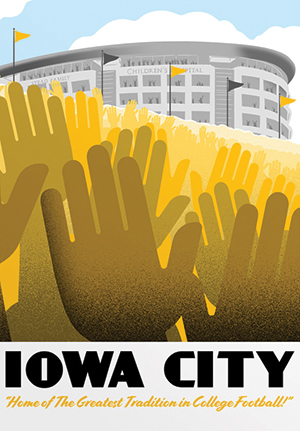 He starts with an idea, then investigates to find what's already been created related to the subject at hand.
"I especially love working on subjects and places that haven't been tackled much before. There's something really satisfying about making a print for a place that doesn't have much recognition outside of the Midwest," he says, citing his new 2020 series about Iowa parks.
After several preliminary sketches to get the composition right, he selects a favorite to polish up in "final art" digitally, using an iMac computer with Photoshop and a Wacom Cintiq digital pen display. This process can take anywhere from a few hours to a few days, depending on the complexity. His workflow is 100% digital, and Bosley relies on apps like Procreate to draw on the go (via his iPad Pro).
With more than 100 designs available on posters, magnets, shirts, coasters, pins and other products, Bosley is vigilant about scheduling enough time away from his workshop, too. Some of his best ideas pop up during trips, while watching Netflix with his wife, or while catching up with friends and family.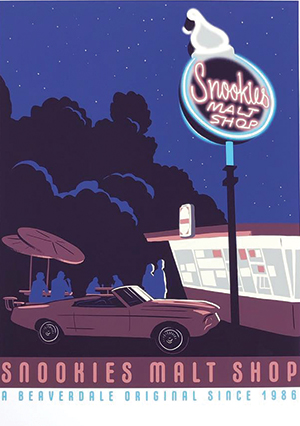 "I can get burned out pretty easily, so it's important to just take time off, relax and recharge," he says.
Looking ahead, Bosley aims to continue to add product lines to the mix. "I would love to make an Iowa-themed coloring book, write and draw a children's book, and create an animated short film," he says.
Check out Bosley's latest creations at 215 Fifth St. in West Des Moines and online at bozzprints.com.
—Karla Walsh