Writer: Samantha S. Thorpe
Photographer: Adam Albright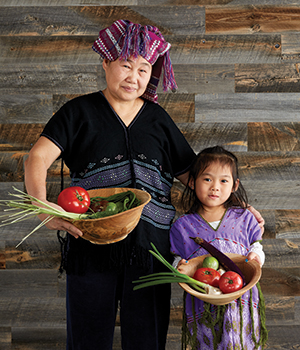 At a community garden each spring, the action is brisk and enthusiasm is high.
Wheelbarrows haul compost and mulch to fill beds and protect pathways. Families and retirees alike study established garden plots to spark inspiration for DIY trellises, fences and raised bed designs. Gardeners of all stripes tote seed packets, onion sets and maybe even strawberries to tuck into the garden's enriched ground. And both new and returning gardeners connect with one another about what they're growing this year and any secret growing tips.
This west-side garden on Franklin Avenue is one of three managed through Des Moines' Parks and Recreation Department. Others are the Downtown Community Garden and Woodlawn Community Garden. Each provides opportunities for local residents to plant side-by-side with their neighbors, some as young as age 13.
Individual plots, available for $25 for the entire growing season, measure 150 square feet. The city chips in free water, hoses and all the tools. With each plot comes a duty to provide two hours of volunteer time, with jobs such as maintaining the common pollinator garden, helping manage the garden hoses, and managing donations to area food banks.
"People often have an abundant crop and donate food," says Jen Fletcher, marketing supervisor for Des Moines Parks and Rec.
Reaching Refugees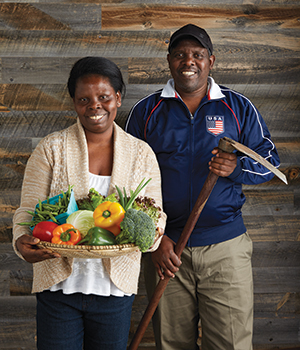 The city program also partners with Lutheran Services in Iowa (LSI) to provide refugees a place to develop their skills, revive their families' farming traditions and generate a new source of income.
In addition to the city, LSI works with other organizations to offer gardening opportunities for refugees, who come from such far-flung locales as Burundi, Bhutan, Myanmar and Rwanda. "We have 15 gardens throughout the city, with 175 community-garden plots," says Zachary Couture, LSI's supervisor of land and production.
One of LSI's partners, Westminster Presbyterian Church, provides 275-square-foot plots to 19 refugee families. Jeff Geerts, a member of Westminster who helps manage the garden, enjoys working with the refugees and learning about their techniques.
"One of the refugees has a large hoe that's not like a hoe we usually use," he says. "She can take it to the 275-square-foot plot and have it all worked up in 20 minutes." Geerts says he also admires how innovative refugees are in using found objects, such as sticks they transform into gardening stakes.
At the end of the season, Westminster hosts a harvest dinner and invites the refugees and church members for a celebration.
Global Greens
From these types of community gardens, "if people express interest and we have the land, they can move [to LSI's] Global Greens program, where they start out with a 2,500-square-foot plot," Couture says.
In addition to growing crops, the Global Greens gardeners also learn how to market their produce and run a business. They can sell at LSI's weekly Saturday morning farmers market or through their CSA (community-supported agriculture), whose members can buy a weekly share of produce to pick up throughout the season.
Through the program, Burundi refugees Zebedee Oscar and Anezia Barigenera put their farming backgrounds to work. Two of the biggest obstacles Barigenera faces are the clay soil and the cost of water. By working at an LSI garden, Barigenera taps its water sources to grow her produce, which she sells at LSI's farmers market. Oscar now grows a crop large enough to sell through the organization's CSA and also assists as an interpreter for the refugees and staff.
Growing Kids' Skills
At-risk children get to dig in the dirt—and learn about horticulture and healthy food—at Sprout: The Des Moines Urban Youth Learning Garden, which Drake University's environmental science students started in 2013. Located at the corner of 25th Street and Forest Avenue, it features an outdoor classroom, raised beds, fruit trees, plants native to Iowa and multilingual signage.
The program partners Drake students with children from a local Boys and Girls Club to teach them where their food comes from. Starting this year, Drake will work with students from the neighboring Gregory and Suzie Glazer Burt Club, which opened last fall.
"The kids love the garden," says Carissa Dannen, a Drake student and Sprout garden coordinator. "They love the plants. I will say potatoes are their favorite. They love to dig into the dirt to harvest them.
"They also learn a lot because it's a hands-on type of thing," Dannen adds. "They actually get to see it and experience it. They learn the difference between gardening organically like we do and gardening with pesticides. They can eat anything right out of our garden since it's organic. And anyone who volunteers to help in the garden gets to take some of the produce home."
Extra produce is placed in the Little Free Pantry, installed next to the garden. The pantry also has nonperishable items; the food is available not only for the children but for all Drake neighborhood residents.