Above: Simon Estes is rereleasing a CD to raise money for the Food Bank of Iowa. Combatting food insecurity is one of the opera star's philanthropic focuses.
Writer: Christine Riccelli
Photographer: Duane Tinkey
Several years ago, as Simon Estes was tooling down Interstate 35, he was shocked by a billboard stating that 1 in 5 children in Iowa struggled with hunger.
"I just could not believe it," says Estes, a global opera superstar and humanitarian. "I kept thinking, 'Is that really true?' Here we are in Iowa, the breadbasket of the world, and no child should be hungry. It weighed on my heart."
That weight only has grown heavier this year as COVID-19 and the faltering economy have made demand soar at food banks and pantries in Greater Des Moines and across the state. As of press time, the Food Bank of Iowa's partner agencies had been ordering twice as much food compared with pre-pandemic levels. "We've seen a significant uptick in our distribution numbers and expect them to continue increasing," says Michelle Book, the Food Bank's president and CEO, adding that in June, the organization distributed a record 2 million pounds of food.
In response, Estes decided to rerelease a compilation CD, "Save the Children, Save Their Lives," with proceeds benefiting the Food Bank of Iowa. (Part of the proceeds also will benefit the United Nations Foundation's Nothing but Nets program, which focuses on malaria prevention among children in Africa).
Book says she is "thrilled" to partner with Estes on the project. "When I answer my phone and hear that distinctively deep bass-baritone voice on the other end, I know my day is about to be enriched," she says.
Whatever the reason for the call, "inevitably the conversation broadens into a discussion about humanity," she adds. "Simon epitomizes the definition of great humanitarian: compassionate, sympathetic and generous of disposition. Simon's motivation is singular—departing this human world better off than when first placed in his mother's arms. I am honored Simon is putting his exquisite compilation … to work for hungry Iowans."
In addition to the title track, which Estes performed at the 2010 World Cup in South Africa, the CD contains compelling renditions of 19 other songs covering a variety of genres, including stirring spirituals ("Nobody Knows the Trouble I've Seen"), show tunes ("Old Man River") and inspiring standards ("You'll Never Walk Alone").
Showcasing Estes' powerfully luminous bass-baritone voice, every tune sinks into your emotional core and won't let go, making it impossible to listen to this music and not be moved.
Estes isn't a stranger to hunger. The Centerville native grew up in a family of modest means, then attended the University of Iowa, graduating in 1963. As a struggling student paying his own way, "there were times when there was not enough food to eat; breakfast could be just a handful of cereal, if that," he recalls. "I slept on a wooden floor without a mattress and worked any job I could—washing windows, scrubbing toilets, cleaning floors. I told myself then that if were ever blessed with [success], I would help children and students."
Success indeed followed those years at Iowa: Over his long and distinguished career, Estes has sung with 84 opera companies on six continents and with 115 symphony orchestras. He's also performed for the heads of 23 countries, including six U.S. presidents, as well as Hollywood A-listers and world leaders such as Nelson Mandela. In addition, he's sung at major world events; he's the only artist to have performed at the 25th, 50th and 75th anniversaries of the United Nations, the latter virtually this past June.
Along the way, Estes also has devoted his considerable energy to philanthropy, with his foundation focusing on hunger, health and education concerns for children and students, both in Iowa and worldwide. For example, he raised $432,000 for the United Nations Foundation to combat malaria and recently has given more than $200,000 in college scholarship money to Iowa high school students funded by proceeds from performances in 56 Iowa counties.
Estes, who lives in Ankeny with his wife, Ovida, plans to continue performing around the state to benefit hunger-relief organizations. "God has granted me good health—at age 82, I shouldn't be able to sing as I do, but I feel God is singing through me to serve people, especially children," Estes says. "I will sing to raise money for the rest of my life."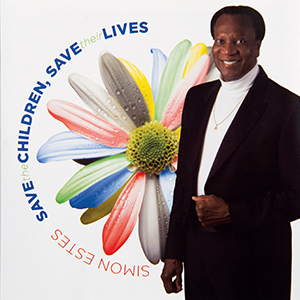 "Save the Children, Save Their Lives" is available for $15 as a CD or a digital download. As of press time, the complete CD, as well as individual songs from the compilation, was expected to be available on all major digital platforms, including iTunes, Amazon and Spotify. For a copy of the physical CD, send a check for $15 to the Simon Estes Foundation, 3803 N.W. Greenwood Lane, Ankeny, Iowa, 50023, and it will be mailed to you.