Writer: Karla Walsh
Stylist: Jacob Shroeder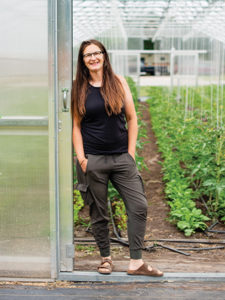 The idea of feeding her community has been growing on Jenny Quiner since the spring of 2016, when she planted her first seed at Dogpatch Urban Gardens (DUG).
"The ability to watch a seed develop into something you harvest after weeks to months of nurturing the land is such an amazing experience," she says. "I also love being able to provide my community with food that's grown using agricultural practices that sustain and also regenerate the land."
Before digging into all things DUG, an acre plot of land on the northwest side of Des Moines, Quiner was a high school biology and environmental science teacher. Teaching her students about local food systems was the first nudge toward working more with the land. Later, after she and her husband, Eric, added three sons to the family, "I felt like my heart was no longer into teaching like it once was."
In addition to tending to her prolific gardens, supplying local restaurants, managing an on-premises farm stand, and helping with family duties, Quiner enjoys cooking and feeding family and friends—especially during late fall.
"This is the time when greens are abundant and beautiful. Summer crops like tomatoes, peppers and cucumbers are on their last leg yet still delicious, and roots like carrots, beets and radishes are also abundant," she says.
Whether she's hosting or attending a group meal, "you can place money on me including a salad," Qunier says, such as this one that includes one of her new favorite crops: honeynut squash. This sturdy squash is like a petite butternut with more concentrated flavor and natural sweetness.
---
Honeynut Squash Salad With Blue Cheese
Serves 4
Ingredients
5 slices of bacon
One 1 1/2-pound honeynut squash, washed, sliced in half lengthwise and seeded
1 tablespoon butter
5 ounces salad greens, washed and dried
1/2 red onion, thinly sliced
4 ounces Maytag Blue Cheese Crumbles
2 ounces pepita seeds
1 ounce hemp hearts
Citrus vinaigrette, to taste
Instructions
1. Fry bacon. When cooked, place on a paper towel to absorb excess grease.
2. Preheat oven to 425 degrees.
3. Place honeynut squash cut-side up on a foil-lined baking sheet. Place 1/2 tablespoon butter in each cavity and season with salt and pepper.
4. Roast squash for 25 minutes or until tender. Set squash aside to cool. Once cool enough to handle, slice the squash into cubes. (Quiner prefers to leave the skin on, but you can scoop out the flesh if you prefer.)
5. Assemble the salad: In your favorite salad bowl, layer lettuce, onion, cheese, pepita seeds, hemp hearts, roasted squash and bacon. Add all ingredients and top with your favorite citrus vinaigrette. (Dogpatch sells its own Lemon Garlic Vinaigrette.) Mix and enjoy.
---
Secrets for Success
After putting this dinner side dish through the paces, Quiner has discovered a few tips that make it stand out from the salad competition.
Go local. "Most local growers are selling their product within days of harvest so the freshness and shelf life are superior to store-bought greens," Quiner says. She suggests you buy greens grown in the Midwest rather than the basic bagged varieties at the supermarket, which typically come from California, Arizona or Mexico and "have quite a bit of food miles before they reach the shelves of a store."
Crank up the heat. Roasting the squash at a high temperature causes caramelization, which enhances the natural sweetness of the vegetable.
Don't be blue about blue cheese. Sharp and salty blue cheese is a lovely complement to the sweetness of the honeynut squash, Quiner explains. She gives Maytag a thumbs up for being local and for its top-notch quality.
Pick the right pork. Quiner likes to use Berkwood Farms bacon because it's local and "the thickness of their bacon slices is perfect."
Start small. The ideal dressing-to-fixing ratio varies by person. To ensure the dressing doesn't overpower the flavors of the other ingredients, "err on the side of less," Quiner suggests. "You can always add more, but you can't take away if you pour on too much."