Trisha Goode McFadden is no stranger to the Des Moines restaurant scene. But together with her cousin and business partner, Kendall Owen, their new venture, Early Bird Brunch in West Des Moines, is bringing a whole new dining experience to the metro area.
Trisha's first job was at Ruby's Cozy Inn in Humeston, at the ripe age of 12. She treasures the memories of serving pancakes and coffee to her grandpa and his farmer buddies, and that is when breakfast became her favorite meal.
She continued to work in restaurants, the first 10 years working in them and then the following 20 years opening and running different restaurant concepts from sports bars to Mongolian grills, as well as other businesses that she was passionate about – from real estate home sales and a home rental business to a spa franchise that she developed and managed over 11 locations in her region, and most recently a travel agency business. Her favorite quote is "love what you do, and you don't work a day in your life," and she lives by that. She will tell you that she loves people and that sales comes naturally if she believes in what she is selling. She loves massages, travel and brunch — they are her favorite things that she enjoys doing with her three daughters. Trisha is also in the process of legally changing her name back to her family name of Goode. Trisha is excited for the opportunity to bring her experiences with restaurants, developing and franchising to grow the Early Bird Brunch brand far and wide throughout the United States, as their growth plan is to have 50 Early Birds open by 2030.
Kendall is a lifelong restaurant guru, starting at age 14 with the busiest Dairy Queen in Wichita, Kansas, and progressing through the ranks with local steakhouse chains in Kansas through college, where he eventually made the transition to a food and beverage management major, graduating with honors, specializing in not just the culinary arts, but restaurant management and health as a whole. After graduation, Kendall stayed with his profession managing upscale restaurants, country clubs and nightclubs before moving to Iowa in 2009. Since becoming an Iowan, Kendall has been part of opening a multitude of restaurant concepts and managing many popular restaurants throughout the Des Moines metropolitan area.
Trisha, who also owns and has developed several Massage Heights locations throughout Iowa and Nebraska, stumbled upon Early Bird Brunch through a business meeting at the original restaurant in Omaha, Nebraska.
"One of my franchisees from Massage Heights was Jamie Burrow, and he opened Early Bird in Omaha," Trisha said. "I did a consult with him at his restaurant and was blown away. The food was amazing, the environment was chill and friendly, the vibe was really good," and she knew immediately that Des Moines needed an Early Bird.
Trisha was ready to open her own Early Bird Brunch in Des Moines and began dreaming of a place where family and friends could enjoy a decadent meal any day of the week. She turned to her cousin Kendall, who was moonlighting as a franchise business consultant for one of her spa concepts. Together they have worked on several ideas. Kendall curated menus and managed kitchen staff in various locations. He met with the franchisees of the spa and the owners of Early Bid and was really blown away by the fun brunch theme that had never really been seen before.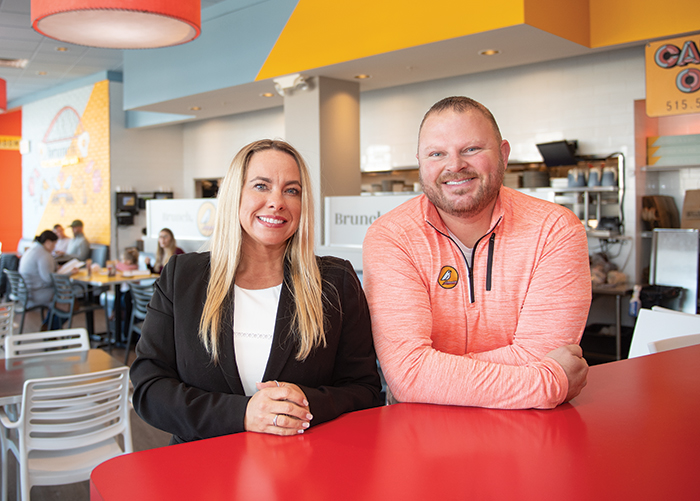 "Breakfast has always been a very basic concept pretty much everywhere local to me," Kendall said. "The dynamic of Early Bird really spoke to me as to what a truly awesome brunch experience could and should be." Then the COVID-19 pandemic hit.
As Trisha watched restaurants and businesses of all kinds shutting their doors, she placed her dreams on hold and waited for the right moment. "We were scared post-COVID," she said. "There were still a lot of places closing, but I knew how great it was and that we didn't have anything like it in our market at that time." Jimmy's Egg had recently closed, and the pair saw their golden opportunity to diversify the culinary options in the area. As soon as Kendall and Trisha walked into the abandoned space, Kendall just knew it was the most perfect place to bring Early Bird to life for Iowa. "When you go to Scottsdale or California, you find a brunch place on every corner." With a "roll of the dice," Trisha and Kendall opened Early Bird Brunch at 9250 University Ave. in West Des Moines in May 2021.
The restaurant in 2022 was named Best New Restaurant and in both 2022 and 2023, Best Brunch and Best Bloody Mary in Des Moines in Cityview's Best of Des Moines poll. "We are totally honored," Trisha said. "We all put our blood, sweat and tears into it. It was a big risk, but we really believed in it. I'm really grateful for the team we've got, and the support has been amazing." Trisha is no stranger to success and was honored with 40 Women to Watch in the Hospitality Industry this year.
Early Bird Brunch offers an indulgent menu with plenty of healthy options. Some of the most popular menu items are cinnamon roll pancakes, gluten-free waffles, award-winning Bloody Mary cocktails with infused vodkas, and smoked salmon Benedict. Trisha's personal favorite is the huevos rancheros with carnitas that have been slow-roasted for three hours. "We try to use local producers and businesses for as many things as we realistically can," Kendall said. Details like this are what make Early Bird stand out from the competitors, with its delicious food and vibrant atmosphere.
Kendall serves as the director of operations for the West Des Moines location and is excited to announce the new Ankeny location at 1520 S Ankeny Blvd., so you can usually find him in one of the restaurants. Early Bird Brunch is usually busy, but Trisha doesn't want that to keep people away. Diners can use the Yelp app to join the waitlist ahead of time.
"You can join it before church or on your way to meet your friends, and by the time you get here, you can be seated right away," she said. You can see in real time where you are on the list and know when it's time to head in to be seated.
Early Bird Brunch is open 6:30 a.m. to 2:30 p.m. seven days a week. For more information, visit earlybirdbrunch.com, or feel free to stay up to date with its Facebook and Instagram pages. If you are interested in franchising, please contact Trisha at trisha@earlybirdbrunch.com or 515-778-3862.
Check out Early Bird's Ankeny Grand Opening Specials!