Above: At Park Street Kitchen, grilled cheese croutons add a comfort-food touch to the smoked tomato soup.
Writer: Karla Walsh
Photographer: Duane Tinkey
Don't let the next bout of wearying weather put your date night plans on ice. With this cozy and dry all-inside restaurant crawl, you can dine at and support several of Des Moines' food and drink venues—without setting foot outside.
So slip on your favorite out-on-the-town outfit, call an Uber, Lyft or cab to drop you off and pick you up right at the door, and bring your appetite. We've mapped out a spirited evening, complete with your menu. The toughest decision you'll have to make? How soon you can find a day to make this happen.
Set the 1881 Saddlery Building as your ride destination, then grab a seat in the bar at this brewpub that's been crafting its own beers and delivering solid appetizers since 1996. Warm your bones
with the specialty smooth porter, which features hints of chocolate flavors. Or, if you prefer the taste of Honeycrisps over hops, sip on the Coyote Verde cider, a lower-alcohol fizzy apple drink from Fairfield, Iowa. To ease your hunger pangs until dinner, check out the restaurant's current appetizer menu and select a snack; the CABCo wings (pictured, below) or Spent Grain Pretzels are fan favorites. (courtavebrew.com)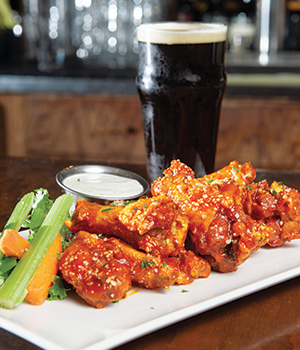 Skywalk Stop 1: Drink + Snack
Where to go:
Court Avenue Restaurant and Brewing Co.
309 Court Ave.
What to order: Porter in the Court beer + Coyote Verde cider + snack of choice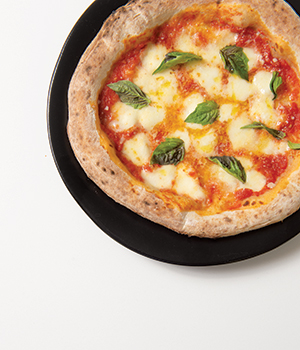 Skywalk Stop 2: Entree
Where to go:
Park Street Kitchen
435 Park St.
What to order: Little Gem wedge salad + smoked tomato soup with grilled cheese croutons + Margherita pizza
When you're finished at CABCo, climb one flight up to enter the skywalk and follow the signs to the Hilton Des Moines Downtown. Park Street Kitchen, the hotel's restaurant, is helmed by Italian cuisine innovator and chef Nick Marino. Through research and development since the restaurant opened in March 2018, he's mastered the perfect Neapolitan crust. So select your starter—both soup and salad are beautifully garnished and will fill you up just enough—then share the San Marzano tomato-topped classic Margherita pizza. Actually, don't split; you're going to want one all to yourself, so order two.
(facebook.com/ParkStreetKitchen)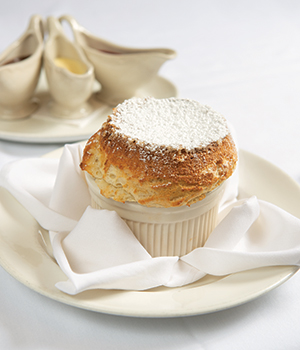 Skywalk Stop 3: Dessert
Where to go:
801 Chophouse
801 Grand Ave., #200
What to order: Grand Marnier souffle
After dinner, saunter over to 801 Chophouse, located four blocks west in the 801 Grand building. For the past 27 years, this tony steakhouse has offered something rare in downtown Des Moines: perfectly cooked and amply portioned steaks, seafood and sweets in a big city-like atmosphere—and with a big-city price tag. Enjoy the ambiance and a taste of the 801 experience, while keeping your budget intact, by saving this stop for dessert. Devouring the Grand Marnier souffle, which comes with a variety of sauces for drizzling, is a grand way to cap off your culinary adventure in style. (801chophouse.com/des-moines)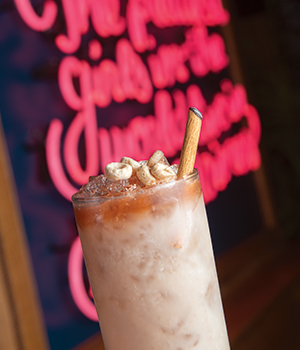 Skywalk Stop 4: Nightcap
Where to go:
Hello, Marjorie
717 Locust St.
What to order:
The Marjorie + the Editor's Note
Before you say goodbye to your skywalk crawl, make one final stop to say hello at Hello, Marjorie. The trendy yet warm vibe of this popular-since-2016 cocktail lounge makes it a nice location for a nightcap and some bonus conversation. Try one of the creative craft cocktails, such as the Cheerios-topped Breakroom (pictured), with plantain-infused tequila, almond, Abuelita chocolate, vanilla bitters and horchata. Or if darker liquors are more your style, opt for the Editor's Note (bourbon, apricot liqueur, smoked apple bitters, fresh apple). (Note: Hello, Marjorie is closed on Sundays.) (hellomarjorie.com)