Pictured: Harbinger
Writers: Hailey Allen and Michael Morain
Photographer: Duane Tinkey
There's always that sweet spot at the end of summer, when the State Fair winds down, the kids can entertain themselves, the lawn doesn't need mowing every weekend, and you can finally just relax before the rush of fall. Just take a deep breath and enjoy the moment.
And by all means, stay out of the kitchen. Three dozen of the finest local restaurants are ready to help you squeeze the last juice out of summer during dsm Restaurant Week, when you can enjoy a three-course dinner for $40-$80 or a lunch special for just $15-$25. (Full menus will be posted by early August at dsmRestaurantWeek.com.)
So go ahead: Book a table at your favorite spot or try someplace new. Your family and friends will thank you.
---
East Village
Alba
For 15 years now, Jason Simon's stylishly understated spot in a former auto shop in the East Village has been serving delicious seasonal fare for folks who appreciate creative flavors and attentive service without too much fanfare. When you go, try the gnocchi with herb crema, roasted seasonal vegetables and your choice of chicken confit or prawns, along with an inventive cocktail or one of the wines from the thoughtfully diverse list.
dsm Restaurant Week special: $40-$50
Find it: 524 E. Sixth St., albadsm.com
Bar Nico
As soon as this spot opened last fall, word spread fast: It's the place to go for inventive, upscale Mexican dishes made with — or conjured from — maitake mushrooms, shishito peppers, sweet corn, duck carnitas and more. The dessert list often includes sorbet, dulce de leche cheesecake, and a coconut rice pudding with avocado foam, pumpkin seed brittle and masa brownies. Each dish tastes even better than it looks, which is saying something.
dsm Restaurant Week special: $40-$50
Find it: 428 E. Locust St., barnicodsm.com
Franka Pizzeria
Since it opened in late 2020, this Franka location serves Neapolitan pies as well as weekend brunch. See "The Power of Five" below for more information about the restaurant group.
dsm Restaurant Week Price: $40-$50
Find it: 111 E. Grand Ave., frankapizzeria.com
HOQ Restaurant
When Suman and Cynthia Hoque opened this East Village eatery in 2012, they set out to celebrate local farms and global flavors, and they've done just that ever since. They source as much as possible from top-notch Iowa producers — with a few exceptions like wild Alaskan salmon — and make almost everything from scratch, including breads, buns, sauces, sausages and desserts. The seasonal menu runs the gamut from braised lamb to vegan bowls of greens and grains, with a diverse mix of cocktails, unusual wines and local brews.
dsm Restaurant Week special: $40-$50
Find it: 303 E. Fifth St., hoqtable.com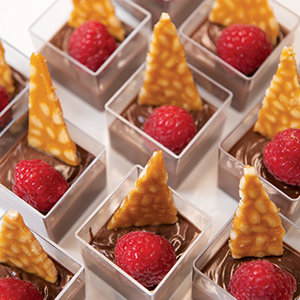 Republic on Grand
From its perch atop the AC Hotel, this plush bar and restaurant offers the big city feel of the Twin Cities or Chicago and bird's-eye views of the East Village. The cocktails are a big draw — try the whiskey-forward Sherman Hill with aronia berries and citrus — but you can easily extend your visit with small plates, charcuterie, flatbreads, sliders and full-on entrees like miso-grilled Norwegian salmon. Everything about this place feels elevated, except the prices.
dsm Restaurant Week special: $40-$50
Find it: 401 E. Grand Ave., therepublicongrand.com
---
Downtown
Allora Cafe
Inside the Krause Gateway Center, this spacious cafe serves breakfast pastries and coffee as well as lunch to the downtown crowd Mondays through Fridays. Chef and owner Michael LaValle uses farm-fresh ingredients for his Italian-inspired menu. Try the signature tomato basil soup or Allora Carbonara, or take a meaty meatball and provolone panini to go as you stroll across the street to the Papa John Sculpture Park.
dsm Restaurant Week Price: $50-$60
Find it: 1459 Grand Ave., krausegatewaycenter.com/alloracafe
Bubba
Beyond boasting one of the city's largest whiskey collections, this Southern-style favorite offers chef-driven comfort food complemented by craft cocktails, microbrews and wines. Find Southern classics such as fried chicken and waffles, pimento mac and cheese, fried green tomatoes and glorious gumbo. It's open for lunch and dinner during the week and makes a perfect place for a weekend brunch with the belles.
dsm Restaurant Week Price: $50-$60
Find it: 200 10th St., bubbadsm.com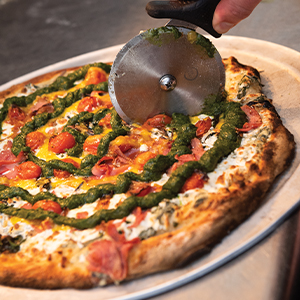 Centro
Settle in for a multicourse Italian feast or drop in for casual drinks and a pizza with friends at the bar. Whatever you prefer, the fresh ingredients and wealth of options make Centro the place to be. Book a table on the breezy patio to dine al fresco on fried calamari, handmade ricotta gnocchi or a hearty 12-ounce New York strip.
dsm Restaurant Week Price: $50-$60
Find it: 1003 Locust St., centrodesmoines.com
Court Avenue Brewery
This brew pub in the historic Saddlery Building has been a staple on Court Avenue for more than 25 years — and it's not for nothing. They brew their beers on-site so customers can watch the action, and the CABCo Wings slathered in Cajun sauce and topped with parmesan cheese are a must-try. Beyond beer and wings, CABCo offers heaping portions of pub favorites like burgers and sandwiches, fresh salads and soups, pizzas, plus weekend brunches (served with a side of people-watching during the farmers market).
dsm Restaurant Week Price: $40-$50
Find it: 309 Court Ave., courtavebrew.com
Django
Want to jet off to Paris without the price tag? You'll find all the French classics right here, including garlicky, butter-drenched escargots, oysters on the half shell, baked ratatouille with herbed goat cheese, and coq au vin (pan-seared chicken with Burgundy demi-glace). Choose from their curated wine list for the perfect pairing, or ask one of the sommeliers for a recommendation. Then close your eyes and imagine the Eiffel Tower — or open them and see the Pappajohn Sculpture Park right across the street.
dsm Restaurant Week Price: $60-$70
Find it: 1420 Locust St., djangodesmoines.com
Fresko
In just three short years, this buzzy restaurant has become a major player in the downtown dining scene — for a fun business lunch, date night or weekend brunch. You can't go wrong with the wood-fire grilled wings or hanger steak served with sauteed greens and a cloud of creamy mashed potatoes with goat cheese and chives. Treat yourself to a cocktail, too, like the Smoke and Mango made with whiskey and tequila infused with mango and jalapeno.
dsm Restaurant Week special: $60-$70
Find it: 909 Locust St., freskodsm.com
Malo
Located in the historic art deco firehouse that later housed the Des Moines Social Club, Malo is a hip downtown destination for specialties from Mexico and farther south of the border. In the lively dining room or front patio, sample Latin American culture in the enchiladas, fajitas or long list of taco choices. Find craft cocktails and an extensive menu of mezcal and tequila.
dsm Restaurant Week Price: $40-$50
Find it: 900 Mulberry St., malodesmoines.com
Mash + Marrow
For a sophisticated and stylish meal, head to this modern American restaurant and bar inside the Marriott on Grand. Executive chef Derek Breitbach has been perfecting his crispy pork belly tacos with sweet and spicy jalapeno syrup for years, ever since he started out in Texas. During dsm Restaurant Week, diners can look forward to a spinach and kale salad with goat cheese, a tender New York strip, and lemon layer cake with strawberry sauce and whipped cream.
dsm Restaurant Week Price: $40-$50
Find it: 700 Grand Ave., marriott.com
Mulberry Street Tavern
This luxurious restaurant and bar opened at the end of 2020 as an extension of the Surety Hotel, where large windows and a stately wooden bar give the place a fresh but nostalgic feel. The menu offers traditional tavern fare and classic cocktails, along with eclectic wines and an interesting array of local, regional and foreign beers. Chef Rateb Aburas cooks up a host of worldly flavors inspired by his Palestinian and Canadian roots.
dsm Restaurant Week Price: $50-$60
Find it: 206 Sixth Ave., suretyhotel.com
Park Street Kitchen & Bar
With a happy hour from 3 to 6 p.m. weekdays and an all-day happy hour on Thursdays, there's lots to love about this American eatery up on the hill at the downtown Hilton. Find burgers, salads and decadent main dishes like loaded mac. Rise early and head to the spacious patio for dreamy sunrise views of the Capitol, or finish the day with drinks and apps around the fireplace on cool summer evenings.
dsm Restaurant Week Price: $40-$50
Find it: 435 Park St., hilton.com
Splash
The tides may come and go, but Splash stands the test of time. For 25 years now, this downtown restaurant has showcased delicious seafood flown in fresh from around the world. Try the Chilean sea bass, Alaskan king crab, oysters on the half shell or something from solid ground, like a prime steak grilled to perfection. It's an ideal spot for a bite to eat before a show, but here, the meal itself can be the night's main event.
dsm Restaurant Week special: $70-$80
Find it: 303 Locust St., splash-seafood.com
St. Kilda Cafe & Bakery Downtown
Since 2017, the first of the St. Kilda trio has drawn loyal diners just south of downtown with breakfast favorites like avocado toast and espresso. Learn more about the restaurant group in "The Power of Five" below.
dsm Restaurant Week Price: $40-$50
Find it: 300 S.W. Fifth St., stkildadsm.com
Tupelo Honey Southern Kitchen & Bar
Southern charm and sweet smells await guests inside the airy first floor of the sleek Miesblock building on Grand Avenue. The restaurant chain started in North Carolina and now brings the flavors of Asheville to Des Moines. You can taste the attention to detail in each bite of sriracha honey-covered chicken and waffles since the scratch kitchen sources its ingredients from sustainable and responsible purveyors around the country.
dsm Restaurant Week Price: $40-$50
Find it: 665 Grand Ave., tupelohoneycafe.com
---
Just Beyond
Aposto
The beautifully preserved 1880s Victorian mansion with a wraparound porch in Sherman Hill houses a bustling kitchen that serves handmade pasta, pizza fritta and other delectable dishes four nights a week to diners looking for elegance with a touch of intimacy. Along with an extensive wine list, there are new entrees each week, like gnocchi with blue crab in a Menabrea and pink peppercorn cream sauce. Even so, you can never go wrong with owner Tony Lemmo's namesake cavatelli served with homemade Calabrian-style sausage, Romano cheese and ground fennel.
dsm Restaurant Week Price: $60-$70
Find it: 644 18th St., apostodm.com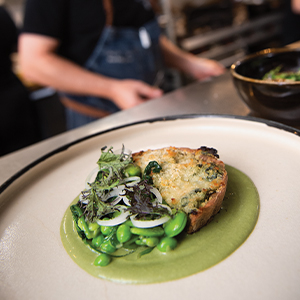 Harbinger
Each time you visit, it's like a whole new experience, thanks to an innovative menu of small plates that change with the seasons. Owner and chef Joe Tripp and chef de cuisine Ryan Skinner focus on Asian-inspired flavors with upscale American takes, including dumplings, steamed buns, chawanmushi (a Japanese egg custard) and all sorts of inventive entrees. During dsm Restaurant Week, diners can get an optional wine pairing with each course.
dsm Restaurant Week Price: $50-$60
Find it: 2724 Ingersoll Ave., harbingerdsm.com
The Latin King
No other local restaurant has a more loyal following than the Latin King. The benevolent Italian monarch has reigned on the east side for 76 years, serving steak de Burgo, chicken spiedini, toasted ravioli and tiramisu to generations of satisfied customers. The tradition that Jim and Rose Pigneri started in 1947 evolved with the Tursis and continues today with Whitney VinZant, who bought the business in 2021.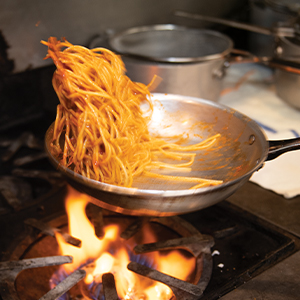 dsm Restaurant Week special: $50-$60
Find it: 2200 Hubbell Ave., latinkingdsm.com
Motley School Tavern
Nic Gonwa's 4-year-old spot in Beaverdale already feels like it's been there forever, a neighborhood fixture as familiar as Snookies. Start your day with a killer brunch of fluffy buttermilk pancakes or visit later for fried chicken, gnocchi, pierogi, smoked pastrami, classic fried bologna sandwich — and, of course, soul-stirring fresh pie.
dsm Restaurant Week special: $40-$50
Find it: 1903 Beaver Ave., mstdsm.com
St. Kilda Collective
On a busy corner of Valley Junction, this St. Kilda location serves breakfast, lunch and dinner and offers a 3-5 p.m. happy hour. Read more in "The Power of Five" below.
dsm Restaurant Week Price: $40-$50
Find it: 333 Fifth St., West Des Moines, stkildadsm.com
---
Suburbs
Aura
Since it opened in early 2021, this place has offered a swanky Vegas vibe, where you can feel like a high roller without busting the bank. Try the mini beef Wellington, wrapped in its own pastry pocket, or the grilled Duroc pork chops in mushroom Marsala sauce — or, if you're really lucky, catch a whiff of the five-spiced duck breast right as it comes out of the oven. The wine list is sensibly priced and the cocktails, like Noah's Smoked Old Fashioned, are just the ticket for a night on the town.
dsm Restaurant Week special: $40-$50
Find it: 12851 University Ave., Clive; auradsm.com
BeerStyles Taproom and Gastropub
This casually cool spot opened in 2017 as a sister company to WineStyles, the popular wine shop. Find a compelling mix of social settings all under one roof: a family-friendly restaurant, a taproom, a lounge, a patio and an event venue. The refined pub atmosphere welcomes foodies of all kinds with seasonal menus and rotating beverage selections. Culinary director David Baruthio also loves showcasing in-season dishes at the restaurant's monthly pop-up dinners.
dsm Restaurant Week Price: $50-$60
Find it: 5513 Mills Civic Parkway, West Des Moines; beerstyles.com
District 36 Wine Bar
Located in Ankeny's Prairie Trail development, District 36 Wine Bar serves up American fare in an intimate and elegant space. Choose from a wide variety of starters and pizzas, or go for something more substantial like the salmon BLT. They're open seven days a week for lunch and dinner, so stop by for an afternoon pick-me-up during a trip to shops at Prairie Trail.
dsm Restaurant Week Price: Unavailable at press time
Find it: 1375 S.W. Vintage Parkway, Ankeny; district36winebar.com
Firebirds Wood Fired Grill
Easy question: Would you like a hand-cut filet wrapped in bacon and seared over a wood fire? Maybe with a few grilled shrimp? The answer is yes. This polished but casual spot near Jordan Creek Town Center offers steakhouse and seafood classics with few twists, like lobster queso, to keep things interesting. The weekend brunch is a decadent treat.
dsm Restaurant Week special: $40-$50
Find it: 440 S. 68th St., West Des Moines; firebirdsrestaurants.com
Fleming's Prime Steakhouse & Wine Bar
This is the go-to place for a tender, marbled, full-flavored New York strip. (After all, Steakhouse is their middle name.) But there are plenty of other tempting options, too, like sweet chili calamari or tuna poke drizzled with a bright soy-ginger sauce. With luxurious desserts, a thoughtful wine list and impeccable service, what more could you want for a business dinner or a special night out?
dsm Restaurant Week special: $70-$80
Find it: 150 S. Jordan Creek Parkway, West Des Moines; flemingssteakhouse.com
Franka Pizzeria
With the open kitchen here, guests can watch all the pizza-making magic happen. Learn more about the restaurant group in "The Power of Five" below.
dsm Restaurant Week Price: $40-$50
Find it: 12695 University Ave., Clive; frankapizzeria.com
Gastro Grub & Pub
Sean and Andrea Gleason's hot spot in Waukee's boomtown dining scene offers made-from-scratch dishes that simultaneously satisfy your inner kid and grown-up palate. The short rib grilled cheese sandwich, for example, combines gooey melted Havarti with braised ribs, caramelized onions, garlic aioli and arugula between two slices of sourdough bread. The kitchen dreams up new specials every week, but if you can't decide, all you need to utter are four magic words: steak de Burgo poutine.
dsm Restaurant Week special: $40-$50
Find it: 1378 Hickman Road, Waukee; gastrogrubpub.com
Irina's Steak & Seafood
Earlier this year, Irina Khartchenko and her husband, Dmitri Iakovlev, closed their original restaurant in Urbandale, but don't worry: They're channeling their energy into their stylish new spot in West Glen. Each plate is beautiful, from the simple homemade potato pierogies to the halibut a la Oscar with poached lobster, quinoa and asparagus with a spoonful of classic Bearnaise. There's an impressive wine list, but if you're feeling fancy, raise a toast with a vodka cocktail.
dsm Restaurant Week special: $50-$60
Find it: 650 S. Prairie View Drive, West Des Moines; irinassteakandseafood.com
Ruth's Chris Steak House
Note: Due to its delayed opening, on Aug. 14, the steak house plans to begin its Restaurant Week participation in 2024.
Hear that sizzle? At press time, Iowa's first outpost of the popular international chain was set to open this month in a spacious new building with three patios, three bars, five private dining rooms and a vast stockpile of fine wine. But the real star, of course, is the beef — cooked at 1,800 degrees Fahrenheit and served on a 500-degree plate with little more than a pinch of salt and pepper. They haven't messed with that winning formula since Chris Matulich opened the original Chris Steak House in New Orleans in 1927, or since Ruth Fertel bought it in 1965.
Find it: 950 Jordan Creek Parkway, West Des Moines; ruthschris.com
St. Kilda & Bakery Clive
New last year, this St. Kilda location serves all-day breakfast and lunch and started dinner service back in May. Read about the group in "The Power of Five" below.
dsm Restaurant Week Price: $40-$50
Find it: 12695 University Ave., Suite 140, Clive; stkildadsm.com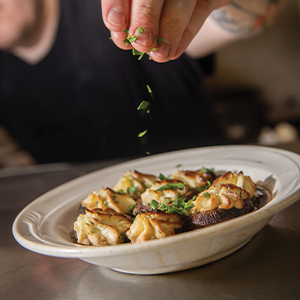 Trostel's Greenbriar Restaurant 
This enduring Johnston eatery knows how to take care of you with a satisfying sandwich or bowl of soup for a weekday lunch, or more refined fare like walleye or prime rib for a weekend date. Their signature "gunpowder" spice mix packs a punch of flavor on any steak you'd like — pro tip: try it on the rib-eye — and you'd be wise to save room for one of the house-made desserts.
dsm Restaurant Week special: $40-$50
Find it: 5810 Merle Hay Road, Johnston; greenbriartrostels.com
Urban Cellar
True to its name, the wine market here offers more than 600 options that you can take home or drink in the restaurant without a corkage fee. The food menu features plenty of tempting choices, including fish and chips battered in lemony tempura, tuna tartare, burgers, pastas and, during dsm Restaurant Week, short rib poutine and a peach tart topped with pine nuts and ice cream. We'll definitely drink to that!
dsm Restaurant Week special: $40-$50
Find it: 640 S. 50th St., West Des Moines; urbancellarwdm.com
The Urban Grill
Come as you are to this quintessential neighborhood restaurant in Urbandale, where you can dig into Prince Edward Island black mussels, Korean steak tacos, a Cajun burger or a classic like chicken Marsala. The prime rib is tender enough to cut with a spoon and pairs well with any number of cocktails, wines and beers from the extensive list.
dsm Restaurant Week special: Unavailable at press time
Find it: 3651 86th St., Urbandale; theurbangrilldm.com
The Power of Five
The St. Kilda and Franka Pizzeria restaurant group has been spreading fresh flavors across the metro ever since 2017. The five siblings — three St. Kildas and two Frankas — are all owned by Alexander Hall, a Londoner who was raised in Australia, and his wife, Whitney, who grew up in Urbandale.
All three St. Kilda restaurants are Australian-style cafes and bakeries that serve modern dishes, fresh pastries, artisanal coffees, cocktails, beer and wine. St. Kilda Collective in Valley Junction bakes all the bread, croissants and other pastries for the other locations. Find other morning delights like breakfast sandwiches, parfaits and pork belly Benedict at the downtown location, or filling lunchtime and dinner meals like grilled salmon and risotto at the space in Clive.
Both Franka Pizzerias serve Neapolitan-style pizza with its signature light crust topped with tomatoes and mozzarella. Build your own with red or white sauces and all sorts of fresh toppings, or go for a sandwich or calzone. The East Village location serves weekend brunch, including a breakfast pizza and a few favorites from St. Kilda.
Find them: See specials and locations above.
---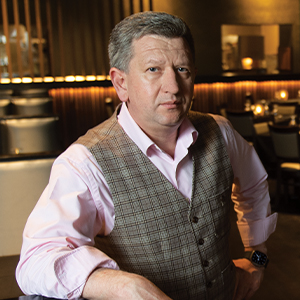 Ask the Owner: Dmitri Iakovlev of Irina's Steak and Seafood
Dmitri Iakovlev grew up in Sochi, the Russian resort city on the Black Sea where his uncle ran a restaurant. That's where he met Irina Khartchenko before they got married and settled 20-some years ago in Iowa after a roundabout journey through Canada and California. They ran a spot in Urbandale for 17 years before shifting their energy to their new restaurant in West Des Moines.
How would you describe the new place? We've kind of stepped away from traditional Russian cooking. It's more about steak and seafood, with high-quality things that people can't purchase in a store. We can bring it to the restaurant for a reasonable dollar amount – beef dried in-house, wild boar from Texas, turbot fish from Spain, seafood from Michigan, all flown in fresh several times a week. We strongly believe in what we do. We like to put passion and happiness on a plate.
What's your favorite dish? Our steak de Burgo won a citywide contest several years ago, with the blessing of the Iowa Beef Council. We tweaked the recipe for many years to get it just right.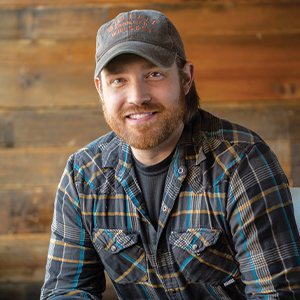 Ask the Owner: Nic Gonwa of Motley School Tavern
What was your vision for Motley School Tavern? We wanted to do our take on classic Americana and some dishes that remind us of our childhood. We also wanted to make the surroundings warm and inviting, a comfortable place to come and hang out, drink, eat and socialize.
What's your favorite dish on the menu? My favorite dish on the menu is and always will be the fried bologna sandwich. It's just such a nostalgic snack.
What do you love about working in the restaurant business? The industry is high-energy, creative and challenging. So many things revolve around food and drink, and it's rewarding to be a part of this experience with our guests.
---
Share your favorite dsm Restaurant Week meals and foodie photos with us! Tag us in your posts and stories @dsmrestaurantweek or use #dsmrw2023 for a chance to be featured on our social media.