A small lake offers a serene oasis near Water Works Park.
Writer: James Augustus Baggett
Photographers: Doug Klein and Duane Tinkey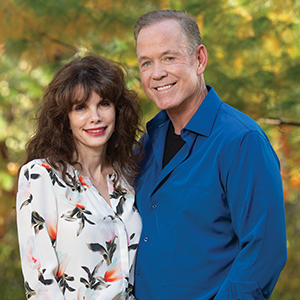 Be careful what you wish for. That's the advice of Doug Klein, who owns American Dream Machines downtown. Three years ago the city sold him a neglected 10-acre parcel of Water Works Park across the road from the well-appointed home and gardens he shares with his wife, Julie, and a pair of teacup Yorkshire terriers. "It's great to have your own park," he said, "but it's also a lot of work."
The Kleins' private park seems a world away from the neon lights and sparkling chrome of the muscle cars on display in the iconic showroom they opened 20 years ago on the southwest corner of Western Gateway Park. "People come and walk their dogs almost every day," Doug Klein said. "We see a lot of families bringing their children to walk the trails and see the one-acre lake and the waterfalls. We've even had people come here to meditate."
The couple purchased their original 1.4-acre property 27 years ago, along with the modest 1960s ranch house where they raised their two now-adult children. Along the way, they remodeled the ranch into the three-bedroom home of their dreams with five gables out front, a primary bedroom suite with vaulted ceilings and a dark-green marble bath, a vaulted sunroom, and a new entryway and workout room, adding an extra 2,000 square feet. They also added two spaces in the garage, which can now house five cars.
The home's landscape has also undergone a renovation. For starters, visitors are greeted by a pair of majestic, life-size brass lions, imported from overseas and placed beside the driveway. Nearby, a series of water features designed and built by Abram Pulley of California includes several waterfalls that are illuminated at night. From the largest, 1,500 gallons of water cascades per minute into a 200-foot creek that flows into a koi pond. "Our water features are unlike anything I've seen in Des Moines," Klein said. "You feel like you're next to waterfalls in Hawaii, surrounded by Japanese maples and elephant ears."
When the couple purchased the extra parcel of land, it was overgrown and strewn with garbage. A set of abandoned railroad tracks hadn't been used in three decades, and pools of standing water harbored mosquitoes. As part of their agreement with Water Works Park, the Kleins removed hundreds of dead trees, planted 300 new trees and three acres of grass, and regraded the land to drain the stagnant water. In its place, they created a small lake that now teems with fish, frogs, ducks and geese — but few mosquitoes. The space "gets incredible the more it rains," Klein said. "It has several sitting stones, a stone bridge that crosses over a creek, and a large stone mask over a water cave that makes it look like an 'Indiana Jones' set."
The restored landscape is now a popular destination for friends and family. "Our little park has become a doggie paradise with hundreds of happy dogs having the time of their life," he said. "We really love it when people come and enjoy the park with their kids or dogs and take walks, catch frogs or just sit around and enjoy a picnic."
The spot also attracts visitors of a wilder sort, including turkeys, raccoons, coyotes, up to 18 deer at a time, and even a quartet of barred owls spotted bathing in the creek. "Our house is all about living in nature," Klein said. "We have windows that wrap around the house so we can open them at night to be immersed in the wild — with the sound of the birds, waterfalls and the resident owls of the Owl's Head neighborhood."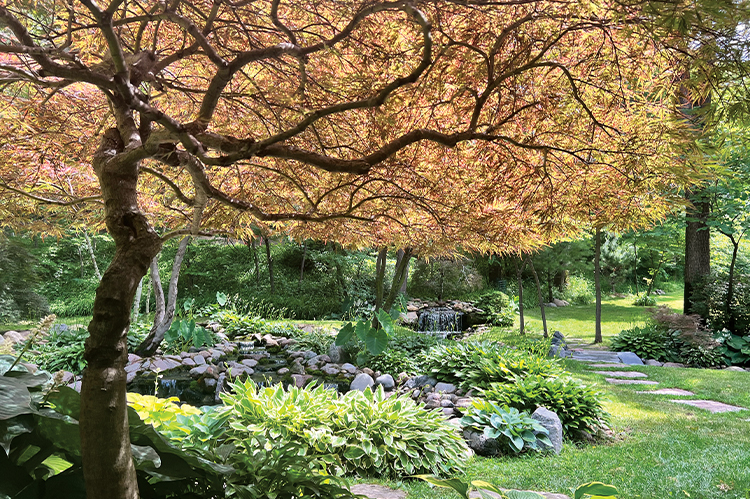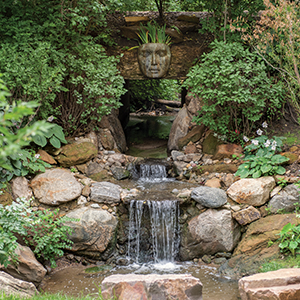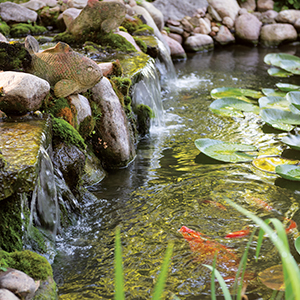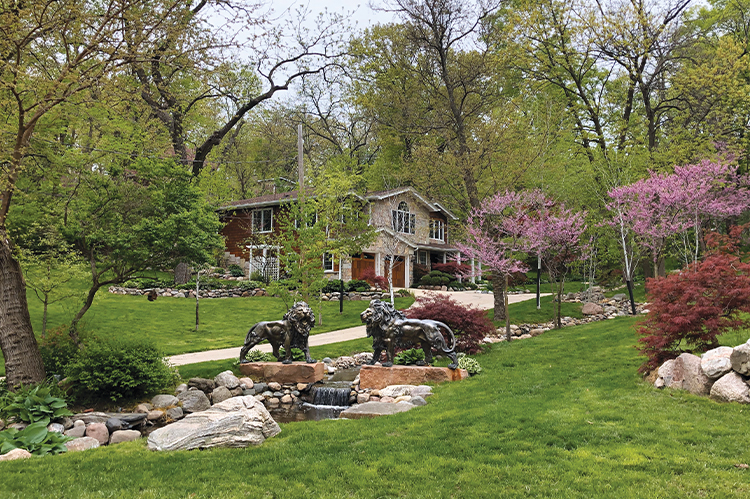 Natural beauty graces the Kleins' property year-round, from its hosta-lined pathways, cascading waterfalls, and koi pond, to the stream that flows between a pair of majestic brass lions.