Ceramics have become a popular item among shoppers at CKD Home, says owner Courtney Kennedy. Thanks to her discerning eye, you can find one-of-a-kind mugs, bowls, plates and more.
Writer: Hailey Allen
Photographer: Duane Tinkey
Shop local artisans and faraway finds at CKD Home.
When you step into CKD Home (520 S.W. Ninth St., Unit 114), a wall of vines and plants hanging just across the room grabs your attention. There's a sense of vibrancy and growth, both from the botanicals and from the elegant collection of local handmade goods and vintage pieces arranged on the tables and shelves. 
Owner Courtney Kennedy opened the shop in 2017 after seeing a gap in the local market for boho-style vintage wares. At her previous job as an interior designer for residential homebuilders, she noticed a boom in client requests for bohemian-influenced goods. 
"Sourcing items for clients required our team to scour antique malls, order from online resellers or find a newly made replica from a big-box store, which defeats some of the purpose of the aesthetic," Kennedy says. 
She left that job to strike out on her own, starting the store as a place to collect the vintage pieces people were searching for and sell them locally. After touring the space on Southwest Ninth Street, Courtney and her husband, Alec, signed the lease and have been there since.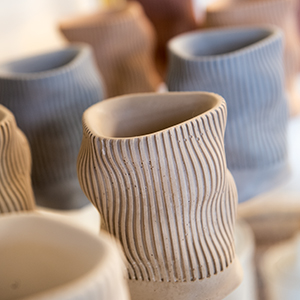 Fun finds: At CKD you'll find vintage tables and chairs from estate sales in Omaha, rugs imported from Turkey, and ceramics made from Des Moines-based Blue Prairie Kitchenware, along with decorative pillows, ramen bowls with handmade chopsticks, antique candlesticks and jewelry and stationery products. "We carefully curate what we bring in, and [Alec and I] travel and source everything ourselves from auctions, estate sales, vintage fairs, even Craigslist finds," Kennedy says.
Mix and match: Kennedy's biggest decorating tip? Trust yourself and fill your space with items that bring you joy, which will feel much more cohesive than if you try to follow someone else's mold, she says. And don't be afraid to mix and match. "My heart is in the details," Kennedy says. "If you have a basic couch from Homemakers, like we all do, there's no reason you can't still have that eclectic character in your space … with the small pieces you collect around it."
CKD Home hours:
Sundays noon-3 p.m.
Thursdays 11:30 a.m.-3 p.m.
Fridays and Saturdays 11:30 a.m.-4:30 p.m.
Closed Mondays, Tuesdays and Wednesdays
---
Zhoosh /ZHooSH/: to make more exciting, lively or attractive.
Andi Smeltzer started Zhoosh as a pop-up booth in Grimes in 2019. From there, it grew into a storefront, and Smeltzer moved the operation to its current location in the East Village (313 E. Fifth St.) last November. 
The store itself gives off a devil-may-care attitude, possibly a product of Smeltzer's own chaotic good energy, with a variety of handpicked odds and ends. With iridescent strings of garland hanging from the ceiling, a neon sign in the entryway, and layers of color and pattern, you immediately enter another world where design rules become a moot point. 
One vintage rattan shelving unit houses humorous cards and high-end smoking accessories, while across from it stands an art deco-style display case showcasing thrifted teacups and ashtrays. Smeltzer utilizes the building's modern design to illustrate "how you can still do cool vintage stuff in a brand-new house," she says.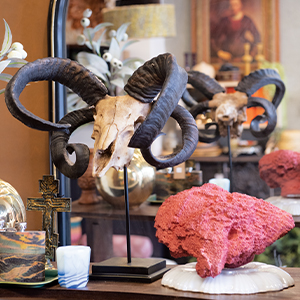 Laying it on thick: You'll notice a few places where the hodgepodge of items displayed each seem to have a different color and pattern. Smeltzer loves mixing her vintage finds with her favorite modern brands with abandon. "Nothing actually goes together at first glance, and then I kind of force it together and it just works," she says. Exhibit A: a table she draped in sheer fabric and topped with vintage candleholders, candles and scented matchsticks by modern brand Bohēme, found photos in frames, and an assortment of coffee table books. The finishing touch was a brightly patterned rug underneath to bring the vignette together.
Getting personal: Smeltzer finds most of her items at flea markets, thrift stores and estate sales. As for the modern brands she carries, she aims for sophisticated but accessible, so that everyone feels they can accessorize their space in their own way. "If you elevate your space, it elevates your life. And everyone deserves that," she says. 
The Modern Rituals section in the back of the store reflects that belief, with cozy, low lighting where you'll find handmade jewelry and curated personal care products.
Zhoosh hours:
Sundays noon-4 p.m.
Wednesdays, Thursdays and Saturdays 11 a.m.-5 p.m.
Fridays 11 a.m.-6 p.m.
Closed Mondays and Tuesdays