Greg and Ruthie Jackson and their two children, Everett, 6, and Emmelie, 8.
Writer: Candace Ord Manroe
Photographer: Duane Tinkey
Ruthie Jackson says she regards the Georgian-style home she shares with her husband, Greg, and their two children as "one big art project. I'm always experimenting."
Jackson, a certified interior decorator, loves her design calling and brims with confidence. That's why a tight budget couldn't cramp her style when the family moved four years ago from their beloved Waterbury cottage into the roomier 1935 house located South of Grand.
"I'm a big Phase 1 fan for long-term renovations," she says. "I'd rather have the whole house feel cheery, clean and safe than have one or two perfectly finished rooms."
Her children were only 1 and 4 when the family moved in. "I worked quickly with anything we had on hand—things family gave us, including leftover paint, and lots of secondhand [pieces]," she recalls. "And nothing too precious with littles hanging around. When time, money and inspiration come together, I will go back through and make Phase 2 changes."
Meanwhile, smaller projects are nonstop. Most recent is the addition of black paint to the living room. "I'd stained the paneling on the adjacent [porch] black, and I like how the black ties the two spaces together," Jackson says.
The black also grounds the softer blues and greens she favors, slathered over walls and decorating furniture fabrics, rugs and art. The palette knits all the spaces into one cohesive design.
"Paint is relatively inexpensive and wields so much power to change a space," she says.
Jackson defines her style as "modern traditional. I like to listen to what the house wants. Anything old came from Craigslist, family or thrift stores. I like a bit of humor and whimsy throughout. I enjoy the layers that come throughout with time."
The house provided more than extra square footage; it also met emotional needs. "I wanted a big old Christmas house where everyone piled in for the holidays. And bonus if it looked anything like the 'Father of the Bride' house," says Jackson, wheels churning as she dreams up what comes next.
You can follow along with the Jacksons as they work on their house on Instagram @miracleonthirtyfourth.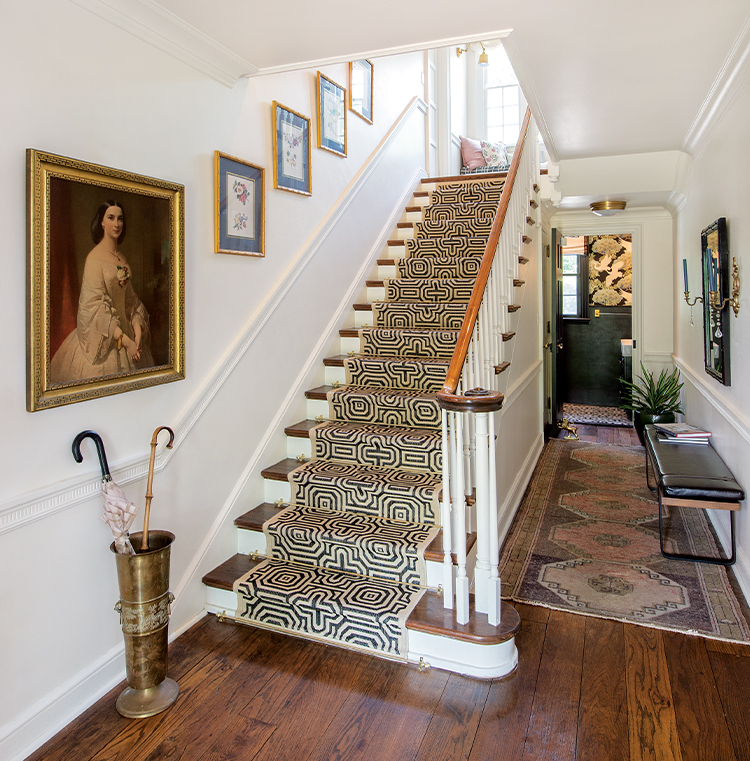 The house's 1935 charms include the wainscoting and staircase, which got a fresh swipe of paint. The traditional look of the painting and umbrella stand juxtaposes with the contemporary patterned stairway runner, which also adds texture and interest.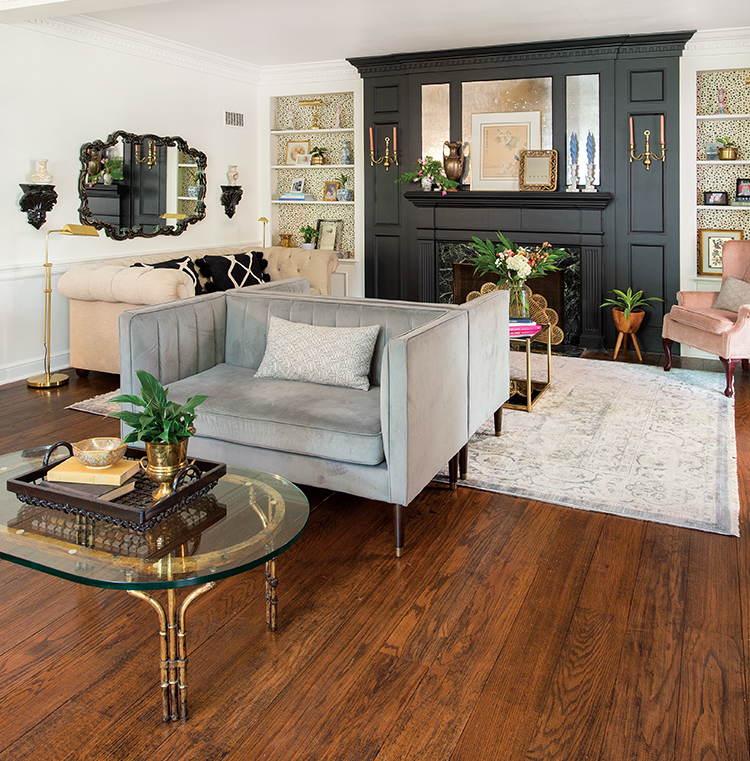 Love seats from Target go back to back in the living room. Ruthie Jackson drew inspiration for the look from Tory Burch. "She often uses back-to-back sofas in her living spaces, which I've always admired," Jackson says. "I think the configuration elevates the whole look."
The light walls are painted Behr's Swiss Coffee, while the black fireplace adds drama to the space and grounds the room's softer tones.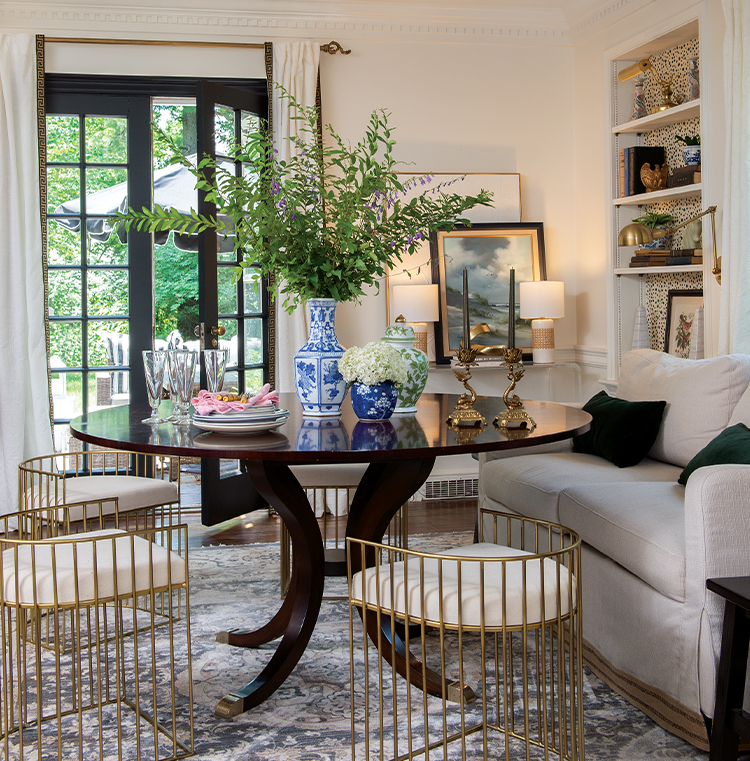 A Century table, which the Jacksons bought during the Mansion's close-out sale, teams up with Nate Berkus chairs from Target to create a game area and spillover dining space in the living room.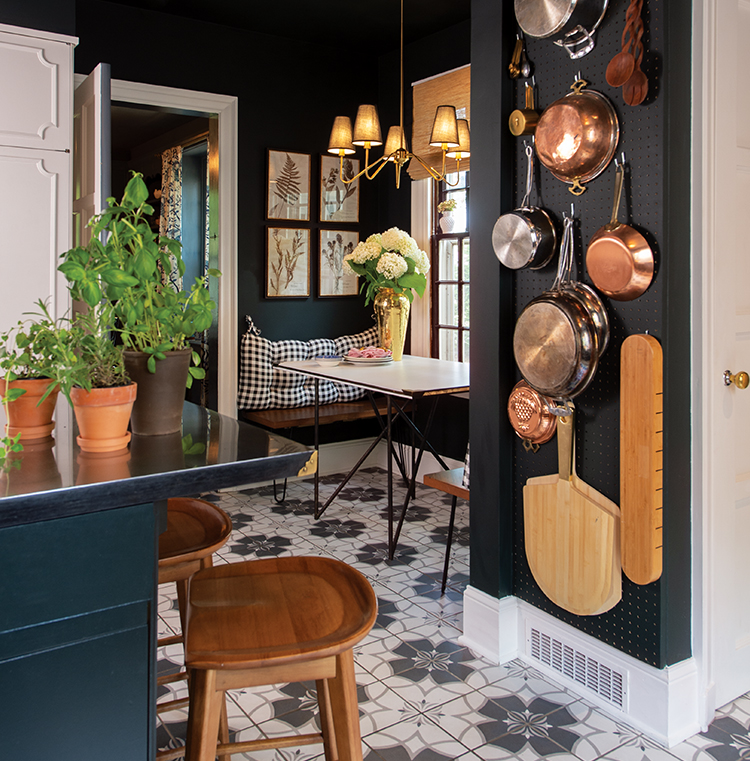 Before the Jacksons moved in, the kitchen's last update had been in the 1960s. "We were able to keep all the charming and quirky parts," Ruthie Jackson says. The Jacksons avoided a gut renovation and instead have worked on it over the past four years, reusing and reconfiguring cabinets and disguising old appliances, Jackson notes.
"We kept the breakfast nook footprint and added built-in benches made from hairpin legs and leftover countertop," Jackson explains. "I reused the existing blind and added ribbon." In addition, she added a peg board storage space to fill out an awkward bumped-in wall.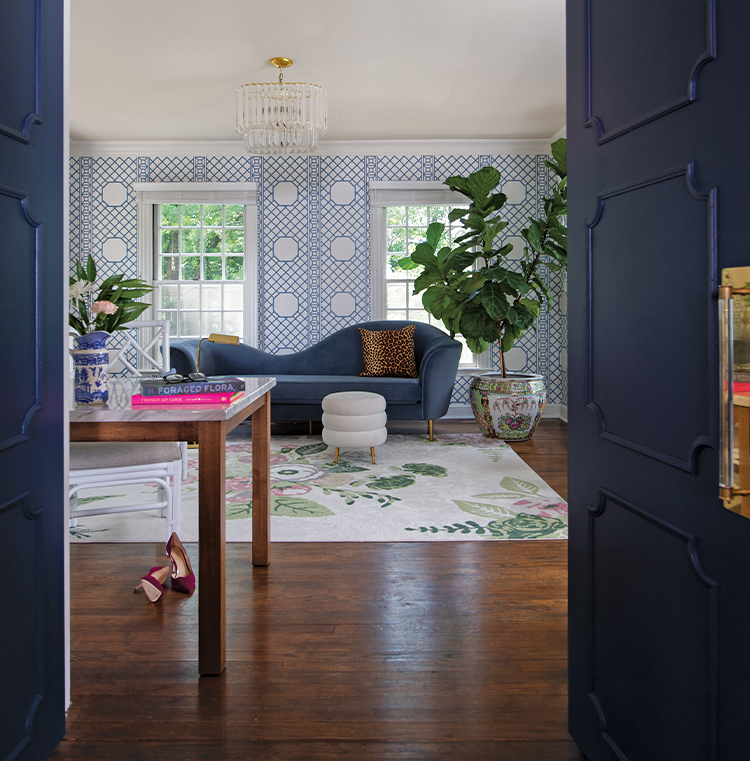 Ruthie Jackson's office features a curved-back sofa that was an Instagram collaboration with Homemakers when it brought in the TOV line. "I let people vote between two sofas and went with their pick. It was so fun! And I think they picked well," Jackson says. The wallpaper is York Garden Trellis.
A salmon-hued door and wallpaper bring a fun, vibrant vibe to the mudroom.