Cameron Sadeghpour forges steel into a one-of-a-kind knife. Photographer: Bethany Kohoutek
Writer: James Augustus Baggett
The carriage house behind Cameron Sadeghpour's 1905 Des Moines home stands maybe 50 feet from his back door. During the days when the 46-year-old commercial photographer isn't working his magic behind the camera lens, he's creating a different kind of art in his carriage house workshop.
This is where he wrangles his well-worn tools: saws, grinders, square-faced hammers, a rust-spotted anvil, propane-fired forges. When the metal glows, Sadeghpour pounds a crude block of steel into a one-of-a-kind handmade knife.
As a photographer, Sadeghpour has been creating intriguing images for magazines, advertising and custom publications for more than 15 years. With a background in medical illustration and painting, he brings a balance of technical mastery and artistic vision to each of his shoots. He says his love of the outdoors and travel brings to his work a connection to the environment as well as a respect for authenticity.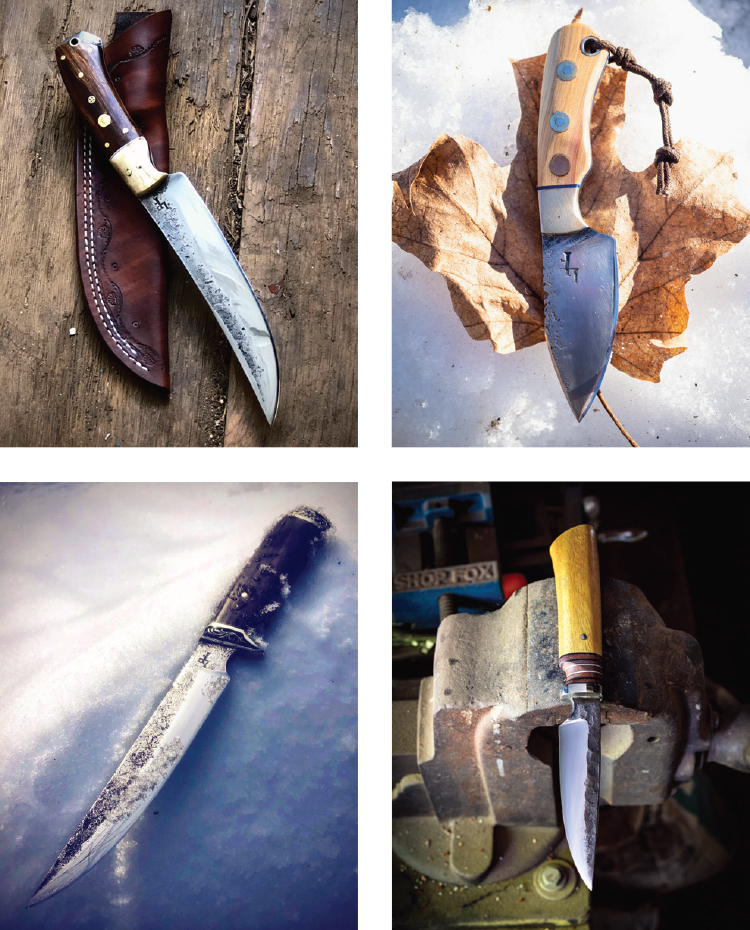 Sadeghpour uses American-made high-carbon tool steel and natural materials to make his knives. Photographer: Cameron Sadeghpour.
Born in Iowa City and raised during his early childhood in Tehran, Iran (where his father is from), Sadeghpour can't remember a time he wasn't fascinated with knives.
"I was more than a kid who liked knives," he says. "I probably got the bug from all the cool Iranian knives I had seen, and I had a small collection of old handmade stuff that my dad had given me. I still have them and consider them to be the original seeds."
At the age of 8, Sadeghpour moved to rural eastern Iowa where knives were everyday tools and where he soon bloomed into an avid fisherman, bow hunter, canoeist and camper. "My interest in natural history and biology led to lots of dissection," he says. "My mother was a science teacher, and I learned taxidermy to use for school displays."
As a photographer, Sadeghpour embarked on trips into the wilderness for months with minimal gear, relying heavily on knives. "I became a collector and have hundreds of the best production knives in the world," he says. "But I also buy blades and seek out smiths while traveling."
Sadeghpour has studied blade-making in different parts of the world and has made blades in Europe, India, Laos, Mexico and Turkey. But he says it wasn't until he was in his 30s that "I knew enough to make something better than these factory knives and got into the handmade realm."
As an outdoorsman and environmentalist, Sadeghpour says he's watched in dismay as humans squander the planet's resources and the climate emergency becomes a reality. That's why he dubbed his knife studio—located in Des Moines' Mainframe Studios—Lost Planet Forge.
"People have lost touch with the natural world," he says. "And the objects around them are processed and global with no sense of place, made of foreign components by strangers in a faraway factory and designed to break. There is no connection other than the price paid.
"I'm hoping to create something that connects people to the outdoors, made from a scrap of the outdoors and minimally processed with knowledge and heat to create something special."
Sadeghpour's heirloom-quality knives are created one at a time, entirely by hand, with American-made high-carbon tool steel and unique natural materials. Most handles are made from horn, bone and native hardwoods finished with natural oil. Every knife comes fitted with a handmade leather sheath also crafted and tooled by Sadeghpour. "I will never use any threatened or endangered plant or animal parts in my knives," he says.
Sadeghpour prefers fashioning his knives using local materials he's collected. "I have some cherry burl from a tree that sat a few feet from my shop," he says. "I've used lilac wood from my mom's old farmhouse, beams from old cabins, and teak from an old boat deck." He even has someone's titanium hip in a drawer that will be forged into fittings for knives.
"In a world of mass production and digital assets," he adds, showing off an impressive assortment of horn- and wood-handled knives, "these are reminders of handmade quality combined with practical function. Each has a character of its own, but they all will bring you home from your next adventure with a smile on your face."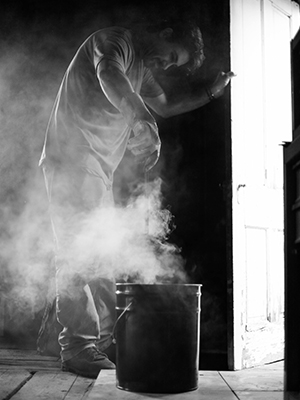 Sadeghpour creates his knives one at a time, entirely by hand. Photographer: Cameron Sadeghpour.