On a quiet morning, Broadlawns physician Larry Lindell relaxes by waiting for a perfect shot of the Iowa countryside.
Writer: Carole Gieseke
Photographer: Duane Tinkey
After a long, unpredictable year, some physicians may relax simply by putting up their feet and watching Netflix. But the Des Moines physicians featured in this story turn to more creative outlets—they pick up a musical instrument, a camera, a table saw, or maybe a soup pot. Or they speed off on their bicycle and ride for days. And, they have found, these hobbies not only have personal benefits but professional ones as well.
---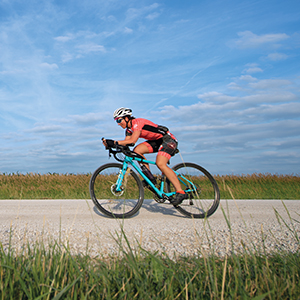 The Ultracyclist
Heather Poskevich, D.O.
Emergency Care Physician
MercyOne
Halfway through the Iowa Wind and Rock 340-mile bicycle race in 2019, Heather Poskevich was completely alone, navigating the steep hills of Madison County, gravel crunching beneath her tires. A full moon barely illuminated the road ahead. Nearby, in the darkened farm fields, she could hear the mechanical whooshing of wind turbines and see their red lights flashing on and off, on and off.
Poskevich, 41, savors the solitude of a long-distance race, and she thrives on the challenges that come from multiday ultras that can reach up to a thousand miles. And she's good at them, too: This past June, she took on Race Across the West, 930 miles from California to Colorado, winning first female and second place overall. She tied for first female at Iowa Wind and Rock, won and set a new female record at the HooDoo 500 in Utah in 2019, and won for fastest female at the Big Sky Spectaculaire last year in Montana, her home state.
"Racing has taught me a lot about being in pain," Poskevich says. Ultracycling, not unlike working as an emergency room physician, requires dealing with fatigue, working through inconsistencies, and being adaptable in the moment. "You learn to navigate and problem-solve and think on your feet."
---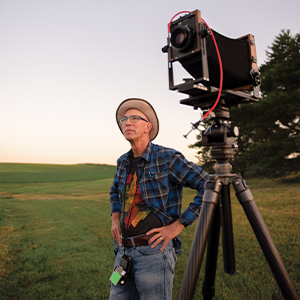 The Photographer
Larry Lindell, M.D.
Women's Health Center Section Chief
Broadlawns Medical Center
Every Sunday morning, before the sun comes up, Larry Lindell grabs a cup of coffee, tunes his car radio to classical music, and drives to a farm field. There, he sits quietly, coffee cup in hand, listening to the dawn chorus of the birds and watching as the sun peeks from the horizon and spreads its light across the sky. When the light is especially interesting, he exposes a sheet or two of film. But sometimes he just enjoys the moment.
Fifteen years ago, Lindell bought a digital camera and started shooting the Iowa countryside. Over the years, he's slowed down, moving from digital photography back to film, using a large-format view camera. "I'm doing more expressive photography, not just reproducing the scene," Lindell, 66, says. "In the last five years, I've been heading away from just trophy-hunting shots, just pretty pictures. I've lost interest in that. I've gone from taking 100 pictures of a scene to taking three or four."
The process of slowing down has helped Lindell to be more present, both as a photographer and as a physician. "Photography is relaxing to me," he says. "It's just something I do when I'm not being a doctor."
---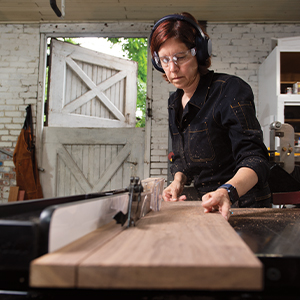 The Woodworker
Tracy L. Ekhardt, M.D.
Chief Medical Officer
UnityPoint Health
Two weeks into the pandemic, Tracy Ekhardt took over as chief medical officer while continuing to work in pediatric intensive care at UnityPoint. It was a frightening, unpredictable time.
As a way to relieve stress, her husband gently nudged her toward woodworking. Ekhardt had built sets for the theater department in college, and she always had meant to explore the hobby. It turns out that in the midst of the "crazy chaos" at work, Ekhardt, 47, welcomed having something tangible to work on.
In a two-car garage, built as a carriage house for her 1909 home, Ekhardt created a compact woodworking studio. After a long day at work, she puts on her noise-canceling headphones and listens to music while she planes pieces of hardwood to create stools, benches and cutting boards. Sometimes she works until midnight—or later.
"It's an escape," she says, "just to have something very separate from the constantly changing dynamics with COVID. It was fascinating to be in the middle of something that's changing so quickly, but it also felt a bit out of control. And to have something small and discrete that you [can] actually see and have a product at the end [is] very therapeutic."
---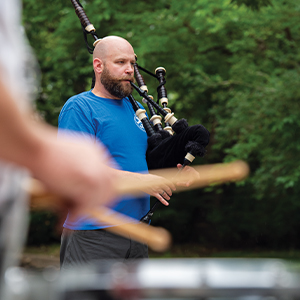 The Bagpiper
Mica Murdoch, D.P.M.
Foot and Ankle Clinic Section Chief
Broadlawns Medical Center
Nothing says "strong Celtic heritage" like the bagpipes, and for Mica Murdoch, 42, playing bagpipes with the Iowa Scottish Pipes & Drums corps is a direct connection to his ancestors. The group performs at parades, weddings, funerals, Oktoberfest celebrations—basically, Murdoch says, "anyone who will hire us."
The highlight of any bagpiper's year is, of course, St. Patrick's Day. That's when the group plays to a packed house at the Royal Mile pub in Des Moines' Court Avenue District. "It's very high-energy," Murdoch says. "It's packed to the max with lots of people, and everyone loves hearing the bagpipes. It's always a very loud, hot, sweaty moment. We probably don't play the best there, but it's St. Patrick's Day."
Murdoch takes his musical craft as seriously as his work in reconstructive foot and ankle surgery. He plays tunes at the end of each day to relax. Like surgery, the bagpipe is a difficult instrument to play, and he constantly works to improve. "It's not like riding a bike," he explains. "You have to maintain your skill level. The instrument demands a lot of attention, or it sounds terrible."
---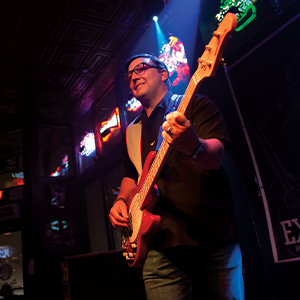 The Bass Player
Matthew C. Brown, M.D.
Obstetrics and Gynecology
UnityPoint Health
A friendly conversation at their kids' baseball game led Matt Brown and a group of like-minded parents to form a rock band. It was nothing grand; the group performed in small venues and for people in their backyards. Then one day, Brown, now 53, got an opportunity to try out as the bass player for a local cover band that performed the music he loved the most: 1970s rock 'n' roll.
But here's the catch: For the band's next gig, he had to learn 35 songs in two weeks. No problem! That was six years ago, and he's been playing bass for the six-piece band, Stark Raving Madge, ever since. The group performs two to three times a month, often at outdoor locations or at Wooly's in the East Village and Gas Lamp on Grand Avenue.
"Most of us are older and have day jobs, so we tend to play earlier," he says, laughing. Madge has built up its repertoire to nearly 90 songs, adding new songs all the time.
"Being a musician, you have to put a lot of time in outside of the stage," Brown says. "As a physician, you have to make commitments to continuing education, to keep your skills up. Both of these things keep you feeling younger."
---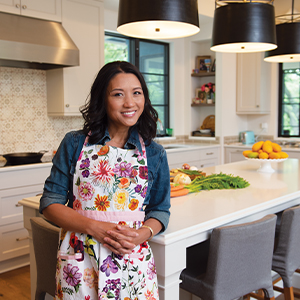 The Cook
Bick Carfrae, M.D.
Anesthesiologist
MercyOne
When Bick Carfrae was 3 or 4 years old, she absorbed the essence of Vietnamese cooking as her mother, grandmother and aunts worked at the kitchen table.
She remembers them "cleaving away at beef bones and pork knuckles and even chicken drumsticks," Carfrae, 47, says. "I remember this rhythmic striking of the butcher blade coming down … and to a little girl it was kind of scary. It felt like thunder, rolling through the kitchen floor, vibrating up through my bones.
"I remember gazing up at these whirling towers of steam, coming out of this enormous sterile steel vat of soup. Only later in life did I appreciate that this industrial-size stock pot was necessary to feed everybody in my family."
Now a cook in her own kitchen, Carfrae pays homage to her Vietnamese heritage through the rich history of its food. In general, she explains, Vietnamese food is simple, relying on achieving five distinctive flavors (salty, sweet, sour, bitter and umami) by adjusting a few ingredients and adding for color and texture. Seasonings like ginger, tamarind, lemongrass and fish sauce help create her favorite dishes. One of those is banh xeo, a crispy crepe stuffed with pork belly, shrimp and bean sprouts.
Today, she still cooks with her mother. "Cooking allows us to be together as family," Carfrae says, "and with our busy lifestyle, why not eat and gather at the same time?"