Des Moines artist Hannah Sung modeled for photographer Jennifer Marguez's project, "Stop Asian Hate," which seeks to give voice to local Asian American women.
Writer: Linh Ta
Photographer: Jennifer Marguez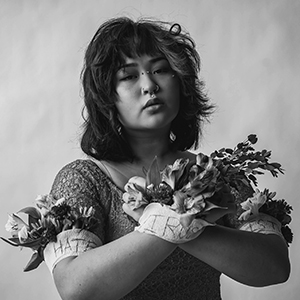 As attacks on Asian Americans flashed across evening newscasts this past year, Jennifer Marguez felt compelled to use her photography to give voice to local women.
The result? "Stop Asian Hate," a photo project the 26-year-old Marguez developed that gives Asian American women a chance to speak out against the racism and violence the community has endured. She especially wanted to focus on elevating women's voices after last March's mass shooting in Atlanta that killed eight people, six of whom were Asian American women.
The theme of the project borrows from the Japanese proverb "hear no evil, see no evil, speak no evil." The four women featured in the project—Hannah Sung, Dah Dah, Day Say and Briana Tran—wrote their own messages on wraps that interpret that theme, such as "blind to reality," "not docile," "no hate" and "hate is the virus." The women are dressed in colorful traditional garb, including a Korean hanbok and Vietnamese áo dai, and have flowers over their eyes, mouths and wrists to further the theme.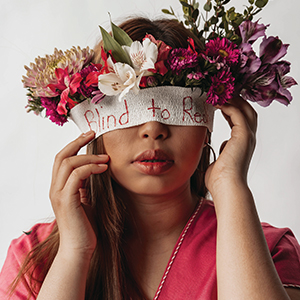 "It was very important to show [these women's messages] to others, and have it be more meaningful to them because they chose that message for themselves," Marguez says.
"I hope that for others, [the photo project] speaks to them or opens their eyes into realizing what's been going [on] with hate crime and the violence starting to rise up," she adds. "I hope to create change with this."
Marguez, who is of Mexican and Native American descent, became a full-time photographer last year and graduated from DMACC's graphic design program in December 2020.
She's also produced photos featuring other underrepresented communities, highlighting Black Lives Matter and local Latina women.