Writer: Karla Walsh
Photographer: Duane Tinkey

"Buy nice, not twice." That's how Adam Tweedy, co-owner of Fontenelle, explains the driving principle behind his brand that includes sturdy yet stylish leather goods, apparel, home goods, travel gear and more.
Along with co-owners Erich Bockman and Asher Connely, Tweedy says the seed for Fontenelle was planted in college with an obsession with old axes, edge tools, and a New York company, Best Made Co.
"Best Made had a line of really cool outdoor clothes and tools that were way out of our price range, so we [tried to] figure out how to make do with what was available to us," Tweedy says. Around that time, "we broke an ax from a hardware store on a camping trip, so we found a few videos online that got us interested in finding vintage ax heads and restoring them. A well-restored vintage American ax is as good if not better than a high-end $300 ax made today."
With the axes came the need for leather sheaths, and once the three men started working with leather, they didn't stop. In 2016, they decided to open a store in the East Village to sell their products "as well as different brands that were guided by the same ideology," Tweedy says.
He describes Fontenelle as a "utility brand" that focuses on "making products that last a long time and can withstand a lot of abuse."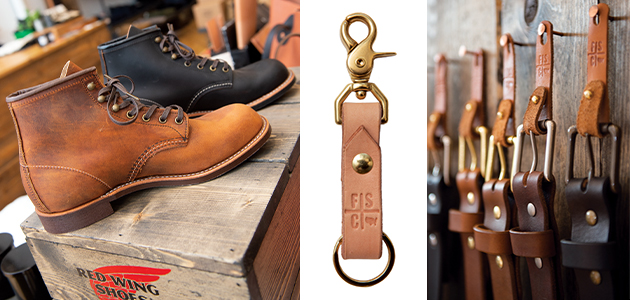 They get some ideas for their ever-evolving product line when they spot a potential need in the market, but they draw the most inspiration from nature. So Tweedy and his partners try to take a few road trips a year as a team, be it a quick weekend fishing excursion or a weeklong national park adventure. A love of the natural environment is at the root of all they do at Fontenelle.
"Buying from us or any of our vendor partners saves our customers money, eliminates waste from the environment, and assures a good paycheck for the manufacturer," Tweedy says. "We hope to inspire our customers to start viewing their 'stuff' as assets worth investing in as opposed to simple commodities."
Fontenelle is located at 524 E. Grand Ave. Check out the brand's latest creations and online store at fontenellesupplyco.com.