Learn how to make Kali and AJ Brudos' four-cheese tortellini with sausage and mushrooms.
Writer: Lisa Holderness Brown
Photographer: Duane Tinkey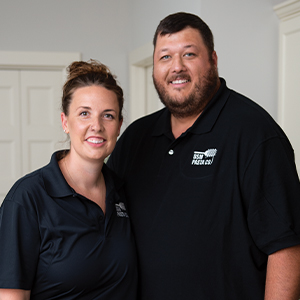 Ask Kali Brudos about her beet pasta roses and she lights up as if there were nothing she would rather talk about. "I fold seven raviolis in half and arrange them to look like a rose," she says, beaming. "Bake or boil them and serve in garlic butter with Parm."
Brudos talks pasta speak as if she grew up at the knee of an Italian grandmother, but crafting fresh pasta is a more recent venture. She and husband, AJ, met working at Biaggi's in West Des Moines and shared their passions for pasta, puppies and the Green Bay Packers. At some point after years of marriage and several moves, they dusted off a hand-cranked pasta machine that was a gift and started making their own noodles. Both were hooked and converted all their friends to fresh pasta. "It was so simple. We could totally do this," she recalls.
Translating their new hobby into a business seemed like a natural progression for a couple with over 40 years of restaurant experience between them, but they knew starting slowly made sense. The duo kept their day jobs and toted their pasta machine to the Mickle Center Shared-Use Community Kitchen in Sherman Hill.
"We are super thankful for the shared use kitchen," Brudos says. "It allows so many new businesses to have the opportunity to lease space and use the equipment. It has worked really well."
Now they hand-crank over 100 pounds of pasta weekly in a variety of shapes and flavors, including beet and spinach—made from fresh vegetable purees—and egg noodles that start with Shriver Farms eggs.
"We morphed a lot bigger than expected, mostly due to Facebook and word of mouth," Brudos says. "We hope to make this full time and eventually open a small dining room. AJ wants to do pizza, too."
For now, the couple keeps a sharp focus on all things pasta, including homemade sauces, herb butters, take-and-bake lasagna and manicotti, and pasta meal kits. Their products are available for pickup at the Mickle Center at the corner of 16th and Pleasant streets. Order on the dsmpastaco.com website and pick up on Tuesdays. They also have a booth at the Maxwell farmers market on Sundays.
---
Pasta Pointers
Portion patrol: Figure 4 to 6 ounces fresh pasta per main dish serving, depending on what other ingredients are going into the dish and how hungry you are. To sub fresh pasta in recipes that call for dry pasta, use 6 to 8 ounces fresh for every 4 ounces of dried.
No-stick noodles: Some cooks add olive oil to the pasta water to keep the pieces from sticking together, but that keeps the sauce from adhering to the cooked pasta. Instead, use a large pot with plenty of water (3 to 4 quarts for 4 to 16 ounces pasta) so the pasta has room to move. Bring the water to a boil before adding the pasta and stir it occasionally during cooking.
Salty like the ocean: "Don't skimp on the salt in the pasta water," Kali Brudos says. "It really heightens the flavor of the pasta." She recommends 2 to 3 tablespoons kosher salt per pot of water, ideally added when the water is boiling so it dissolves quickly.
Liquid gold: "Don't pitch the pasta water when you drain it," Kali insists. "Save a cup or so and add it (as much as desired) to the pasta as part of the sauce." The salty, starchy water adds flavor and gives your dish a silkier texture.
Al dente defined: Fresh pasta cooks lightning fast compared with dried. The couple recommends 2 to 4 minutes (fresh or frozen) for most of their pasta shapes (see package directions). Al dente means "to the tooth" in Italian and is used to describe the perfect pasta doneness. Sample a piece of pasta at the minimum cooking time and always before draining the pasta water. "Fresh pasta should have a chewy bite, not a hard bite like dry pasta," Kali says. Filled pasta, such as tortellini, floats to the top of the water when done.
---
Four-Cheese Tortellini with Sausage and Mushrooms
Start to Finish: 20 minutes. Serves 4
Ingredients
1 pound Italian sausage (Kali and AJ Brudos like a mix of half Graziano's sweet sausage and half Graziano's garlic sausage)
6 ounces oyster or cremini mushrooms, trimmed and thickly sliced (about 1 3/4 cups)
2 ounces DSM Pasta Co. fresh herb butter* (1/4 cup)
1 pound DSM Pasta Co. beet and four-cheese tortellini
1 cup pasta water (reserved from cooking pasta)
3 ounces baby spinach (about 3 cups)
1/2 cup grated Parmesan cheese, plus extra for serving
Kosher salt
Freshly ground black pepper
*Fresh herb butter: Purchase DSM Pasta Co. fresh herb butter online when you order the pasta, or you can make your own. Here's how: In a small pan, melt 2 ounces (1/4 cup) Irish butter (such as Kerry Gold). Stir in 1 teaspoon each chopped fresh thyme, fresh rosemary, fresh oregano and fresh sage. Stir in 1 teaspoon finely chopped roasted or fresh garlic. Season to taste with salt.
Directions
1. Bring a pot of salted water to a boil for the tortellini. In a large skillet, sauté sausage over medium heat until it is cooked through and browned. Add the mushrooms and herb butter. Sauté, stirring occasionally, for 3 minutes more. Remove from heat.
2. When the salted water comes to a boil, add the tortellini and cook for 2 to 4 minutes or until tortellini float. Reserve one cup of pasta water. Drain tortellini and add immediately to the skillet along with the spinach. Toss to coat; add pasta water in quarter-cup increments until desired sauce consistency. Add the 1/2 cup grated Parmesan cheese and continue tossing until the spinach is wilted and sauce becomes silky and smooth. Season to taste with salt and pepper. Top with additional grated Parmesan and serve immediately.