Writer: Beth Eslinger
Photography courtesy visitnc.com
Charlotte could be Des Moines' big, bold older sister. The city is a hub of finance and has a booming downtown, robust food and entertainment scenes, and a love of sports—including golf and several professional teams including the Carolina Panthers and Charlotte Hornets. Plus, there's a plethora of public art and museums to explore.
The city of about 2 million is the epitome of the New South. It has one of the fastest-growing populations in the country and is a banking center; it's home to Bank of America, and several banks have sizable operations there, including Wells Fargo. Founded in 1768, the city was named after King George's wife, Charlotte—hence the nickname the Queen City. (Fun fact: The queen in "Bridgerton" is the same Charlotte.) You'll see her likeness prominently in sculpture after departing from the Charlotte-Douglas International Airport. (Find direct flights twice daily through American Airlines.)
For a walkable base, choose Uptown in the city center. You'll find numerous upscale hotels, museums and art centers, rooftop bars, sports venues, plus dining to suit any preference. Here's our perfect fall getaway.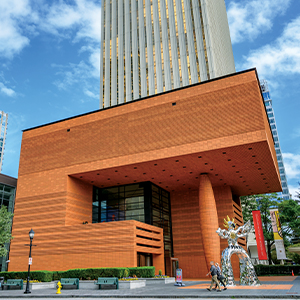 The Betchler Museum of Modern Art houses an impressive collection of midcentury modern works by artists such as Alberto Giacometti and Joan Miro.
Experience the arts: With a multitude of museums as well as music and performing arts venues, Charlotte delivers on the cultural scene. The challenge: how much to pack in.
The Levine Center for the Arts: This cultural campus includes the Betchler Museum of Modern Art (U.S. and European works from the 20th century), the Mint Museum (the state's first art museum), the Harvey B. Gantt Center for African-American Arts and Culture (artifacts and African American creations) and the Knight Theater. For just $20, you can get a two-day pass to explore the art museums. At the Levine Museum of the New South, interactive exhibits include words by civil rights leaders, an early Belk discount store where you can try on a fedora, and a one-room tenant farmer's home.
At Blumenthal Performing Arts, book tickets to Broadway hits such as "Rent" and "Ain't Too Proud." The three performance spaces also host musicians such as North Carolina artist Ben Folds, ballet and comedy acts.
AvidXchange Music Factory is another complex of venues where you can listen to indie rock, funk, country, comedy acts and more. Located on-site, Explicit Bistro & Lounge serves small bites and seafood options, plus craft cocktails.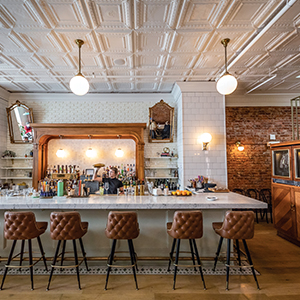 Kindred, located in nearby Davidson, is known for its fresh takes on Southern cuisine and its season-driven menu, which changes weekly.
Explore trendy spots: Once a Model T manufacturing plant, Camp North End is a complex with retail, local businesses, artists and restaurants in a mix of genres—coffee shops, breweries, charcuterie, regional farm-to-table, ramen and more. One top spot is Leah & Louis, a James Beard semifinalist emphasizing new Southern cuisine such as the Rich Boys (fried oyster sliders) and Down & Dirty (slow-roasted grits). Plan on spending Friday evening in the district exploring shops and relaxing outside with live music.
In NoDa, Charlotte's hip historic arts and entertainment district, stroll the streets to see murals, then stop for some of the city's best fried chicken as well as North Carolina trout at Haberdishis. Their patio is the perfect people-watching spot. For more snacking, on your way back to Uptown, stop by Optimist Hall, a former textile mill transformed into a dining emporium. There you can find more tasty fried chicken, authentic empanadas, cocktail spots and more. Also at the hall, shop for take-home pup treats and paper gifts.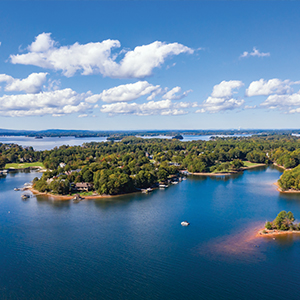 At Lake Norman State Park, you can cruise the lake or mountain bike the nearly 27 miles of trails.
Get active, then dine in style: If you're into the outdoors, plan a day at the U.S. National Whitewater Center on the Catawba River on the northwest side of the city. The outdoor playground has whitewater rafting on the world's largest manmade river, plus rock climbing, paddleboarding on the Catawba, mountain biking and more.
For more mountain biking and water bliss, head south for a day to the Lake Norman area. Rent a kayak or pontoon to cruise the lake, or mountain bike the nearly 27 miles of forested trails at Lake Norman State Park (rentals available in the area). Nearby in Davidson, Kindred is a must-visit dining spot. Book reservations for the James Beard semifinalist, which focuses on seasonal dishes and fresh takes on Southern cuisine.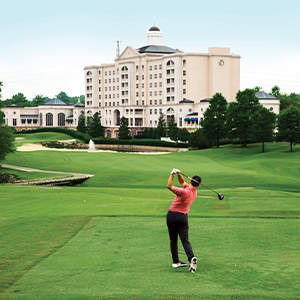 The Ballantye is a five-star resort with a spa and golf.
Where to stay: Upscale options abound in Uptown and beyond. Find brands such as Ritz-Carlton, Westin, Aloft, Kimpton and more in the area, or opt for one of these boutique options.
The Ivey's Hotel: Situated in the heart of Uptown near museums and the performing arts center, this locally owned boutique hotel features sophisticated design and fine dining, including 5Church Charlotte, whose menu was created by chef Jamie Lynch of "Top Chef" season 14. There's also one of the top cocktail spots in the city.
Duke Mansion: Located southeast of Uptown (it's a 10-minute drive or a 2-mile walk), this bed and breakfast is a true Southern charmer located on 4 1/2 acres. All 20 rooms have private baths. Book the king porch room, which includes a porch for enjoying your morning coffee or evening nightcap.
The Ballantye: If you're looking for a golf or spa getaway, this five-star resort about 15 miles south of the city center offers a variety of lodging options, including a four-bedroom cottage with a gourmet kitchen. Laze away after a day of shopping and touring at the outdoor pool or Gallery Bar, which stocks more than 200 whiskeys.
For more planning help, visit charlottesgotalot.com.