Clearwater Beach
Writer: Beth Eslinger
Photography courtesy Visit St. Pete Clearwater
Get away from the cold for a weekend packed with art, museums and al fresco dining in St. Petersburg, Florida. Need more reasons? It's got some of the top-rated beaches in the country and temps are a sweet 70 degrees even at the beginning of January.
---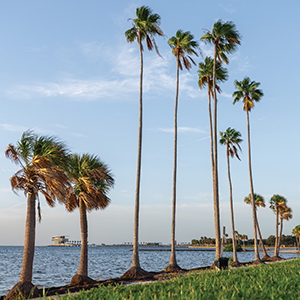 1. 361 Days of Sun
Just 2 1/2 hours away on Allegiant (flights Mondays and Fridays in January; additional days in the following months), the city of about 260,000 boasts sunny skies nearly every day; it's known as the Sunshine City for a reason. By the way, Des Moines averages just 15 sunny and partly sunny days in January and an average high of 30 degrees. Plus, no palm trees here.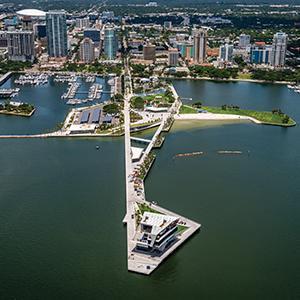 2. Pier Review
Completed in 2020, the new 23-acre St. Pete Pier stretching over Tampa Bay is a perfect spot to spend an afternoon or evening. Art and music fans find plenty to love, with live entertainment and art displays, including the overhead Bending Arc net sculpture by Tampa Bay-born artist Janet Echelma. While at the pier, order your favorite tropical cocktail at the rooftop tiki bar or rum bar and grill. Find diverse dining options on the pier as well as at the nearby waterfront area.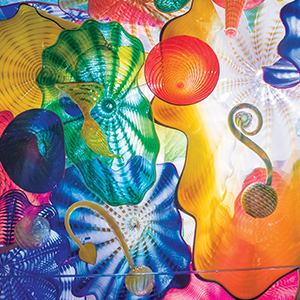 3. Must-See Museums
For modern art and architecture enthusiasts, a trip to the Dali Museum should be priority No. 1. Opened in 2011, the contemporary building sits right by Tampa Bay, with its modern glass geodesic bubble stretching around a stoic concrete shell. See works by the Spanish surrealist including his blocky interpretation of Abraham Lincoln.
Glass is a major art form in the city, and you can see works by local glass blowers, take a class to learn the craft, and study master glassmaker Dale Chihuly at the Morean Arts Center. Another new-on-the-scene highlight, the Arts and Crafts Museum is the first of its kind to celebrate the nature-inspired works from early 20th-century artists such as Frank Lloyd Wright, Gustav Stickley and Louis Comfort Tiffany.
4. Shuffle Crew
It might seem like an old-school Florida cliché, but shuffleboard is a trendy thing here. Really. At the St. Petersburg Shuffleboard Club, established in 1924, you can watch hipsters donning "Great Gatsby"-inspired costumes for Friday Night Shuffle. Learn the rules, strategy and etiquette of the game by signing up for a boot camp.
5. Outdoor Art Everywhere
Known as one of the world's most artistic cities, public art abounds on building sides, dumpsters and more. On your walking tour of the city, discover about 500 murals by local, national and international artists. New-in-2020 works include the Black Lives Matter street mural, painted by 16 area artists, as well as the Pride street mural. Find guided tours and an interactive map at stpetemuraltour.com.
6. Sugar-Sand Beaches
Perfect white beaches stretch 35 miles up the Gulf side of the Pinellas peninsula. Top-rated (and populated) destinations include Clearwater and St. Pete Beach, but you can also find secluded spots, such as islands accessible via a short kayak, ferry or water taxi. Looking for the ultimate laid-back stay at the beach? Pass-a-Grille on the south side of St. Pete Beach is a best bet. Book a room at the iconic blush-hue Don CeSar hotel, which has hosted the likes of Ella Fitzgerald, F. Scott Fitzgerald and Franklin D. Roosevelt.
7. More Indie Art
Just west of the pier, the Central Arts District is a top spot to find local shops, restaurants, galleries and street artists. The Chihuly Collection at Morean Arts is located here, as is Florida Craft Art, featuring works by regional and national artists. Find numerous dining options as well as live entertainment venues including Janus Live, which has music most weekend nights.
8. Fresh Seafood Fixes
Find some of the best shrimp, shellfish and fish to satisfy any fresh seafood craving. For oysters, the fresh catch of the day plus an expansive wine list, book a table at Sea Salt St. Pete near the pier. On the Gulf side, the Salt Rock Grill is a must for grouper sandwiches, bay shrimp cocktail, or perhaps a bone-in rib-eye for the non-pescatarian. The Gulf has plenty of other "old Florida" options, including fish markets and cafes, roadside stands and beach shacks dishing fish tacos and more. Ask the locals about their favorite spots.
9. Rewarding Walking Tours
Soak up the palm trees, waterfront views and varied architecture on a self-guided stroll through St. Pete's historic districts. You'll find several options, including two sections of the African American Heritage Trail. Other self-guided walks cruise through downtown and along the waterfront. Download the Florida Stories Walking Tour app to pick up stories about the history, culture and architecture (perfect tidbits for your social feed captions). Research the tour options, including those with guides, at St.Pete.org.
10. Sensational Stays
Both beach locales and St. Pete offer myriad overnight options. Beach vs. city: your choice. Find upscale accommodations near the pier that put you in short walking distance of museums, murals and the Central Arts District. For a beach stay, choose among sleepy cottage rentals, luxe high-rises, waterfront townhouses and more.