Wander Women offers opportunities for women to experience nature through hikes, camping trips and other outdoor adventures. Photograph courtesy of Wander Women.
Writer: Karla Walsh
When you think of joining a club, chances are a book club or dinner club comes to mind. But more and more "fit clubs" are emerging across Central Iowa, and members vow that these groups not only strengthen their muscles but also forges bonds among members.
That's because unlike other clubs, members overcome similar struggles—running in the rain, say, or traversing rough terrain on a hike—to conquer the same goal. Whether members are involved in a team sport or an individual pursuit with the same finish line, they form lifelong friendships in the process, according to three local fit clubs we spoke to.
"There's something very powerful about putting yourself out there and discovering you have a safety net of people like you who want to see you succeed and thrive," says Kerri Sorrel, co-owner of the outdoor adventure group Wander Women. "Many times, the things people are looking for are
the same things someone else is looking for too, and there's power in those mutual goals.
"And nature itself is already a community-builder," she adds. "Being outdoors shows us that we are part of something bigger, and that feeling drives a desire for connection."
---
Wander Women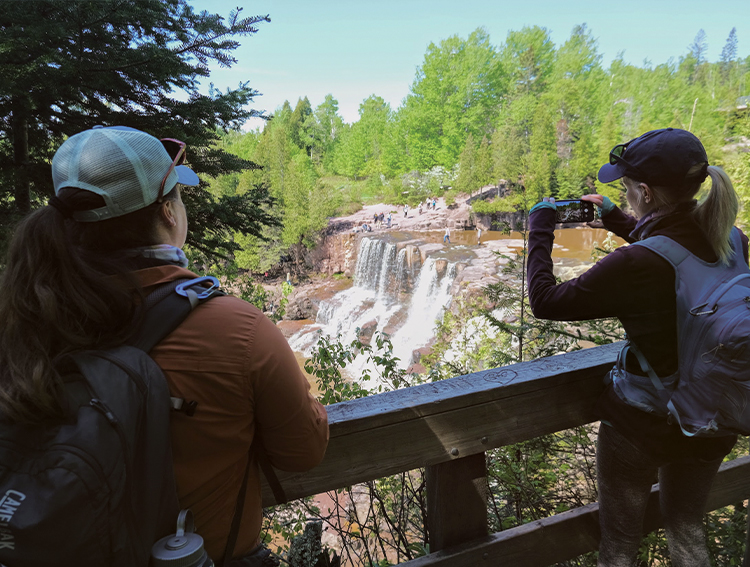 Photograph courtesy of Wander Women
Founded in 2018 by Jenn Riggs, who now co-owns the organization with Kerri Sorrell, Wander Women (wanderwomeniowa.com) aims to empower females to feel confident adventuring in nature. With guides leading day hikes, weekend trips, mother-daughter adventures and more, Wander Women seeks to remove some of the common barriers to entry for women interested in getting into the wild, but who may worry about details such as how to cook over a campfire, go to the bathroom in the woods or sleep comfortably in a tent.
"The beauty of Wander Women trips is that they're designed to foster deep connections," Sorrell says. "We have fire circles on every trip where we invite participants to dig deep and offer a bit of themselves to the group. I've seen—and shed—a lot of tears at those fire circles because it's a space where others can help you shoulder the load you're carrying."
First-time campers, seasoned adventure experts, young professionals, new moms, grandmothers, those looking for an active weekend or just to take a relaxing breath—anyone who identifies as a woman is welcome.
"It's amazing how many times these trips are a 'reset' for our participants. They come looking for permission to be real, to relax, to learn new skills, to let their leg hair fly free—and we give them that permission," Sorrell explains.
Kirsten Plowman first attended a trip in 2019 and is now a guide for the 2021 season. "I'm normally a solo hiker and camper and was looking to make connections with other women who enjoy the outdoors, too," Plowman says. "It's fun learning how to use a map and compass, identify flowers, search for agates and stomp through creeks. Being sweaty, dirty and exhausted together really creates a distinct shared memory."
Each trip includes a diverse mix of participants who all add their uniqueness to the vibe. Whether sharing advice, planning future trips or offering tips about "where to find the best gas station coffee," Plowman says, each woman finds a home within the group—even if they're not so close to home.
"What happens after the connections are formed is the coolest part, though," Sorrell adds. "I saw in our Facebook group that two former participants who met on their trip are each driving three hours to go camping together. That's exactly what we hoped would happen through Wander Women."
---
Fleet Feet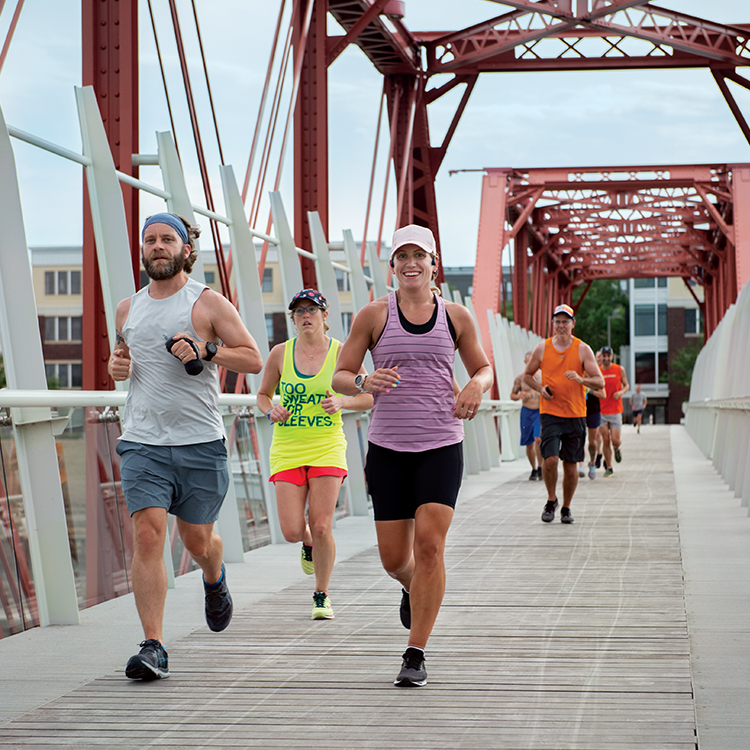 Photographer: Duane Tinkey
Marathon pacers, first-time 5K-ers and those simply trying out a new pair of sneakers—there's a run group for all at Fleet Feet (521 E. Locust St.). If you love beer and are trying to find a similar love for running, for example, the Third Thursday Pub Runs will be just your speed.
Join one of the running groups (fleetfeet.com/s/desmoines/weekly-runs) that fits your speed and goals, and you'll be met by folks on your level to stride beside you step by step. Coaches and mentors provide training, pacing and step-up strategies to help you surpass your limits. Each spring, summer and fall series lasts 10 weeks and culminates with a race.
"Five years ago, I was driving by the store when I saw info about an Altra shoe demo run. It was a brand I was interested in, so I stopped in. What a lucky day that was," says Kevin Fitzpatrick, a West Des Moines-based member who is now a mentor for the 5K, 10K and half-marathon Fleet Feet running programs.
"Not only did I find a new running shoe, I found a new family: a running family," he adds. "Prior to that I had always just run solo because I didn't want to embarrass myself running with a group that would leave me in the dust. With Fleet Feet, I found that was not the case."
The people are positive, accepting and welcoming of newbies, "truly a second family," adds Mischa Andersen, a regular attendee of Fleet Feet social runs and a half-marathon training mentor.
Newcomers join as transplants to the city or as fresh feet in the sport of running (or jogging, or even speed walking), and through participating with a group, they build bonds.
"My favorite part of running with the club is the camaraderie," Fitzpatrick says. "Everyone has a unique story and their own strengths and weaknesses. We are all ready to cheer each other on, to listen to challenges and help each other up."
---
Des Moines Rowing Juniors Team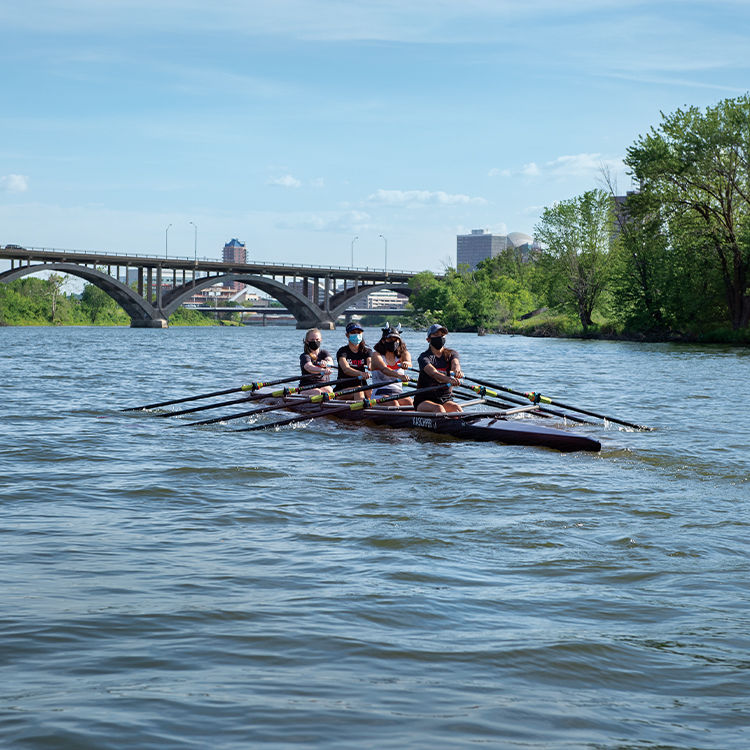 Members of Des Moines Rowing juniors team paddle the Des Moines River. The club helps build fitness as well as collaboration among youths ages 13 to 18. Pictured, stern to bow: Ellie Chungath, Maya Owens, Aria Delara, Claire Willey. Photographer: Duane Tinkey.
Since 1983, the nonprofit organization Des Moines Rowing has supported recreational and competitive rowers along the Des Moines River. Headquartered at Birdland Marina (1800 Pennsylvania Ave.), Des Moines Rowing's younger sibling, the Youth Program, is for those ages 13 to 18 (facebook.com/desmoinesyouthrowing).
High schoolers join the club for team-building, fitness and hopefully "to fall in love with an activity they can continue for the rest of their lives," says Allison Cook, youth rowing head coach and director for Des Moines Rowing. "Some of our youth members will go on to row in college or even return to Des Moines Rowing to row as adults.
"It also fosters a great sense of community, mentorship and support when the adult members are able to work with the youth rowers," she adds.
Rowing is a stellar community-building activity, Cook adds, because the boat physically won't move without everyone working together.
"You learn how to improve not only as an individual, but also as a crew [to] move the boat as efficiently as possible," she says. "Even though the kids are from all different schools throughout Central Iowa, they enjoy getting together to hang out, study and get to know one another both on and off the water.
"In many team sports, it's easy to correct others instead of focusing on our own faults," she adds. "Rowing, though, teaches you to work together and work on your own technique before trying to help or critique others. Everyone in the boat has something to contribute and is critical to the success of the crew."
Maya Owens, a Des Moines-based member of the Des Moines Rowing juniors team, joined about three years ago as she was recovering from a knee injury and wanted a sport that would allow her to stay active without risking re-injury.
"The teammates and coach can make or break the experience as a whole, and we've got a really good group here," Owens says. "The regattas in particular are incredible for team bonding, and we have a lot of laughs when talking about falling into the water."
And in a reversing of the roles, the kids often teach the adults a thing or two. "Many of the parents have also joined in the sport after their kids began rowing," Cook says. "It's so fun to watch the kids be in charge and show their parents something new, and then be able to share their love and expertise of the sport with them."
---
Other Ways to Meet Your Sweat Squad
If running, hiking or rowing doesn't appeal to you, consider these community-minded, physically
active options.
Glohemian Yoga
Join host/instructor Emily Griggs and fellow yogis to flow through the most scenic sun salutations you'll ever perform. Each Wednesday evening as the sun sets at the Judicial Branch Building (1111 E. Court Ave.), you can join Sunset Yoga for BLM. Classes are free, but donations are suggested to benefit a social justice-related cause, such as Urban Dreams, the Supply Hive, Des Moines BLM Rent Relief or Movement 515. Follow Glohemian Yoga on Facebook (facebook.com/glohemianyoga) to stay up to date about meetups and how to donate.
Des Moines Cycle Club
Whether you're racing for time or riding RAGBRAI for the pie, you'll find your community with this local bicycling club. Find out more about group rides and how to get involved at dmcycleclub.com or facebook.com/desmoines.cycleclub.
Love Life Collective
To try tribal dance-inspired Buti yoga, Latin dance, burlesque and more, head to Mainframe Studios (900 Keosauqua Way) to find a variety of eclectic and active "movement medicine" classes. Some even involve gatherings, such as brunch, for additional fellowship time after class. Visit facebook.com/lovelifecollectivestudios to discover upcoming events.