Above: Proof's executive chef Diego Rodriguez puts the finishing touches on savory beet mousse.
Writer: Karla Walsh
Photographer: Duane Tinkey
Old food and drink lore leads us to believe that an aged 1960 wine is far superior to a younger 2009. But take into account conditions, care and other factors, and that 2009 wine could easily blow away the 1960 vintage in terms of quality and taste.
The same goes for the talent cooking the food to pair with those wines. Inspired by the annual "Young Guns" awards curated by the food website Eater, we decided to tap our inaugural crop of Des Moines Young Gun chefs. They're all under 30 and all qualified for the hat tip.
Here's the dish on the culinary talent that's destined to push boundaries—and please palates—for decades to come.
---
Inspired By His Roots
Diego Rodriguez, 22
Proof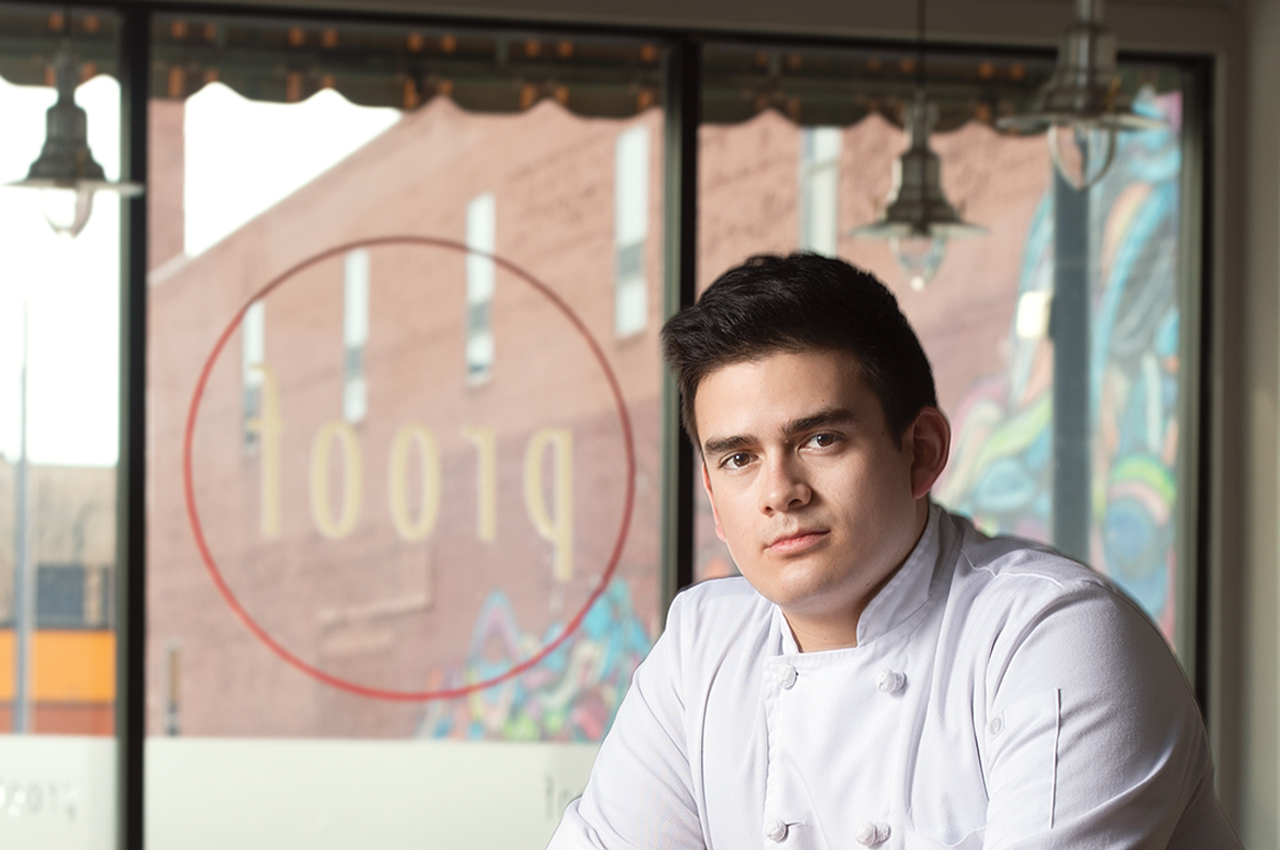 Diego Rodriguez is focused on "taking pride in every little thing we do here at Proof."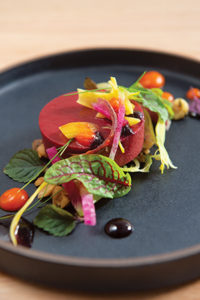 It sounds like a summary of an Oscar-worthy film: Immigrant aims to make his American dream come true after moving to the U.S. from Mexico in 2007. Scene one: As a teenager, he's stuffing burritos for three years at Chipotle at Valley West Mall, each day falling more in love with cooking and leading a team as a manager. Final scene: He's grilling, roasting and plating magazine-spread-worthy dishes at what Time magazine once called "The Best Restaurant in Iowa" while executing a crazy-creative 10-course tasting menu.
Not only is this tale based on a true story, it is a true story—the tale of Diego Rodriguez.
"When I was growing up in Mexico, I'd go to the local mill with my grandma to make masa, which we'd take back home and [use to] make tortillas," says Rodriguez, the executive chef at Proof.
He began working at Proof in June 2017 and spent the following two years as chef de partie and sous chef, carefully studying the way former co-owner and head chef Sean Wilson "cooked food from the soul. This really hit home for me," Rodriguez says. "When I put out a dish inspired by my roots, I know our guests will love it because I love it too."
In August 2019, after Wilson sold the restaurant and entered a new business venture, Rodriguez tied on the executive chef apron. Otherwise, most of the staff remained the same.
Rodriguez soon began to fuse his background with the restaurant's legacy. One of the top-selling dishes on the happy hour menu is inspired by his matriarchs. "The chilaquiles are my favorite thing to make, and I base them off my mom's recipe," he says.
"My current culinary philosophy is young and forever evolving," he adds. "Right now I'm focused on taking pride in every little thing we do here at Proof. … Perfection and taking care of our guests are my top priorities."
Describing Rodriguez as "one of the hardest-working people I have had the pleasure of meeting," Jared Giunta, Proof general manager, says that he knew the moment Rodriguez walked into Proof, fresh out of Chipotle, he had that special sauce.
"I knew that his hard work, dedication and discipline would put him on a different level than the rest of the chefs in town," Giunta says. "For our reopening menu, Diego created a duck dish that was brilliant. I loved it because of the diversity of influences on the plate. He paired a traditional French preparation of potatoes—'Pommes Paillasson,' similar to a fancy Tater Tot but actually potatoes cooked in duck fat—with a mole sauce. Dishes like this embody who Diego is as a chef."
While he's currently focused on honing his Proof vision, Rodriguez hopes to infuse even more family influence into a future menu—at a restaurant he'd love to open with his 27-year-old brother, Angel Arevalo, an advanced sommelier living in Napa Valley.
"My dream is to open that restaurant and cook food from Mexico, and have Angel pair it with wine from all around the world," Rodriguez says. What a beautiful scene for the final credits.
Proof: 1301 Locust St., Suite C; proofrestaurant.com
---
Conveying the Comforts of Home
Mason Altheide, 26
Alba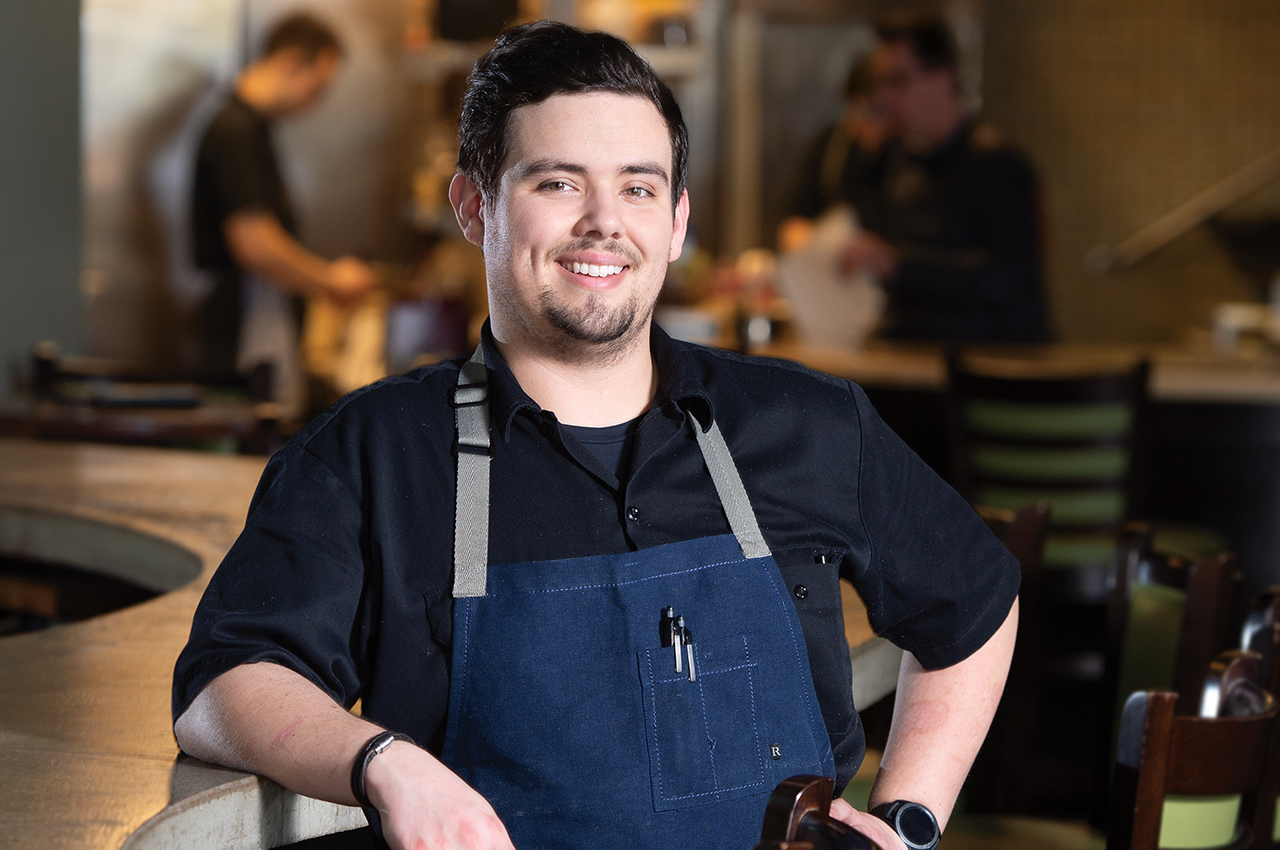 Mason Altheide took over Alba's kitchen when acclaimed chef Joe Tripp left to open Harbinger.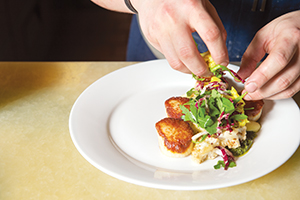 Alba executive chef Mason Altheide is a firm believer that a meal isn't just about flavor.
When he was growing up in Bloomfield, Iowa, "my brother and I would help my mom make rolls from scratch for family holidays," Altheide says. "This usually was an all-day event the day before we had the party. We would each have our own batch that we took care of, from blooming the yeast to letting it rise to forming and baking the rolls. I loved the sweet yeasty smell that took over our whole house. Being in the kitchen alongside my mom set the foundation for my love of cooking. Those same feelings associated with family, holidays and love are what
I hope to convey with my food."
After high school, Altheide completed a two-year culinary arts degree at Indian Hills Community College in Ottumwa. While there, he earned a scholarship that helped fund a two-week international cuisine course in Valladolid, Spain. Once back home, Altheide completed an internship at Nemacolin Woodlands Resort in Pennsylvania, where he cooked for up to 800 people per meal. Inching closer to the style of his current home restaurant—
the polished new American cuisine of Alba—Altheide had his first fine dining experience at Aqueous, the restaurant at the resort's Falling Rock Hotel.
"It was an upscale steakhouse featuring techniques using molecular gastronomy and traditional old-school steakhouse offerings," Altheide says.
He landed at Alba in September 2014 and soaked up as much culinary and leadership knowledge as possible from James Beard Award-nominated Joe Tripp, then the Alba executive chef and now the executive chef and co-owner of Harbinger.
"Hardworking and loyal as they come, Mason was always somebody I could look to when something just needed to get done," Tripp says. "He was always the most modest kid in the kitchen and sat back observing and learning rather than trying to show off his talents.
"Being a chef is about leading a team and getting others to give you their best," Tripp adds. "That's where Mason shines his brightest."
Someday, Altheide would like to follow in the footsteps of Tripp and open his own restaurant with Jason Simon, owner or co-owner of Alba, Harbinger, Eatery A and Motley School Tavern.
"Think comfort food done right," Altheide says.
Alba: 524 E. Sixth St.; albadsm.com
---
'Food is Meant to be Enjoyed'
Shawn Bennigsdorf, 29
Aposto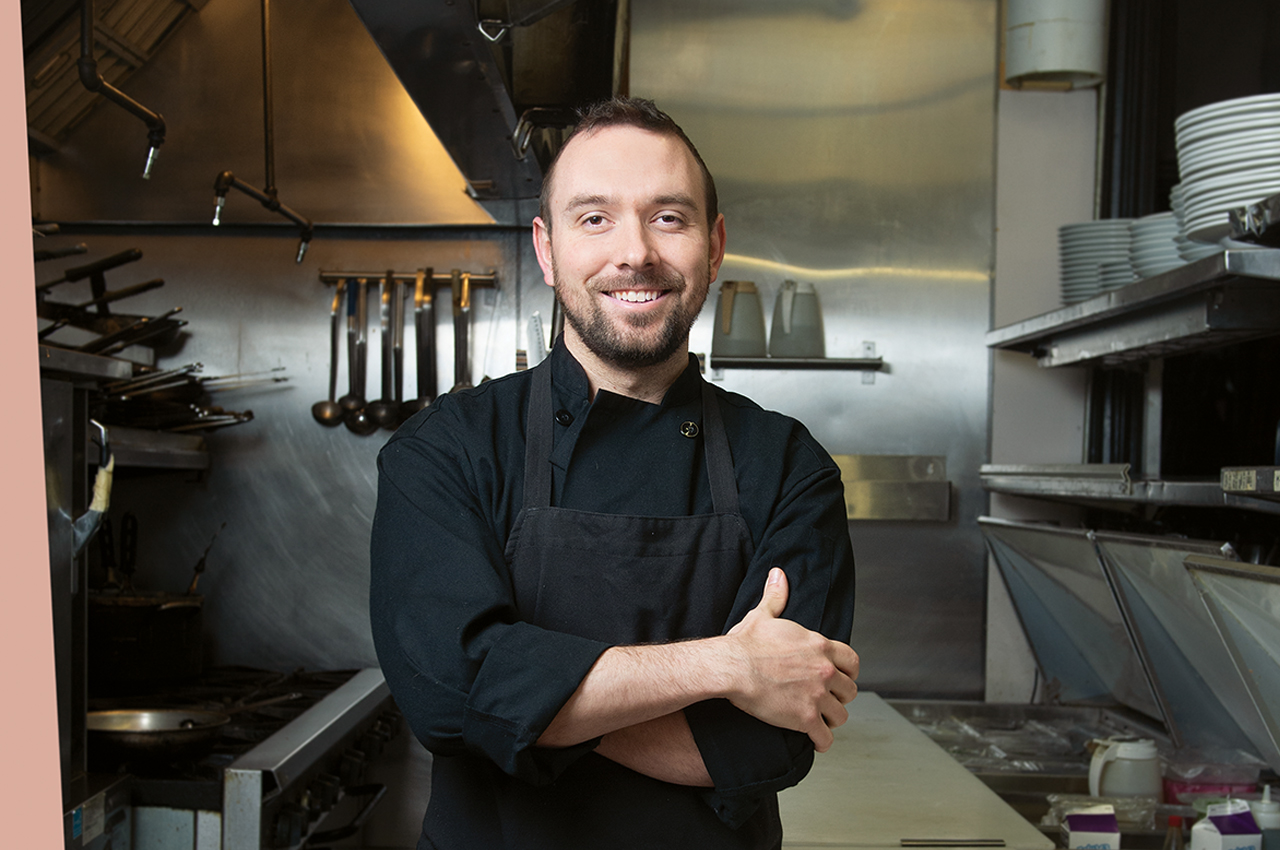 Shawn Bennigsdorf focuses on letting simple, seasonal ingredients shine in his recipes.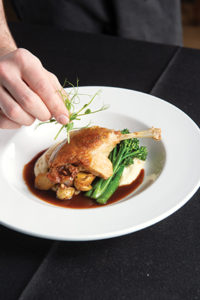 Executive chef Shawn Bennigsdorf is right at home in the familial atmosphere owner Tony Lemmo has developed at Aposto.
"Food has always been a large part of my family. I remember sitting around the dinner table talking about our day over casseroles and roasts," Bennigsdorf says. "We'd often pick food from the backyard garden to prepare the meals and would always celebrate special events with a sweet treat. It's those early memories of food that I enjoyed so much that made me want to become a chef."
No wonder he has found his niche procuring ingredients grown in the garden in the restaurant's backyard, in addition to those selected at the Downtown Farmers' Market and carefully curated from other Midwest producers. He then allows these simple, seasonal ingredients to shine in his recipes.
Bennigsdorf, who started as a sous chef under Cory Wendel in September 2017 and transitioned to executive chef just six months later, explains that his "driving philosophy is that food is meant to be enjoyed."
Case in point: his signature dish of Berkwood Farms osso buco, a comforting entree of braised pork over creamy polenta.
"My heart is broken every early spring when his osso bucco with wild mushroom ragu and creamy polenta comes off the menu. It's the perfect winter dish to warm your soul," Lemmo says. "While simple in principle, it's a dish that requires very few ingredients and a lot of attention in its execution. It sums up Chef Shawn and his devotion to Italian cuisine: Let the ingredients speak for themselves. Don't over-complicate a dish by adding too many ingredients or utilizing the fancy gadgets. And as cliché as it sounds, 'less is more.' "
Likewise, Bennigsdorf's goals are simple but grand: "My biggest goal is to get nominated for a James Beard award," he says.
Bennigsdorf also strives to be a good role model to his team: "I want to show my sous chefs that they can run a great kitchen by treating other employees with respect."
Aposto: 644 18th St.; apostodm.com