Writer: Lisa Lavia Ryan
Photographer: Duane Tinkey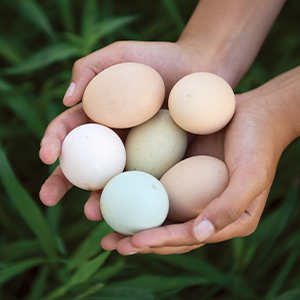 Just south of Blank Park Zoo in Des Moines is a "living classroom" for Des Moines high schoolers interested in agriculture careers. One of its goals: providing food for local residents who need a little extra help, especially as COVID-19 continues to wreak havoc on the way Iowans live, work and eat.
"Basically, we're raising hogs for those who have a difficult time affording or obtaining meat on their own," says Kevin Anderson, an animal science instructor for Des Moines Public Schools. "It started with a pig we were gifted by the Animal Learning Center at the Iowa State Fair. We thought, what better use for this animal than to use it to feed those in need?"
Anderson and his students worked with Story City Locker in Story City to harvest the meat and deliver it free to the Des Moines Area Religious Council food pantry network. Three years later, about 60 students from all five Des Moines high schools and several surrounding communities are enrolled in the academy's agriscience program and earn college credit for, among other things, raising hogs to benefit DMARC pantry patrons.
Emma Aston, 17, a student at the academy, says the program has been meaningful. "Everyone should have access to nutritious food, especially those who can't afford it," says the Hoover High School senior. "When you know your project is going towards a good cause, [the satisfaction] is always worth the sweat."
This program is just one way people involved in various aspects of agriculture are stepping up to address food insecurity in their communities. Farmers, gardeners, ag students, youth leaders and other producers across Iowa are supplying meat and produce to provide healthy meals for those in need.
For the Des Moines Public Schools program, the students are working even harder to help meet a greater degree of need due to COVID, and they don't see the additional demand easing anytime soon, Anderson says.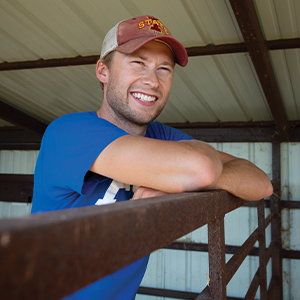 "They're raising, harvesting and donating chickens, sheep, goats, rabbits and tilapia," he says. "They're also managing and harvesting honey from three beehives and have donated hundreds of eggs. They also love taking the eggs home, as in many instances, COVID has hit their own families hard and affected their grocery budgets."
The 11-acre urban farmstead supplements food pantries and other organizations in additional ways. Recently, Eat Greater Des Moines harvested 1,000 pounds of peaches, pears and apples. Last spring, the horticulture program donated tomato, pepper and broccoli plants from its spring sale for gardens at Urban Dreams, Taylor House Hospice, Franklin community garden, Sprouts Des Moines Urban Youth Garden and the DMARC pantries.
"We continually ask ourselves how we can get nutritious food in front of people who need it, but that question has even more urgency around it now because of COVID," Anderson says. "When grocery budgets are cut, meat is often the first thing to go, and people aren't always able to replicate its nutritional value with other food."
Growing Together
Christine Hradek, program manager for Iowa State University's Human Sciences Extension and Outreach, works toward a similar goal. She helps coordinate the USDA's Supplemental Nutrition Assistance Program Education (SNAP-Ed) in Iowa, offering education on nutrition, cooking and food-budget management to low-income Iowans.
One way Hradek's programs address food insecurity in Iowa is through Growing Together, a partnership between SNAP-Ed and master gardeners. More than 2,000 volunteers help grow produce to donate through the program, which provides mini-grants to 29 groups throughout the state for the purchase of seeds, plants and tools.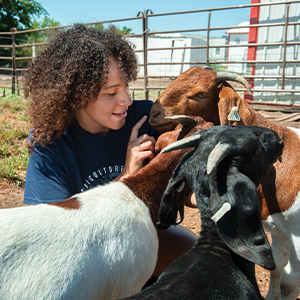 Susan DeBlieck, master gardener state coordinator with ISU Extension and Outreach, helps coordinate the grants. DeBlieck says it's "tremendously satisfying" to see the gardeners step up to grow produce to donate to area pantries.
"Given that COVID and the recent derecho have caused so many individuals to be newly food-insecure and have stressed our food pantries, it's a game-changer for our growers to be providing this food that people not only love, but that can help support their physical well-being," she says.
Growing Together volunteers work with the pantries to determine their clients' needs—as well as what can easily be stored and distributed—then they plant the fruits and vegetables.
"It used to be the case that you'd go into a food pantry and the only produce you'd see would be brown bananas," DeBlieck says. "Today, you can go in and see beautiful tomatoes and kale and zucchini. It's proof that one person and a plot of soil can change someone's story."
Meat Producers Collaborate 
Iowa's beef and pork producers also have been serving those in need through two programs—Pass the Pork and Beef Up Iowa—launched this past spring as part of Gov. Kim Reynolds' Feeding Iowans Task Force.
Funded by the federal CARES Act as well as private donations, the programs are a collaborative effort involving the Iowa Department of Agriculture and Land Stewardship, meat producers, and students and staff at Iowa State University, who are helping process meat from producers who have limited processing options due to COVID-19.
Joyce Hoppes, consumer information director for the Iowa Pork Producers, says the generosity of Iowa farmers makes them some of the "unsung heroes" of the pandemic.
When Pass the Pork was started at the end of April, the goal "was to pair food-insecure Iowans with farmers who were facing challenges with the market and with the supply chain, and our farmers stepped up in huge numbers," Hoppes says. "The project is in phases, and in the first phase alone, farmers donated 451 pigs—enough for 200,000 meals. All six food banks in Iowa received some of that pork."
Hoppes says those involved with the program hope to see it continue. "The desire to help speaks so well of the character of our farmers; even in such a challenging time for so many of them, they welcome the opportunity to help others in need," she says. "No matter how long we have to deal with COVID, you can count on one thing: Whatever Iowans can do to help one another, we will, and we sure won't let others go hungry."
---
4-H Youths in Action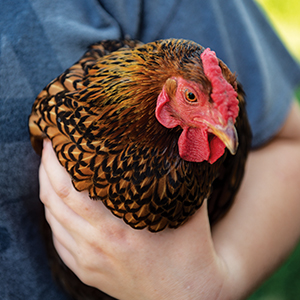 With the motto "to make the best better," 4-H youths have championed food insecurity issues in their hands-on projects as part of their new program for 2020, Gardening to Give. It provides weekly hands-on, research-based challenges.
"The idea is … those who participate are doing a family activity," says Marybeth Foster, strategies and systems manager with Iowa 4-H on the Iowa State University campus. "They're learning about gardening and donating the produce."
Foster notes 4-H groups throughout the state are working on myriad food-related projects. Some 4-H'ers raise poultry to donate eggs and participate in beekeeping to produce honey; others grow gardens and raise funds to fuel food banks; additional groups offer thank-you baskets to farmers.
Nicci Supple, a 4-H leader in Hopkinton, said her group helped supplement the local food pantry with fresh produce and nonperishable foods in mid-August after the derecho. She says 4-H projects naturally lend themselves to helping those in need, as community involvement is a focus of the program.
"Training young leaders is all about helping them recognize and respond to those in need," she says. "With COVID and the derecho, they are seeing greater need than ever. Keeping others in our community from going hungry should be a responsibility we all share."