Levi Robb is shown here applying printing ink and automotive grease to an abandoned semitrailer in a salvage yard near Morning Sun in eastern Iowa. It's part of his process for creating his junkyard monoprints.
Writer: Michael Morain
Photographer: Duane Tinkey
The cars at Jerry Carney & Sons have seen better days. Windows are shattered or missing. Wheels are long gone. Stacks of flattened sedans and pickups, some piled a dozen high, cover 45 acres on the south side of Ames.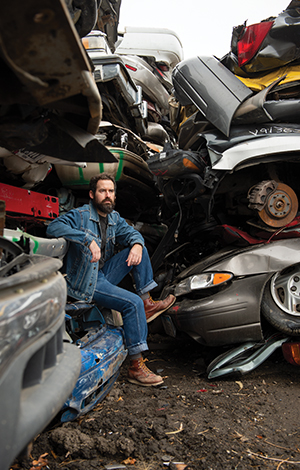 Most people call this place a junkyard, but Levi Robb sees it differently.
"This is a goldmine," he says. "It's just about changing your perspective. It's about how you look at stuff."
The Des Moines artist and architect is drawn to what he calls the "beautiful chaos" here among the Toyota and Buick carcasses that have been cast aside and forgotten, left to rust and turn into inadvertent sculpture.
"I think about all the history here," he says. "Each one of these has its own story."
Robb, who recently received an Iowa Artist Fellowship from the Iowa Arts Council, likes to capture those stories by making prints. With a roller, he coats parts of old vehicles with a mixture of ink and motor oil and then presses them with paper. The resulting prints show layers of texture and the rainbow sheen of an oil slick. The vehicles are part of the artwork, too, retaining his handiwork like graffiti or a smudgy tattoo.
"I've always been attracted to that raw gritty aesthetic," he says. "I grew up playing in a junkyard."
Salvage and Wreckage
Robb, 34, hails from southeast Iowa, where one of his grandfathers ran a Sinclair station in Mediapolis, about 15 miles north of Burlington. A great-uncle owned a salvage yard and wrecking business a few miles north of town, on the road toward Morning Sun.
Even as a kid, Robb marveled at the old cars and tractors that all ended up in the same place. When he was 10, he snapped a photo of a row of pickup trucks that won a ribbon at the Iowa State Fair.
He worked as a garbage collector and then on a road-painting crew to pay his way at Iowa State, earning an architecture degree in 2011. He now works at BNIM in downtown Des Moines, where he is helping to design the new Stanley Museum of Art at the University of Iowa.
All of those jobs inform Robb's artwork, which he's exhibited throughout the United States—Iowa, Kansas, Idaho, New York—and as far as Iceland and Sweden. His prints and sculptures trace a fine line between trash and treasure, a distinction often defined only by time or location.
"If you're hiking, you might come across an [ancient] ax head, and 10 feet away you'll find a smashed beer can from the 1960s," he says. "Sometimes, just putting those things side by side, that's enough. I don't have to say much else."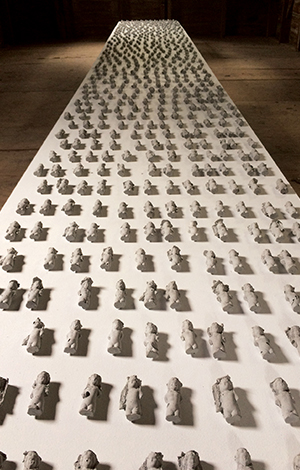 Frozen Charlotte
Several years ago, on a homestead near his old stomping grounds in Des Moines County, Robb unearthed a Frozen Charlotte doll, a common toy from the 1850s through the 1920s and so named because its body was molded from a solid piece of porcelain, without moving arms or legs.
He decided to cast a replica in concrete—and then cast a thousand more. Once every day or so for four years, he mixed a batch of concrete in his kitchen, poured it into the mold, let it set for 20 minutes and then, he recalls, "cleaned off the counter to make tacos or whatever." (Since his recent fellowship came with a $10,000 grant, he looks forward to moving out of his kitchen and into Mainframe Studios. He also plans to hire help from a fabrication shop to construct some bigger projects.)
Robb has exhibited the Frozen Charlotte collection in a grain bin near Morning Sun, where the dolls lined up like the famous terra-cotta warriors from China's 2,200-year-old imperial tomb. Since then he's installed it in galleries in Des Moines and Reykjavik (and at both places, a few dolls went AWOL).
Even as Robb digs up discarded junk from past generations, he wonders what we will leave behind for scavengers of the future. What will 21st-century landfills teach 22nd-century historians?
Robb discussed this once with a friend who told him, "Man, if you ever pass away and they go through your stuff, I'll have a lot of explaining to do." After all, who has a thousand concrete dolls?
Finding Inspiration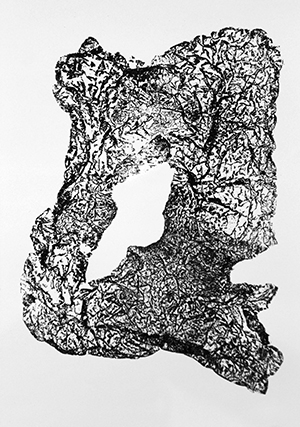 But everybody collects stuff, even by accident. Midwesterners who lived through the Depression taught their kids to tuck things away because, well, you just never know. Robb hangs onto things because he never knows when or how inspiration might strike.
But it tends to strike him outdoors. He hikes a lot in Iowa and walks a section of the Appalachian Trail every fall with a group of friends. In 2018, he was an artist-in-resident at the Tallgrass Prairie National Preserve, in Kansas, and in Iceland, where "the whole country is like one big national park on steroids," he says.
He made a series of elegant prints with ink and Icelandic black sand. When Olson-Larsen Galleries owner Susan Watts hung them all in a row in her West Des Moines space, she likened them to a piece of sheer fabric blowing in the wind.
"They're just these wonderfully amorphous forms—almost ethereal," she says. "He just really, really plays with process and materials in such interesting ways." She admires his mixed-media paintings, too, which shimmer with finely ground bits of glass. It's the same ingredient in the reflective paint Robb used during his stint with the county road crew.
'Highway Hypnosis'
More recently, as everyone hunkered down during the COVID-19 pandemic, Robb teamed up with Los Angeles artist Nicolas Shake to create a virtual project called "Highway Hypnosis." It pairs automobile-inspired prints with videos of the open road.
Shake used to work in a garage where he helped build muscle cars and appreciates Robb's roots in the world of hard work.
His art "is driven by these very necessary jobs," Shake says. "He can take something that's pretty simple or mundane and then imbue with magic."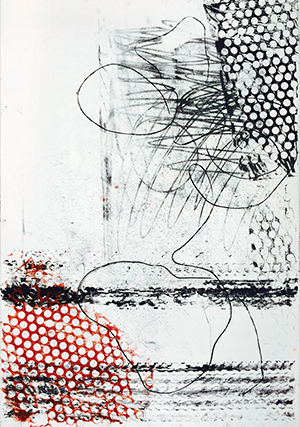 Robb created this "Junkyard Field Print" with ink and automotive grease on archival paper. The prints in the series show layers of texture and the sheen of an oil slick.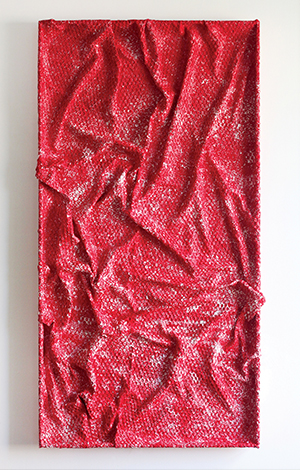 Robb completed "Red April" last spring during the early part of the pandemic, not as a commentary on COVID-19 itself, he says, but as a way of "placing the work at a moment in time." It is made of cast acrylic and highway glass on a wood frame.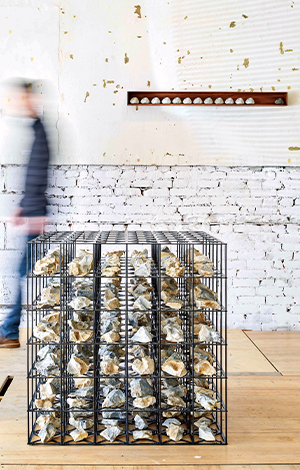 "Till No – 1" reflects on "the reciprocal relationship of human and landscape—what people and culture hold to be sacred, what is considered a commodity, and the impact of time," Robb says. Completed in 2019, the work consists of automotive finish powder, coated steel, and Kansas chert.
---
Michael Morain manages communications for the Iowa Department of Cultural Affairs, which oversees the Iowa Arts Council.