For DK Imamu Akachi, body alignment is about the flow of energy and movement. Here, he's captured at Barnum Factory proving that any space can unveil and unleash an inner spirit.
Writer: Brianne Sanchez
Photographer: Janae Gray
Even in an era when voices have been muffled behind masks and people with megaphones have been threatened with teargas, our urge to connect with each other through storytelling has persisted. Essential to the human experience since before the dawn of humanity (research on the evolutionary history of our primate ancestor Oreopithecus bambolii points to storytelling as a key survival skill of the species), storytelling is our way of making sense of the world—and of ourselves.
Diverse storytelling traditions and cultures across continents and ages have helped shape societies. From Chinese Pingshu to Cicero's canons of rhetoric to the griot musicians and social commentators of Western Africa, storytelling styles define and reinforce that community's values.
For most of history, the role of storyteller was reserved for a select few. Now, even coffee mugs are encouraging the average Joe to #shareyourstory. What's driving this current wave of self-disclosure? Perhaps the mainstreaming of vulnerability-as-an-asset through the work of thinkers like Dr. Brené Brown, whose TED talks and books encourage embracing the risk of emotional exposure. Or the popularity of accounts like @humansofny that capture snippets of humanity within a caption's length. Or a mass awakening to the power in claiming your voice and presenting it across any number of platforms.
Below, meet four Des Moines experts working to help showcase the stories of individuals in our community and beyond.
---
The Hype Man
Dean Michael Kelly aka DK Imamu Akachi
Hip-hop is at the heart of DK Imamu Akachi's approach to storytelling.
"I like to consider myself as a hip-hop American instead of an African American; the translation of 'hip' being aware and 'hop' being a movement," says DK, a 26-year-old performing artist who was named an inaugural Iowa Creative Incubator Fellow by Mainframe Studios. "It's about taking things from different cultures and mixing it in one pot and making it fresh and making it dope."
As a youth, DK struggled in school but appreciated the artistic approach allowed at Walnut Creek Campus, West Des Moines' alternative high school. He graduated a year late but eventually was able to earn a diploma by connecting his artistic ambitions to the curriculum.
"My safety was writing raps and writing songs," he says. "I wanted to write better songs, so I had to read. I realized when I changed my own narrative, it changed my reality."
DK plans to empower a new generation through "Writing History," a youth voice initiative that emerged from a community-based mixtape that Station One Records commissioned DK to create. He worked with Emmett Phillips, a teaching artist and youth navigator at Oakridge Neighborhood Services, to create a youth-led track and music video. "Success Is My Protest," released in October, is a response to the racial justice uprisings that took place last summer.
"I've always known, especially since I came from the same background, that kids know a lot" about what's going on around them, DK says. "I sit and I meet them where they're at. They appreciate me being real with them. … I let them know: I get it, this system has failed me. And we're going to create something new for you so that system doesn't continue to fail us."
He's inspired by other youth-serving organizations like ArtForce Iowa, Hip-Hope, Movement 515 and ASAP. "I'm like, 'Where the heck were you at when I was trying to develop?' " DK says. "I didn't get the opportunity to be a part of any of those programs."
DK's personal narrative incorporates a shift from being the lonely child of (now recovering) addicts through a growing appreciation for indigenous wisdom. He saved up for an intensive experience at Tom Brown Jr.'s Tracker School in the New Jersey wilderness. Taking the initiative to apply himself at survival school was a turning point.
"It was a powerful moment to have done that work," DK says. "I made my first fire with a bow drill; that feeling of being able to create something with my own hands. I cried. I was seeing the benefits of taking your time. Being patient. That's where I found the healing."
Now, in the spirit of hip-hop, he blends lessons from his outdoor education into work as a private kung fu instructor, in agriculture working at Rainbow Lake organic farm, as a father to a toddler son, and in his work as an artist, activist and educator. Opportunities like his fellowships through Mainframe and the New Leaders Council have helped him pair his creativity and imagination with business and organizing skills.
"All of these different things are what the core of hip-hop is about," DK says. "It's not a genre but a culture and spirituality. It is diverse."
---
The Confessor
Jami Milne
Intimacy and its imagery fuel Jami Milne's "Creative Confessional," a one-on-one storytelling experience that blurs the lines between private and public disclosure, between psychotherapy and performance art.
Milne launched the concept at Witching Hour, an Iowa City creativity festival, in 2017. She was invited to shoot pop-up portrait sessions and knew she didn't want to offer yet another photo booth with silly props or a wild backdrop.
"I was trying to figure out, how could we disrupt this staged thing?" says the 41-year-old Milne, the creative director for Ballet Des Moines. "Because it was a festival for artists, I wanted to serve that community in some way. And so I had this idea: At least for me, as an artist, there are so many things I think to do and I don't do them. Or there are things holding me back. Or, there are things I wish I could just get off my chest. And I thought, how incredible to have a confession booth?"
Her set is simple: a clear geodesic dome and two facing chairs, a rug, and a couple of end tables that she now knows to outfit with tissues. Unlike a confessional in the Catholic tradition, which is a private experience that places a barrier between the sinner and priest, Milne's nearly open-air arrangement invites transparency. Enough can be seen to intrigue an audience, but background music grounds the bubble and creates an extra barrier from the outside environment.
She realized "that what I actually was trying to create for artists was a safe place to share," Milne says. "I didn't want a closed atmosphere of 'you should feel guilty.' … Artists don't make something because they don't have the tools. They don't make something because they have an emotional block that won't allow them to create."
As Milne cradles the camera, she prompts her subjects to explore questions of her choosing and encourages them not to hold back. Engaged in compassionate conversation, Milne's participants relax into their characteristic mannerisms and expressions. She clicks the shutter sporadically, freezing moments of self-discovery. This is portraiture without posing, and the resulting images sing with authenticity (see following page).
In asking questions, Milne draws on her previous work in strategic development in the advertising industry. Through that experience, she says she learned to question perceptions and dig for insights, which for this project "allows me to wander along with the person in the bubble," Milne says. She hopes her interview style inspires her participants to continue self-exploration.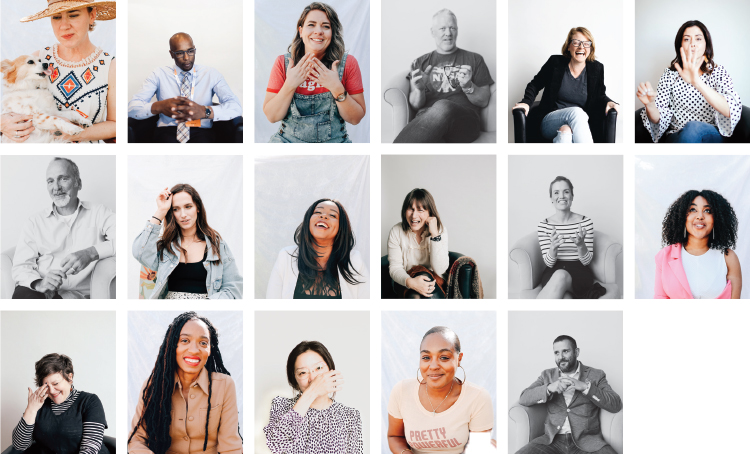 Photographer and storyteller Jami Milne focuses on her subjects' emotions and body language as they reveal their truth. She spends 30 to 40 minutes with each person, capturing private moments in a public space.
Milne has since taken the Creative Confessional to conferences like Kauffman Foundation's ESHIP Summit  in Kansas City, Missouri, and Alt Summit in Palm Springs, California. She had planned to expand the project last year but the pandemic stymied those ambitions. Even in this quiet year, though, the stories are beginning to circle back. A woman she photographed at the first Creative Confessional in Iowa City who planned to check herself into rehab the following day recently told Milne she's been clean for three years and requested a new portrait session, now that her life is different.
Bearing witness to these raw moments creates a sense of responsibility for Milne, who makes decisions on which elements of a story to seize and where to pause. "Sometimes with the camera, I continue shooting, and sometimes I know, 'I should not capture this,' " Milne says. "I know how beautiful the imagery is, but this story doesn't belong to me."
---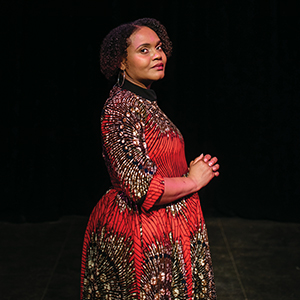 The Soul Seeker
Teresa Zilk
When women take the stage in Teresa Zilk's "Stories to Tell My Daughter" live storytelling events, they're both acting out a dream and living out a tradition.
The idea for the project stemmed from a dream Zilk had in 2011: "I was at what I would describe as a library and there was this huge book at a table and there were all these women coming up to me. [There was] a crowd of forms with one jumping up and raising their hand—and it was this project. … I specifically wanted to create a space for Black women and women of color to tell their own story, own their own story, and feel safe doing so."
Her dream first came to fruition in March 2018 with a sold-out show at the Thoreau Center. Several others followed as audiences grew, and an event at Grand View University was scheduled just as the pandemic hit. Zilk hosted a panel via Zoom this February and hopes to showcase the speakers planned for last spring this July.
"Every storytelling experience that I've done, I've always dedicated it to the women in my life who raised me," the 47-year-old Zilk says. Growing up in Arkansas, she recalls eavesdropping on her elders as an early initiation into the oral storytelling tradition. She sees storytelling as a way of passing down wisdom.
"[Family friends] Miss Ines and Miss Amy had a porch swing and maybe they would get a bowl of beans that I could snap to keep me busy and they would talk. I liked listening to stories," she says. Zilk was the daughter of a teenage mom, and Ines, who would regularly get together with neighbor friends like Amy, was a stand-in mother figure.
Those formative experiences inspired Zilk to pursue a degree in mass communications at Grand View. Early roles as a news assistant and in nonprofit communications helped her to get comfortable with the technical aspects of storytelling and interviewing. She's continued to seek out learning experiences, including storytelling classes at Second City in Chicago, and now hosts workshops of her own in addition to her day job as a media specialist for COVID Recovery Iowa.
Zilk puts listening first in her approach as a guide for her speakers. "At the heart of any story is the storyteller," Zilk says. She encourages the women she works with to tell their stories to her as they would to a friend. In addition, she provides support on the structure of the narrative while noting their postures and how they physically embody their stories.
"I care about the soul of the storyteller," Zilk says. "I care about the way they have carried that experience. I feel like my job is to help them to deliver that—to set up space for them and then get out of the way."
Speakers explore deeply personal topics: rape, the loss of a child, illness, immigration, a brush with the supernatural. For Zilk, these are healing stories that characterize what it is to be strong and resilient. The spotlight encourages women to stand in their power.
"During this time of social and political upheaval and reset that we're in, I think it is really, really important that we listen to stories because stories are how we teach and learn empathy," Zilk says. "The power of being able to listen to someone else's story and being able to resonate with a piece of that story and find yourself in that story—I believe that we need more of that."
---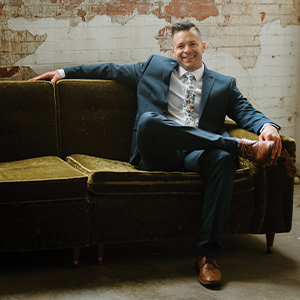 The Coach
Erik Dominguez
"My primary goal when I started my career in speech and debate was getting competitors to win," says professional speaking coach Erik Dominguez. And his high school students did, taking home championships and building up bragging rights across the country.
But as the accolades accumulated, Dominguez says, his personal life was falling apart. He was abusing alcohol and quick to anger. His relationships suffered. He was miserable.
"It wasn't until I started realizing that my own story was flawed" that he started to shift his approach, Dominguez says. "I did not have a focused idea of who I was. That was when things started breaking down for me."
Dominguez, 43, asked himself the same question he now asks his clients: What is the story you want to share with the world?
Getting curious about the stories we tell ourselves to create the world around us and the stories we are telling about others is the first step in a process that Dominguez sees as both the art and science of storytelling. He launched his business, Speak Up Stories, in 2020 to help people channel their voices more effectively.
"There's very little space to refine your personal story, to powerfully communicate who I am and what my message is," Dominguez says. "I'm in the business of personal and professional transformation through your communication. What I do that is different than most is I get into the messiness of being a human being [and ask] how do we make those complexities and messiness clear to an audience?"
A stage can be an audience of one or an audience of a thousand. The mechanics of storytelling might be taught in a rhetoric course or a group like Toastmasters. And Dominguez says emotional experiences that fuel personal narratives are best worked through with a therapist before they become valuable fodder for telling more broadly.
"You don't want to publicly share a story that isn't complete," like a still-in-process divorce or a recent trauma, he says. "When you step onto a stage and share a story that is emotional, you are not serving the audience—you're dumping."
Dominguez sees danger in a culture that empowers personal storytelling without providing the resources and time for people to train themselves in communication capacities, especially leaders whose careers call on them to inspire employees and clients.
"When you improve your communication, everything around you becomes healthier," Dominguez says. "When we are seen and heard, we are much more powerful in our lives."