Writer: Luke Manderfeld
Photographer: Duane Tinkey
We at dsm are pleased to present the 2021 Sages Over 70. The positive influence these women and men have had throughout our community is evident in innumerable ways—in business and industry, government and law, and the nonprofit and cultural sectors. No matter their area of expertise, they have all made Greater Des Moines a better place to live through their fortitude, dedication, generosity, and willingness to mentor others. 
We congratulated and celebrated the 2021 Sages at a reception Nov. 4 at the Sheraton Hotel in West Des Moines. Each Sage shared insights into his or her philosophies and principles—comments that inspired us all. View videos from the event here.
As in previous years, event proceeds benefitted the Sages Over 70 Fund at the Community Foundation of Greater Des Moines, our presenting partner. To learn more about the fund and to contribute, visit desmoinesfoundation.org. 
---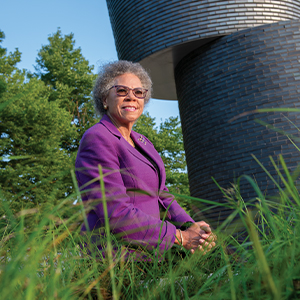 Linda Carter-Lewis
As a student at the former Des Moines Technical High School, Linda Carter-Lewis dreamed of making the top 10% of her class. She achieved that goal, but wasn't notified about a photo shoot recognizing top students in the newspaper. So she went down to the school office and demanded to be included, even as faculty members rolled their eyes. 
Such situations weren't uncommon to Carter-Lewis, who grew up in the 1950s and faced ongoing discrimination as a Black woman. But she never let such discrimination stop her. 
"I've always been a positive person," Carter-Lewis says. "In those days, [racism] wasn't really something you fought. You just had to go and find another way." 
That's what she did. After being fired from a telephone company because she was pregnant, she started a career in human resources, which eventually led to a successful 20-year tenure at Communications Data Services, now CDS Global. 
Carter-Lewis, 76, has used her success to help others, becoming an advocate for the Black community and a voice for the underrepresented. "I feel so fortunate," she says. "I just fell in love with volunteer opportunities that make a difference in people's lives. It's what keeps me going." 
Carter-Lewis was with her husband, Larry Carter, for more than 30 years before his death in 2000. She was married to the Rev. Irwin Lewis from 2004 until his death in 2010. She has three children.
Among Her Achievements
Served more than 3,000 employees as human resources employee relations manager and trainer at CDS Global.

 

Was president of the Des Moines NAACP from 2002 to 2010 and active for more than 30 years on the executive committee.

 

Has served on the Des Moines Civil Service Commission since 2008.

 

Earned multiple recognitions, including as a Business Record Woman of Influence, Alpha Phi Alpha Fraternity Alpha Award of Merit, and Iowa Juneteenth Citizen of the Year.

 

Has been involved with a number of local boards and organizations over the years, including Mercy College of Health Sciences, United Way of Central Iowa, and the YMCA of Greater Des Moines.

 
Her Advice 
Be positive and surround yourself with positive people.

 

Listen to others.

If you don't, "you

 

might miss the opportunity of your life."

 

Volunteer.

"Be involved in as many ways as you can."

 

Never forget those who helped you.

"Be thankful and always willing to mentor others."

 
Community Voices
"Ms. Carter-Lewis … always leads with a smile and a positive message of kindness, respect, and perseverance." Angela Franklin, president of Des Moines University 
"Linda is a community leader who doesn't just lend her voice; she leads with action." Kristi Knous, president of the Community Foundation of Greater Des Moines 
"In addition to her civic and community service, Linda is a mentor, life coach, supporter, and someone who inspires you to be the best you can be." Mary Chapman, vice president emeritus of Des Moines Area Community College 
---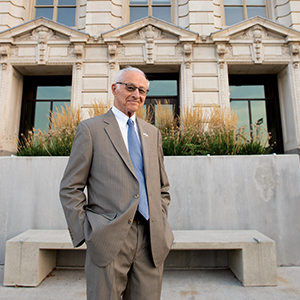 Harlan "Bud" Hockenberg
In 1881, Harlan "Bud" Hockenberg's grandfather Meyer arrived in Des Moines. As a 14-year-old, he had just fled religious persecution by the Russians. He peddled pots and pans and earned enough money to bring the entire family over. 
"He taught me about the freedom and opportunities Jews had in America," the now 94-year-old Hockenberg recalls. 
Meyer is a significant figure among Hockenberg's many inspirations, which also include his grandmother and parents. In fact, Meyer is a reason why Hockenberg became an attorney in 1952—to listen to other people's stories and challenges. At the time, most law firms weren't hiring Jewish lawyers, Hockenberg says, so he joined a Jewish firm and worked there until 1964. Since then, he's worked for three other law firms and currently is a partner at the Coppola Law Firm in West Des Moines. 
Founder of Iowans Supporting Israel, Hockenberg is active in politics and within the Jewish community, working with the Jewish Federation of Greater Des Moines. He values mentorship, which he sees as a way to expand "the seed and harvest of an idea." 
"I enjoy listening," Hockenberg says. "I'm able to ask the right questions, which is the best way to motivate and permit each individual to reach their potential." 
Hockenberg has been married to his wife, Dorothy, for more than 60 years, and they have three children. 
Among His Achievements
Past president of the Des Moines

 

Area Chamber of Commerce, where

 

he led efforts to expand mentoring relationships for area students.

 

Well-known public policy strategist and political adviser.

 

Active member of the local Jewish community, including past board member of the Jewish Federation of Greater Des Moines.

 

Consultant for the Robert D. and

 

Billie Ray Center at Drake University.

 

Member of the President's Commission on White House Fellowships from 1988 to 1993.

 
His Advice 
Listen first and listen carefully.

"If you are in a conversation and you're thinking about what you're going to say, you're going to fail."
"Look at opportunities as the flipside of challenges."

 

Know that it's OK to change direction, "but never leave the mission."

 

Pay attention to how people respond.

"You can evaluate a person by their reactions."

 
Community Voices
He is kind and hardworking and cares about lifting others up. He regularly sends an inspirational message known as a 'Bud-ism' to encourage community members to keep a positive perspective." U.S. Sen. Chuck Grassley
"He sees past partisan labels to work across the aisle and across the community for the greater good." Thomas Miller, Iowa attorney general 
"He is a quiet-natured man, brilliant and absolutely capable of speaking with force when necessary." Michael Wolnerman, president of the Jewish Federation of Greater Des Moines
---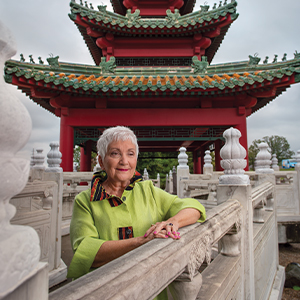 Trudy Holman Hurd
After well-known community leader and former Principal CEO David Hurd died in 2016, Trudy Holman Hurd made it her goal to carry on his legacy. 
"I had always been interested in helping Des Moines, and then David Hurd came into my life," says Holman Hurd, who married David in 2012. "We were soul mates. He believed that Des Moines was on its way to being a world-class city. That was a very symbiotic part of our relationship." 
Her drive to help fulfill his legacy has made her one of the most sought-after board members in Greater Des Moines. The 77-year-old Holman Hurd has been involved with dozens of organizations and community improvement projects over the years, one of the most recent being the renovation and expansion of the Robert D. Ray Asian Gardens. 
A Des Moines native, she has watched the city she's lived in her entire life transform over the past two decades. "The city I grew up in is not the city I live in now," she says. 
A former business consultant and trainer, Holman Hurd traveled the world and later worked at a funeral home where she helped grieving widows plan services. Today, she has made giving back a full-time endeavor. "I'm grateful I can help organizations in ways I could not have imagined," she says. 
She has three children with her first husband, the late Brian Holman. 
Among Her Achievements 
Served as president and on several committees at DMARC, including the Food Pantry Committee, Bowties and Bowls, and the 2020 Feasibility Study.

 

Helped form the Friends of the Robert D. Ray Asian Garden, a group raising $1.5 million to restore, expand and maintain the downtown garden.

 

Received the Dr. Judith Conlin Welcoming the World Award from the Iowa International Center.

 

Involved with local organizations Eat Greater Des Moines, Urban Dreams, Creative Visions and Promise Together of Greater Des Moines, among others.

 

Former trainer at Hamilton's Funeral Homes in Des Moines, helping the newly widowed deal with loss and arrange funerals.

 
Her Advice
Understand that you have potential you don't realize.

 

"Believe in people who have faith in you."

 

Bring people together.

"People of all ages and backgrounds working on something can bring different perspectives."

 

Don't be afraid to leap in and take a chance.

"If an opportunity presents itself, consider it a gift in disguise."

 
Community Voices
"Her love for the community and helping others is so ingrained in her, it's just second nature." Dan Houston, CEO of Principal Financial Group 
"Trudy is one of those special individuals who always seems to answer the call." Matt Unger, CEO of DMARC
"Trudy Hurd is one of the wisest and most selfless people I know—a perfect combination for someone dedicated to philanthropy." Patricia Boddy, senior partner emeritus at RDG Planning and Design
---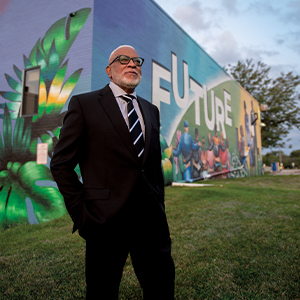 Dwight Jackson
Dwight Jackson grew up in Chicago, where it was common to hear about Black men's lives forever altered by a brush with the judicial system. They couldn't find jobs and ended up back in the same situation. Sometimes, those affected were Jackson's family and friends. 
"Most often, the punishment didn't fit the crime," says Jackson, now 74. "They have another punishment of forever being categorized as not having value." 
As a teenager, Jackson turned away from the temptations he saw others succumb to. Both his parents were in his life, which wasn't the case for some of his peers. At age 18, Jackson started working at Amoco (now BP), which eventually brought him to Des Moines in 1974. He'd leave the city three times, moving to various locations for jobs, before retiring here in 2013. 
Jackson has dedicated his life since to helping those recently released from prison reenter society. With the Evelyn K. Davis Center for Working Families, he has developed and expanded a mentoring and transition program as well as Men on the Move, a clothing closet for men with job interviews. 
Jackson notes that 37% of offenders are arrested and sent back to prison within three years after release. "We try to give these people a reason not to go back," he says. 
Jackson has been married to his wife, Gloria, for 40 years, and they have three children.
Among His Achievements 
Recognized as a Des Moines Area Community College Urban Campus Alumni Association Outstanding Alumni in 1991 and in 2018.

 

Expanded the Men on the Move clothing closet at the Evelyn K. Davis Center for Working Families, providing hundreds of men with free suits and professional clothing.

 

Served as a board member and advisory member of Proteus Employment Opportunities Inc.

 

Member of the board of directors for ManUp Iowa, which mentors youths in Des Moines Public Schools.

 

Member of the Pi Alpha Alpha National Honor Society.

 
His Advice
Help people see what they can achieve.

"There are a lot of folks who don't have someone to reach out to. Be that person."

 

Be patient.

"Be diligent in your purpose."

 

Persevere.

"Success for me is falling down seven times and standing up eight. … It's not how you start; it's how you finish."

 
Community Voices
"Dwight is one of those that will go and make it happen regardless of the barriers or obstacles in front of him." Marvin DeJear, senior vice president of talent development at the Greater Des Moines Partnership
"He continues to dedicate his time to improving the lives of others in the community." Joy Esposito, assistant director of the Evelyn K. Davis Center for Working Families
"Dwight's dedication and passion toward the community of Des Moines is changing lives daily." Tom Sitzmann, owner of Mr. B Clothing
---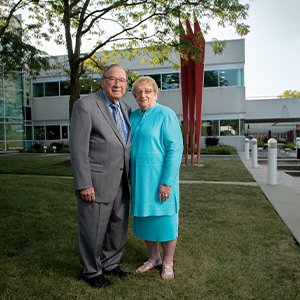 Don and Charlene Lamberti
Don and Charlene Lamberti watched as their son Anthony struggled with addiction throughout his life. He'd have moments of sobriety, only to fall back into substance abuse. They were patient and tried to understand, but 
"I don't know if you ever really understand," Charlene says. 
Anthony, who died in 2010 at the age of 49 after dealing with complications from brain lesions, implored his parents to help those struggling with addiction. They did, starting and funding Bridges of Iowa in 1999, which since has helped more than 2,000 people recover from substance abuse. 
"The most rewarding moments are the success stories of people who graduate from the program," Charlene says. 
Don and Charlene founded Casey's General Stores in Boone in 1968. Today, the convenience store chain has more than 2,300 locations in 16 states. 
Over the years, the couple's Catholic faith has drawn them to philanthropy, including Bridges of Iowa and other community initiatives. 
While serving on numerous boards and organizations, they've also contributed to rural entrepreneurship and Iowa's beautification efforts. 
"There's always a need, so we try to fulfill those needs the best we can," Don says. "That's why we keep getting involved." 
Don, 83, and Charlene, 81, have been married almost 54 years and have four children. 
Among Their Achievements
Started Casey's General Stores in 1968.

 

Created and fund Bridges of Iowa, an organization helping those with addictions.

 

Co-founded Keep Iowa Beautiful in 2000 with former Gov. Robert D. Ray.

 

Established the Donald F. and Charlene K. Lamberti Center for Rural Entrepreneurship at Buena Vista University in 2018 with a $2.9 million gift.

 

Served on numerous boards and organizations, including the Community Foundation of Greater Des Moines, Buena Vista University board of trustees and National Sprint Car Hall of Fame.

 
Their Advice 
Be willing to help do the right thing.

"Just say yes and get out of the way," Don says.

 

Develop a culture of "we rather than me," Charlene says.

 

Follow your passion.

If you're getting into business to get rich, "you're probably not going to make it," Don says.

 

Pay it forward;

remember who's helped you along the way and be generous with your time and talents.

 
Community Voices
"The Lambertis are pillars of the community, and they complement each other in an ideal fashion, with neither of them asking for recognition along the way." Steve Havemann, executive director of St. Vincent de Paul of Des Moines. 
"The Lambertis, throughout their entire lives and careers, have demonstrated outstanding leadership, integrity and good character." Gary Palmer, president and CEO of Prairie Meadows Casino and Hotel
"Don and Charlene's humble and discreet manner in personally donating millions of dollars to charitable causes … is truly remarkable." Julie Jackowski, chief legal officer and secretary at Casey's General Stores 
---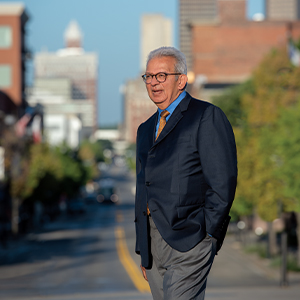 Suku Radia
While growing up in the east African country of Uganda, Suku Radia learned the values of honesty and humility from his parents. He watched as they served the community—particularly his father, who was a charter member of the first Rotary International Club in Kampala. 
"I learned early in life how important it was to give back," Radia says. "My parents taught me that if you live in a place, you have an obligation to make it a better place than you found it." 
Radia says he has tried to live those values his entire life, no matter where he's lived. He wound up in Des Moines after attending Iowa State University in the early 1970s and meeting his wife, Mary. He built a successful business career, eventually becoming CFO of Meredith Corp. and CEO of Bankers Trust. He also became a prominent community leader, serving on some three dozen nonprofit boards and organizations. 
Throughout his career and now in his retirement, he has been an active mentor; currently, he's working with about 45 people. "I enjoy mentoring immensely," the 70-year-old Radia says. "I'm not sure I'm doing them any good, but at least they seem to listen." 
Mentoring and his other community activities, he says, are his way of honoring his parents and community—by helping leave Des Moines a better place than he found it. 
"I just wanted to work hard and do the right thing and treat people with respect and dignity," Radia says. 
Radia and Mary have been married for almost 50 years and have three children.
Among His Achievements 
Served as CFO of Meredith Corp. and CEO of Bankers Trust, more than doubling assets and earnings for the latter during his nearly 10-year tenure.

 

Served on the boards of 37 nonprofits and raised more than $50 million for local organizations and causes.

 

Inducted into the Iowa Business Hall of Fame in 2010.

 

Named Best Metro Business Leader, Best Minority Business Leader and Most Influential Leader several times by the Business Record.

 

Was the first appointee from Iowa on the IRS Commissioner's Advisory Council and also served on the National Business Council for the Arts.

 
His Advice
Spread humor and laughter.

"It's hard for me to be serious. My philosophy has always been to take your work seriously, but don't take yourself seriously."

 

Know your priorities.

"The most important job you're doing is at home; it's not at work."

 

Focus on community.

"I want my mentees to become genuinely good people and give back themselves."

Develop listening skills.

"We could all do better by listening."

 
Community Voices
"Because he is so revered as a business and community leader, he has long had enormous capacity to influence others to make choices that serve the greater good." Shannon Cofield, president of MercyOne Des Moines Foundation
"Suku has never declined a request to share advice and his wisdom to those who asked." Gerry Neugent, co-chair of Knapp Properties 
"His easygoing demeanor and approachability opened a door to many of us to be mentored in business and in serving the community." Vincent Mutambuki, managing partner at Mumo Systems 
---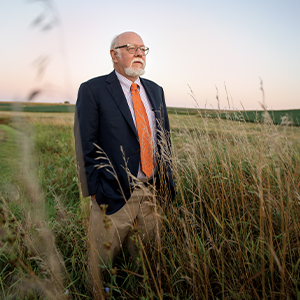 Bob Riley
Bob Riley is curious. He's been that way since he was a kid, exploring Des Moines until the dinner bell beckoned him home. "I was highly adventurous," Riley says. "And I appreciated the outdoors and its elegance. That's driven me throughout life." 
He didn't grow up a farmer, but he was interested in the systems of farming—the seasonal cycles, products and more. So, after working in the rendering industry in Iowa and Missouri for almost two decades, Riley bought Feed Energy in 1987 and has turned it into one of the largest agriculture energy ingredient producers in the Midwest. Today, Feed Energy, now under the Riley Resource Group umbrella of agribusinesses, feeds more 90 million animals annually. 
Riley, 73, is passionate about molding the next generation of Iowa's leaders and is a mentor to many. He pushes others to get involved, whether through community service, philanthropy, even running for local office. For him, the world is a better place when everyone is working together. 
"I just feel like that's part of my calling," Riley says. "Many times, people do things in self-interest instead of the common good." 
Riley has been married to his wife, Kay, for almost 50 years. They have two children. 
Among His Achievements 
Founded and oversees Riley Resource Group, which operates several agriculture companies, including Feed Energy.

 

Active in the Nature Conservancy, Iowa Poultry Association, Community Foundation of Greater Des Moines and other local organizations.

 

Helped start and is involved with the Capital Crossroads campaign.

 

Received numerous awards, including the Iowa State University Ivy College of Business Innovation Entrepreneur Award in 2018.

 

Inducted into the Iowa Poultry Association Hall of Fame in 2017.
His Advice
Be prepared.

"Proper planning prevents poor performance."

Find control among the chaos,

"something that will give you calmness and sense of well-being."

 

Consider progress as "whether we provide enough for those who have too little, not whether we have things in abundance."

 

Be optimistic.

"Tamp down fear and have more … hope."

 
Community Voices
He perennially demonstrates that he possesses one the nimblest minds among Iowa's agriculture, business and community leaders." Wendy Wintersteen, president of Iowa State University 
"What Bob commits to, he does. And if there's a problem, he will fix it." Kevin Stiles, CEO and executive director of the Iowa Poultry Association 
"Bob is extremely well known in all circles as insightful, inquisitive and generally right." Rob Denson, president of Des Moines Area Community College
---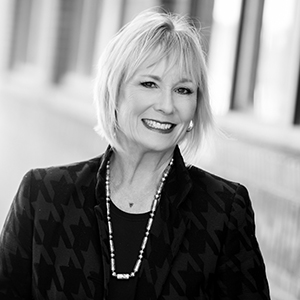 Aging Vs. Being Old
Writer: Jann E. Freed
Several years ago, I met Carol Orsborn at the Sage-ing International Conference. I was immediately struck by her seeker's heart and life spirit. The author of 30 books for and about the boomer generation, she has been studying the progression of life stages since receiving her Ph.D. in adult development 20 years ago from Vanderbilt University. Her latest book is "The Making of an Old Soul: Aging as the Fulfillment of Life's Promise." 
When I interviewed Orsborn, I found the origins of the book fascinating. She attributes the book to a mystical experience she had two months into COVID, when she was taking a walk in a cemetery near her home in Nashville, Tennessee. She was the only person at the cemetery, and it was the first day in months she felt comfortable walking outside without a mask. She was thinking of the issues of limitation and mortality in her own life, and in the world, that were beyond her control. A reckoning followed. 
After processing her experience, Orsborn concluded there is a difference between aging and being old. Aging is about the struggle, the focus on self-improvement and self-identification. It is about coming to terms with changes and losses over time. But being old is about being beyond the struggle and into peace. It is about becoming a sage or old soul. 
While most models place the peak of the life cycle at or before midlife, Orsborn believes that when viewed through a spiritual lens, aging represents the fulfillment of life's promise. 
After writing the book, Orsborn had even more clarity: "I realized the point of life is being old, and aging is the journey to get there. Yet we often fight the aging process. The things in life that pass away when we die, they start to fall away anyway and there are natural losses. But for every loss, there is an equal and compelling compensation that brings us face to face with what matters most—what has always mattered most. But we are usually too busy to know it." 
She also understood that there's a difference between feeling bad and feeling bad about yourself. "It takes a lifetime of self-awareness and self-forgiveness to make peace with the fact that we are imperfect beings," she said. "Many of us have been searching all of our lives for meaning and purpose. … Then we find what we've been looking for at unexpected times and places. We are no longer just old. We become old souls." 
It did not surprise me to learn that Orsborn and her husband foster senior dogs to give them a happy end to their lives. When COVID hit, the Orsborns had three older dogs. They lost all three over the course of the year. "It is tough," she said, "but they teach you so much. Grieving is love, and love is grieving. We're taking the time to grieve before we get going again." 
What Orsborn didn't understand before her experience in the cemetery is that old souls are no longer struggling with reality. They are grateful for all of it—the light, the shadow, the wonderful surprises and the unexpected disappointments. True sages are old souls who have embraced who they are and what matters most. n
Jann E. Freed, Ph.D., is the author of "Leading With Wisdom: Sage Advice from 100 Experts." She hosts the podcast "Becoming a Sage."