A freshman at Drake University, December Paw developed a love of abstract painting and drawing through ArtForce Iowa. Shown above is one of her drawings.
Writer: Brianne Sanchez
Photographer: Duane Tinkey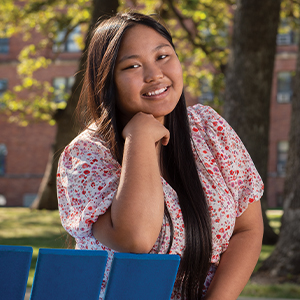 It was the guitar that first drew her in. When December Paw was a student at North High School, leaders from ArtForce Iowa, a nonprofit organization with a mission to transform youths in need through art, visited her family's apartment complex. Paw remembers deciding to participate in the program after seeing Christine Her, the organization's executive director, perform a few songs.
"They said there were a lot of opportunities for drawing, painting and music," Paw says. "It was the instrument I was interested in first. I wanted to learn how to play guitar."
ArtForce Iowa artist mentors facilitate an uplifting space for program participants, 12- to 19-year-olds who either come from immigrant, refugee and first-generation backgrounds or are court-involved. Designed specifically to serve participants who have experienced trauma, weekly creative workshops use healing-centered engagement strategies that build resiliency. (Currently, workshops are being held virtually while the organization searches for a suitable physical location.)
"Healing-centered engagement is an evolution from trauma-informed care," Her says. "Trauma-informed care asks you what happened, versus what's wrong with you. But healing-centered engagement says, 'Hey, instead of just asking only what happened to you, can I also ask you what's right? Where do you want to go with your life? Who do you want to be?'"
Workshops begin by exploring everyone's high and low points of the week—the best and hardest experiences in their lives lately. They also kick off with a question of the day that can range from goofy to introspective.
"We've always acknowledged that the people coming to us have [difficult] experiences," says Emma Parker, an ArtForce program director. "The least we can do is to make them feel safe and welcomed. Everyone always comes so open that no matter what day you had pre-workshop, it changes your day."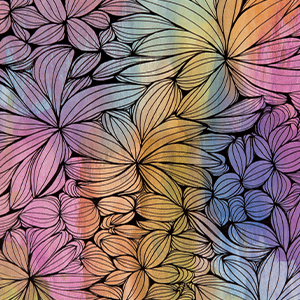 Now a freshman at Drake, Paw looks back on her time with ArtForce as a transformational experience.
"I got to practice a lot of artwork, and that broadened my mind," Paw says. "After a while, it helped me know what I wanted to do and what I like—abstract drawing and painting. ArtForce has helped me learn more widely about the world. If I'm successful, I want to give back to my community."
For Paw, the constant support of staff was a key component. Several members of the team, including Her, come from refugee family backgrounds themselves. Members of the ArtForce team regularly check in with participants outside of workshops to make sure the teens feel connected and have the resources they need to thrive.
"They listen to you about your opinions and they put that into consideration to see how they can help," Paw says.
Although ArtForce serves a specific youth population through community-based care, professionally facilitated art therapy is an avenue for others looking for an integrative healing approach to manage and resolve a wide variety of issues that can range from addiction and depression to body image, stress or trauma.
"Creating art on our own can support the increase of self-awareness, self-esteem [and] self-regulation of emotions and the nervous system," says Laura Housel, a mental health art therapist with Full Heart Family Therapy and Renewal Center.
Housel says working with a specially trained art therapist has added benefits, especially as a method for approaching topics that might be difficult to talk about in a more typical therapy session.
"Art therapists can assist people in better understanding the messages, symbols and feelings in their art through an approach that includes creative expression, psychotherapy and the therapeutic relationship as part of the healing process," she explains.
Although Housel is not involved in ArtForce Iowa programming, she says a benefit of creating art in the community is the supports and friendships that arise, as well as a sense of belonging and the feeling of being seen, heard and valued.
"We are learning that trauma and adverse experiences can make us more susceptible to more trauma and adversity," Housel says. "If we are now starting to see trauma and adverse experiences as public health issues, we should also be addressing them on individual, group and community levels, not only for healing but also [for] prevention."
---
'Every Single One of Us Needs Healing'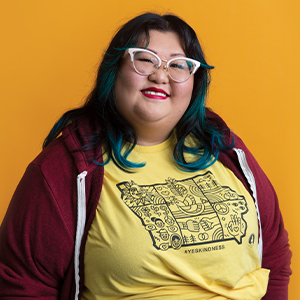 Christine Her believes in the healing potential of a painting. As executive director of ArtForce Iowa, she was recently honored by Americans for the Arts with their national American Express Emerging Leader Award for visionary community impact. As a daughter of Hmong refugees, she feels that community healing can start at home.
Her knows firsthand how trauma can be passed from generation to generation. While working with ArtForce youths on a project exploring origins, she reflected on her own parents' past. There were no photos of her father and grandfather together because the two were separated during the Vietnam War. Her dad escaped through Thailand, but her grandfather stayed and was killed in the jungles of Laos. She knew her father's shame and sadness at leaving his family behind, so for Father's Day she commissioned a portrait that imagines an impossible reunion. Son and father are both depicted at middle age in the piece by Des Moines artist Johnathan Fusco.
A personal project to honor her ancestors and inspire a new chapter of personal healing became a prompt for something far bigger. Her recognized the significance of her family's stories, not just in shaping her own personal narrative, but as unheard history—stories of the grandfather whom she would never meet and his role in the CIA's "Secret War" in Laos that she never learned about in school. (From 1964 to 1973, the U.S. dropped more than 2 million tons of ordnance on the country.) Happy memories, too: her parents' joy in marrying and building a life for their four children in Iowa thanks to the actions of former Gov. Robert D. Ray.
The effort to fill the gaps in her family's history inspired an initiative to fill gaps in the curriculum available around immigrant stories. She assembled a group of creative collaborators to film interviews with her dad, using the same healing-centered approach in this project as she does with workshop students. In some shots, he's holding the portrait of himself and his father. In others, he sifts through family photographs from his courtship, wedding and young family.
"I've never heard [his story] in chronological order," Her says. "And some pieces, I had imagined to be very different. There were parts of this documentary that he never shared with me before and only shared in the recording."
"My Dad Was a Teenage Soldier, a documentary" launched in May of 2021. The online premiere served as an invitation for other refugee community members to share their stories. The ArtForce team is extending the circle of healing at the heart of ArtForce's youth programming to the broader community through #KnowJustice: The Legacy Collection. The project will gather, preserve and share a collective history of Iowa through Iowans' stories. ArtForce plans to partner with ethnic community-based organizations and schools to offer books with family stories in multiple languages.
"I think what makes this project so unique and so special is that we have this understanding that every single one of us needs healing," Her says. "If we can't heal, it is so hard to move forward. That trauma becomes the trauma for our children and our children's children. We can end that cycle with healing. I love healing-centered engagement because it's so liberating."