"Hadestown" is a modern retelling of the Greek myth of Orpheus and Eurydice, interwoven with the story of King Hades and his wife Persephone. Read below to find out why Jeff Chelesvig, president and CEO of Des Moines Performing Arts, is excited to bring the touring Broadway show to the Des Moines Civic Center.
Writer: Christine Riccelli
"You're asking me to choose my favorite child." That's how Matthew McIver, artistic director of Iowa Stage Theatre, answered the seemingly simple question we posed: What are you most excited about for 2022?
In fact, nearly every local arts leader we asked echoed McIver's response—a few in those exact words. It's no wonder they struggled to choose just one highlight: After nearly two years of pandemic-related disruptions, including shutdowns, cancellations, financial challenges and other setbacks, 2022 promises to be a high-voltage year for arts and culture in our community.
Des Moines Metro Opera, for example, will celebrate its 50th anniversary with a blockbuster season that includes "A Thousand Acres," a $1 million new opera based on the Pulitzer Prize-winning novel that reimagines Shakespeare's "King Lear" set in 1970s' Iowa. Gateway Dance Theatre is also marking its 50th year with special shows and events. Ballet Des Moines, which has a new artistic director, is leaping forward with a bold, newly created work that premieres in April.
Collaboration among arts organizations will add to the energy. After a pandemic-related delay, Pyramid Theatre Company and Des Moines Performing Arts will team up to present "The Gospel at Colonus" sometime late spring (the date was undetermined at press time). Jeff Chelesvig, DMPA's president and CEO, also is excited to host DMMO's production of "The Magic Flute," while McIver is eager to stage Shakespeare's original "King Lear" to complement "A Thousand Acres."
And all of that is just for starters. Everyone we checked with exuded infectious optimism about 2022. Find out below.
---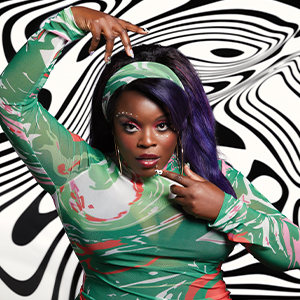 Robert Warren
Executive Director, Hoyt Sherman Place
Top Pick: YOLA
Sept. 10
Hoyt Sherman Place
Warren loves "finding and helping rising stars." And Yola, he says, "is shooting to the top extremely fast." Indeed, the English singer and songwriter, whom Warren describes as having "mind-blowing vocals," was nominated for four 2020 Grammy Awards.
She was in Iowa last summer, when she performed at Hinterland in St. Charles, and she played a sold-out Madison Square Garden last October. Yola, whose work encompasses a variety of musical genres, will stop at Hoyt Sherman during her tour in support of her new album, "Stand for Myself."
---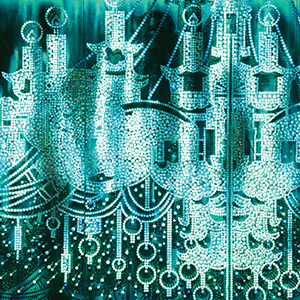 Jeff Fleming
Director, Des Moines Art Center
Top Pick: "Immersive"
March 11–June 5
Des Moines Art Center
For most exhibits, you view works in a gallery, then move on to the next gallery. In contrast, "Immersive" will be experiential, inviting visitors "to be literally immersed in artworks," Fleming explains. "One will follow a path from darkened space to darkened space, each filled with light, color and sound."
One zone, for example, will feature Ran Hwang's "Garden of Water" (pictured). "In this playful and sparkling installation, light reflects off thousands of crystal sewing pins as video-projected rain showers and spider webs fall around the space," Fleming says.
Another area will showcase Bill Viola's "Ascension," in which "hypnotic blue light and underwater sounds enhance a film both pensive and hopeful," he says. In the Bookey Gallery, Des Moines-based multimedia artist Oyoram will install a circle of LED monitors that Fleming says "will transport the viewer into a glowing, moving seascape."
Overall, "Immersive" not only promises to stir your emotions, he says, but to provide "a place to step fully into the art itself."
Pictured: Ran Hwang (Korean, born 1960), "Garden of Water," 2010 (detail); beads, crystal, pins, video on Plexiglas. Des Moines Art Center Permanent Collections; gift of the artist and Leila Heller Gallery, New York.
---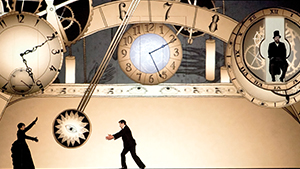 Michael Egel
General and Artistic Director, Des Moines Metro Opera
Top Pick: "The Magic Flute"
March 5–6
Des Moines Civic Center
Asking Michael Egel to choose just one show seemed almost cruel, as 2022 undoubtedly will be DMMO's boldest year in its 50-year history. "Every arts leader's top job is to create a portfolio of 'wow' projects that excites the community, and we have five operas … that will astonish and amaze in unique and different ways," he says.
When pressed, he decided to highlight the season's kickoff show, a technicolor, silent film-inspired production of Mozart's "The Magic Flute" (pictured).
"This charming interpretation of Mozart's most famous opera puts the singers onstage in front of a huge screen, interacting in real time with animations projected all around them, creating the impression that gigantic comics, cartoons and folk art is coming to life right before your eyes," Egel explains.
The internationally acclaimed production "is an exhilarating family-friendly experience," Egel adds. "This is not your grandmother's 'Magic Flute.' "
Following "The Magic Flute," DMMO will present its Summer Festival, when three productions will be performed on a rotating basis July 1–24 at Blank Performing Arts Center in Indianola: "A Midsummer Night's Dream," "Porgy and Bess" and "A Thousand Acres" (which will have its world premiere July 9).
As part of DMMO's 2nd Stages Series, "American Apollo" will be presented in collaboration with Pyramid Theatre Company and performed at the Des Moines Art Center.
---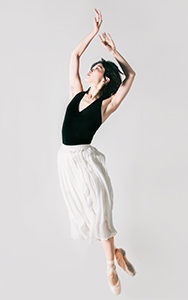 Blaire Massa
CEO, Ballet Des Moines
Top Pick: "Of Gravity and Light"
April 22
Des Moines Civic Center
"A world premiere is always thrilling," Blaire Massa says, but this newly created work by Ballet Des Moines "is one of the most innovative productions I've ever been a part of."
"Of Gravity and Light" features a full-length ballet and a musical score by Des Moines-based composer Beau Kenyon. The work "explores the beauty and wonder of space," Massa says. Along with Tom Mattingly, the company's new artistic director, Kenyon "has built an incredible team of artists and scientists from across the country to create this stunningly beautiful, interdisciplinary work."
"There is a global conversation happening around the convergence of science and art," she adds, "and this project exemplifies how the universal languages of music and movement can make abstract concepts more human and more accessible to audiences of all ages."
---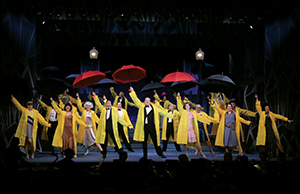 Katy Merriman
Artistic Director, Des Moines Community Playhouse
Top Pick: "Singin' in the Rain"
March 25–April 10
Des Moines Community Playhouse
Des Moines Community Playhouse opened "Singin' in the Rain" on March 13, 2020. Two days later, the show closed as the pandemic shuttered theaters everywhere. Two years later, the Playhouse will remount the 2020 production, reuniting much of the cast and creative team.
"It's such a beautiful show. We're keeping everything we loved about it," such as the costumes, a live orchestra, and a stage design that includes real rain on the stage, Merriman says. "We're excited to give [the show] the production it deserves."
"We want to give people a break from everything that's going on in the world," she adds, and the upbeat musical is a "perfect story for escaping."
---
Matthew McIver
Artistic Director, Iowa Stage Theatre Company
Top Pick: "King Lear"
July 13–17
Salisbury House and Gardens
Iowa Stage last presented an outdoor production of a Shakespeare play in 2019, when it staged "Macbeth." McIver is excited to return to the once-annual tradition. "Folks have been asking us, 'When are you going to do Shakespeare again?'" McIver says. "It was such a huge tradition, and it's important to us to bring that back to the community."
McIver is enthusiastic about staging "King Lear" this year because "we're doing it in conjunction with a cutting-edge new opera," he says, referring to Des Moines Metro Opera's commissioned production of "A Thousand Acres," a modern retelling of the Shakespeare tragedy. "I love that there is crossover between the two organizations and that we're telling a great story in different forms."
"King Lear" was part of the Shakespeare on the Lawn series in 2016, but McIver notes that the play "is different to us as a community in 2022 than [it was in 2016]. … The value in classic plays is that [they offer] a prism through which we see society differently every time we pick them up … because we're different and the world is different."
The rest of Iowa Stage's current season also offers a combination of classic and new works, including Eugene O'Neill's "Long Day's Journey Into Night," Lynn Nottage's "Sweat," and the premiere of a new comedy by Des Moines playwright Karen Schaeffer, "Girls' Weekend 2."
---
Penny Furgerson
Founder and Artistic Director, Gateway Dance Theatre
Top Pick: "Shakuntala"
July 8–9
Hurd Amphitheater, West Des Moines
When Penny Furgerson and her late husband, Lee, founded Gateway Dance Theatre in 1972, "people predicted we wouldn't last a year because it was something completely new and different," she recalls. "But every time I thought of closing, something wonderful would happen."
To celebrate 50 years of bringing a fusion of African American, Caribbean, Asian and Indian music and movement to the community, Gateway this summer will present "Shakuntala." The ancient tale from India tells the story of a young woman who is raised in a secluded hermitage and falls in love with the king. Featuring a local cast of about 20 diverse performers, the play will incorporate international music and dance.
Gateway staged the production in 2017 at Grand View College, and it was so well received, the company went on tour with it around Iowa. For this year's show, Gateway wanted to present it at an outside location, Fergurson says: "Since the [story] takes place in a forest, we thought it would be lovely to perform it in an outdoor setting."
---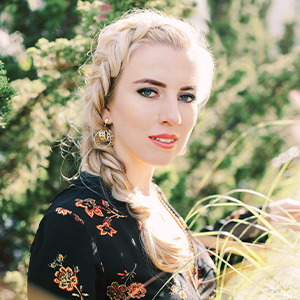 Joseph Giunta
Music Conductor, Des Moines Symphony
Top Pick: "Immortal Beloved"
Jan. 29–30
Des Moines Civic Center
This concert will give you a chance to experience Beethoven in a new, unexpected way. In addition to a musical performance, "Immortal Beloved" features several actors, one who plays Beethoven.
"It's about a side of him that's not known by many," Giunta says. "At one point in his life, he met a woman that he fell in love with. … He wrote her three letters that opened his heart to her. But he never sent her the letters and never told anyone the mysterious woman's name."
The first half of the program will focus on the narrative, with music accompanying, including Beethoven's famous "Moonlight Sonata." The second half will star renowned pianist Natasha Paremski performing "the fantastic and popular Second Piano Concerto by Rachmaninoff," Giunta says. "Who could not look forward to this?
---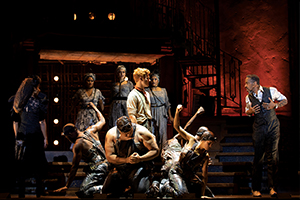 Jeff Chelesvig
President and CEO, Des Moines Performing Arts
Top Pick: "Hadestown"
March 22–27
Des Moines Civic Center
"Hadestown" is a contemporary reimagining of the Greek myth of Orpheus and Eurydice's fateful love, interwoven with the story of King Hades and his wife Persephone. Called sumptuous and hypnotic by the New York Times, the show won eight Tony Awards in 2019, including best musical, and in 2020 the cast album won the Grammy Award for best musical theater album.
Chelesvig praises the show's clever blending of the Greek myths, beautiful staging and dynamic score, a combination of folk, pop, blues and Dixieland. "Anaïs Mitchell is an exciting songwriter who first conceived of the [idea] years ago and just kept working at it," he says.
Specifically, Chelesvig admires the 13-year journey Mitchell traveled in getting the work to Broadway, which included releasing a concept album, touring and testing versions around New England, turning it into a stage musical, and staging it off-Broadway. The show opened on Broadway in 2019.
"It's a powerful production," Chelesvig says. "I was really moved by it."