Homemade corn tortillas are the perfect vessel for blackened fish tacos and cabbage slaw. Find the recipes below.
Writer: Lisa Holderness Brown
Photographer: Duane Tinkey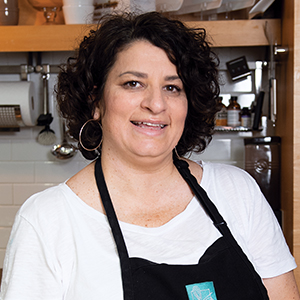 Nela Blanco talks about gallo pinto with such animated adoration that it's hard to believe she's talking about a pot of humble beans and rice.
"In Costa Rica where I grew up, you can't live without this traditional dish of long-simmered black beans combined with leftover cooked rice and Salsa Lizano," Blanco says of the staple to Ticos (the nickname for Costa Ricans). "We eat it for lunch and dinner and even heat up leftovers for breakfast. It brings me back home.
"And if you plan on making it ahead, don't add the onions until just before reheating, because they make the dish bitter," she adds.
Conversations with Blanco often weave in cooking, especially heartfelt descriptions of her homeland dishes, including little nuggets of cooking wisdom. Since immigrating to Des Moines in May of 1994, food has been her connector to the place she left behind and to bridge her language gap as she made a new life in Iowa.
At age 19, Blanco left Costa Rica to live in Iowa with her mother, Mayela Fonseca, who had moved here three years earlier with Pioneer Hi-Bred International. Blanco was nervous about the move. She hadn't seen her mother during those three years, due to immigration proceedings, and was about to trade living with a grandmother and father she adored for a place with cold winters and a language she didn't speak.
The transition was made smoother as Blanco's mother shared her passion for cooking. They toasted homemade tortillas, shared a love of tres leche cake, and assembled tacos together, all which helped them reconnect and lessen the homesickness. Blanco powered through English language classes and tapped into the growing local Latino community. Eventually she enrolled in the Iowa Culinary Institute at Des Moines Area Community College, where she found her voice and put her talent in the kitchen to good use.
After graduating with a culinary degree, Blanco took a four-month pastry course at the Culinary Institute of America in Hyde Park, New York, and worked as a sous chef at the Wine Experience. She met and married Josh Daines, who was as smitten with her uninhibited cooking. "He loved everything I cooked," Blanco says with a laugh. "It was totally different from what his mom made. She came through Ellis Island from England and Josh's dad was German European."
After years of cooking professionally, she tired of the long hours in restaurant kitchens. A friend told her about an opening in the Des Moines Public Schools for a bilingual liaison, working with students. She had the Spanish skills, so she got the job and still finds it rewarding. Her tamer schedule not only allowed her to spend more time with Josh and son Marco, who's now 19, but also to volunteer as a board member with the Latino Festival. Blanco has helped with the planning, organizing of food trucks, and fundraising for scholarships since the first festival in 2002.
"I am a big advocate for the local Latino community, both at school and at the festival," she says. When asked if she participates in the festival's cooking demonstrations, Blanco says that she is too busy and that that's her sister Tiana Blanco's job, who comes from South Dakota to help.
Blanco still gets her chance to shine in the kitchen. She spends free time at home cooking with Marco or for friends and family, and she teaches cooking classes at Kitchen Collage. She often uses the recipes featured here during her classes to honor her grandmother and Costa Rica, but also as a way to connect with people through her food, just like she did when she first arrived 28 years ago.
"The best memories I have of when I was a child in Costa Rica are the times I spent with my grandma in the kitchen, feeling her love with every dish she made for us," she says. "Now I express myself, share what I feel, and the love I have through my cooking."
---
Homemade Corn Tortillas
Yield: About 12 tortillas
Ingredients
2 cups masa harina (masa flour)
2 teaspoons olive oil
1/8 teaspoon each salt and pepper
Lukewarm water (1 1/2 to 2 cups)
Directions
1. In a medium bowl, stir together masa flour, olive oil, salt and pepper. Stir in water, a little at a time, until the mixture forms a moist dough the consistency of Play-doh (it shouldn't stick to your hands). Form the dough into balls, about the size of small golf balls. Cover balls with a damp paper towel to keep from drying out. Using a tortilla press lined with two squares of plastic cut from a storage bag (see Blaco's tortilla tips, below), gently flatten each ball, rotate and flatten again until tortilla is round and thin, about the thickness of a penny.
2. Using a paper towel, very lightly grease a heavy skillet with a few drops of cooking oil. Heat pan over medium heat. Add a tortilla to the hot pan and cook about 4 to 5 minutes per side or until golden brown with some darker spots. Repeat with remaining dough balls. Keep cooked tortillas warm in a tortilla warmer or wrapped in foil.
Tips: Blanco calls for masa flour, which is available at local Mexican markets and some grocery stores. This is a dehydrated and ground version of masa—the corn dough used to make corn tortillas.
Using lukewarm water (just warm to the touch) helps the dough become more flexible. If the dough is dry and crumbly, stir in a little more warm water.
You can make the masa dough the day before and even roll the dough balls. Blanco places wet paper towels over the dough balls, covers them with plastic wrap, and stores them in the refrigerator.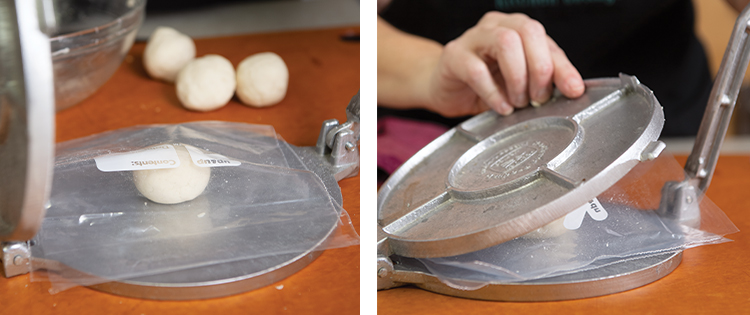 The easiest way to shape corn tortillas is with a tortilla press. Blanco bought hers at Kitchen Collage. She cuts the sides of a quart-size plastic bag open to get two squares and uses these to line the press. The plastic keeps the dough from sticking and speeds up the shaping process. You can also use a rolling pin to roll out the tortillas (still put the balls between the plastic squares).
---
Cabbage Slaw (Encurtido)
Serve this quick-pickled cabbage atop tacos for extra crunch and zing.
Yield: About 2 cups
Ingredients
2 cups finely shredded red and/or green cabbage*
2 tablespoons chopped fresh cilantro
1 tablespoon white vinegar
1 teaspoon freshly squeezed lime juice
Pinch salt and ground black pepper
Directions
1. In a medium bowl, combine all the ingredients. Cover and refrigerate at least 30 minutes or up to 2 days.
*Tip: Blanco uses a vegetable peeler to shred the cabbage. Starting with a wedge of cabbage, "peel" it like a potato to get fine, uniform pieces.
---
Blackened Fish Tacos
Serves 6
Ingredients
2 6-ounce fish fillets such as cod, tilapia or any mild white fish
2 teaspoons chili powder
1 teaspoon dried oregano, crushed
1/2 teaspoon salt
1/4 teaspoon cayenne pepper
2 tablespoons butter, melted
Juice from 1 lemon
12 corn tortillas, warmed
Assorted toppings such as cabbage slaw (encurtido), salsa, guacamole, sliced avocado and/or fresh cilantro leaves
Directions
1. Rinse fish in cold water and pat dry with paper towels; set aside. In a shallow bowl, combine chili powder, oregano, salt and cayenne. In another shallow bowl, combine melted butter and lemon juice. Dip a fish fillet into butter mixture, turning to coat all sides. Press the fillet into the spice mixture, coating each side. Repeat with remaining fish fillet, butter mixture and spice mixture.
2. Heat a heavy skillet over medium-high heat. Add fish fillets to hot, dry skillet and cook about 4 minutes or until dark golden on bottoms; flip fillets over and cook about 4 minutes more or until fish is opaque (just flakes when tested with a fork). With two forks, pull fish into large chunks. Fill warm tortillas with blackened fish and assorted toppings.
---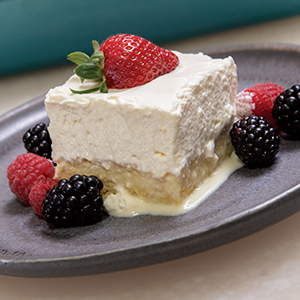 Tres Leches Cake
Tres leches means three milks. This traditional Latino dessert is her grandma's recipe and Blanco's signature birthday cake. Kitchen Collage owner Teresa Adams-Tomka says she's had a lot of tres leches cakes in her day and Blanco's is the best!
Serves 12
Ingredients
1/2 cup all-purpose flour
1 tablespoon baking powder
1/4 teaspoon salt
6 eggs, separated
1 cup granulated sugar, divided
2 tablespoons milk
1 (14-ounce) can condensed milk
1 (12-ounce) can evaporated milk
3 1/2 cups whipping cream (heavy cream), divided
Assorted fresh berries (optional)
Cinnamon (optional)
Directions
1. Preheat oven to 350 degrees. In a small bowl, combine flour, baking powder and salt.
2. In a mixing bowl, beat egg whites and 1/2 cup of the sugar with an electric mixer on medium-high until soft peaks form. Beat in egg yolks, one at a time. Fold flour mixture into egg mixture. Stir in the 2 tablespoons milk. Pour batter into an ungreased 9×9-inch pan. Bake 20 to 30 minutes or until a wooden toothpick inserted near the center comes out clean. Transfer cake in the pan to a wire rack and cool completely.
3. Pierce the cake all over with the tines of a fork. In a medium bowl stir together the condensed milk, evaporated milk and 1 1/2 cups whipping cream. Pour milk-cream mixture over the cake, letting it seep into the fork holes. Refrigerate cake until serving time, up to 24 hours. 
4. In a chilled mixing bowl, beat the remaining 2 cups whipping cream and remaining 1/2 cup sugar with an electric mixer on medium speed until soft peaks form. Before serving, frost top of the cake with the whipped cream. If desired, serve with fresh berries and cinnamon.
---
Easy Salsa
Nela Blanco's salsa takes about five minutes to make and is her signature accompaniment to homemade tortillas and chips, as well as tacos. Look for the brick-red chiles de árbol at a local Mexican grocer. The chiles are about 2 inches long and are known for their smoky flavor and intense heat.
Yield: 3 1/2 cups
Ingredients
2 or 3 chile de árbol (dried) or any dried Mexican chilies like guajillo, chipotle or ancho
1 (28-ounce) can whole tomatoes
3 garlic cloves
1/4 cup chopped onion
1/4 cup chopped fresh cilantro
Pinch salt and ground black pepper
Directions
1. In a dry skillet toast the chiles until dark.
2. In a blender or food processor, add chiles and remaining ingredients. Cover and blend until desired chunkiness. If desired, season to taste with additional salt and pepper.
---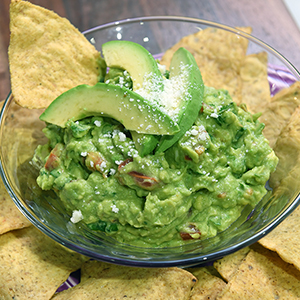 Guacamole
Yield: About 6 cups
Ingredients
4 ripe avocados,* pitted and quartered
1 medium tomato, chopped
Juice from 1 lime
2 garlic cloves, minced
1/4 cup chopped fresh cilantro
1/4 teaspoon ground cumin
Salt and ground black pepper to taste
Sliced avocado and grated cojita Mexican cheese, available at Mexican grocers
Directions
1. Use a spoon to remove the avocado flesh from the skin; discard skin and pit. In a medium bowl, mash the avocado with a potato masher until chunky (not too mashed). Add the tomato, lime juice, garlic and ground cumin. Stir gently until combined. Season with salt and pepper to taste.** If desired, serve with sliced avocado and grated Mexican cheese.
*Avocado shopping tips: Blanco looks for avocados with a darker, almost purple skin. To test ripeness, press your thumb gently on the avocado. If it makes a little indent, the fruit is ripe but not squishy and ideal for guac. To ripen a hard green avocado, put it in a small paper bag with the top rolled shut and place by a window for a couple of days. 
**Variations: For added tanginess, stir 1/3 cup tomatillo sauce (salsa verde) into the guacamole. Like it spicy? Add a seeded and chopped jalapeño or serrano pepper.
---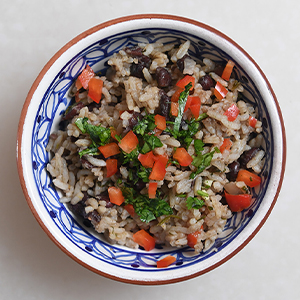 Gallo Pinto
Serves 6
Ingredients
2 tablespoons olive oil
1 red sweet pepper, chopped
1 small yellow onion, chopped
2 cloves garlic, minced
2 cups cooked black beans,* plus 3/4 cup reserved cooking liquid
1/4 cup Salsa Lizano** (optional)
3 cups cooked white long-grain rice, preferably 2 to 3 days old
1/4 cup chopped fresh cilantro
Chopped sweet red pepper and chopped fresh cilantro (optional)
Directions
1. In a large skillet, heat olive oil over medium-high heat until shimmering. Add the 1 chopped sweet pepper and onions; sauté 6 to 8 minutes or until peppers are soft and onions are translucent. Add garlic and cook 1 minute, until fragrant. Stir in black beans, reserved cooking liquid and Salsa Lizano. Simmer 5 minutes or until mixture is slightly thickened (a little bit of the liquid is evaporated).
2. Gently stir cooked rice into bean mixture. Cook 3 to 5 minutes more or until heated through and most of the liquid is absorbed but not dry. Stir in chopped cilantro. Season to taste with additional Salsa Lizano. If desired, top with additional red pepper and cilantro.
*Tip: Blanco cooks dried black beans in water seasoned with garlic, fresh thyme and fresh oregano in the pressure cooker (she likes the Breville Fast Slow Pro from Kitchen Collage). She makes a big batch and refrigerates the cooked beans for up to 4 days, adding chopped onions and salt just before using. Her favorite bean source is ranchogordo.com. The beans are so fresh that no overnight soak is needed before cooking.
**Tip: Salsa Lizano is a brand of salsa made with tamarind juice and is considered essential in Costa Rican cooking. "It's like Worcestershire sauce," Blanco says. "We use it on steak, chicken or tortillas or in soups or wherever." You can find it in any of the local Latino supermarkets and at Amazon.com.