RōCA's refreshed menu includes pork tenderloin served with a miso potato puree and roasted radishes. It's finished with black garlic jus. 
Writer: Karla Walsh
Photographer: Duane Tinkey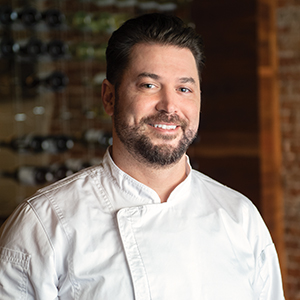 Friends often ask me where to take out-of-town visitors to dinner. When I respond with a few options, I frequently hear, "Oh, I forgot about that!" And after recently revisiting a place that has been open since 2014, I admit I was guilty of nearly forgetting about one Court Avenue restaurant. No longer.
My reservation at RōCA (208 Court Ave.) was inspired by the eye-catching dishes chef Andrew Havlovic has posted on Instagram. New to RōCA last July, Havlovic is a veteran of Jethro's BBQ and Two Rivers Hospitality Group. He also spent time as an executive chef at a beachside bistro in the British Virgin Islands and as an executive sous chef for a popular restaurant group in Phoenix.
Delightfully back in Iowa, Havlovic took our taste buds on a journey. He's updated most of the menu, infusing each shared plate, entree and dessert recipe with finesse, global flavors and creativity.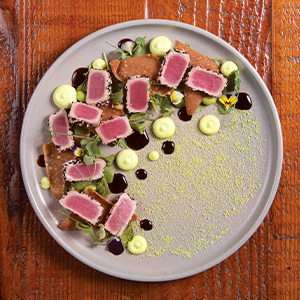 My dining partner and I feasted on several standout shared plates:
Tahini-rich creamy garlic hummus crowned with roasted spiced cauliflower, herb puree, cranberries and chili oil alongside crispy pita.
Tender salt-and-pepper radishes, a playful garden riff on the salt-and-pepper shrimp or chicken featured on some Chinese and Taiwanese restaurant menus.
Brie with bacon jam and grilled homemade focaccia. I need to try to recreate that bacon jam recipe for every cheese board I construct moving forward.
Taiwanese butter rice with roasted chili vinaigrette-dressed steak, which only got better when we swirled in the soy-cured yolk hiding underneath.
Additional surefire hits: seared yellowfin tuna with edamame, wasabi aioli and soy caramel; pork tenderloin with miso potato puree; and lemon poppyseed cake with white chocolate cream cheese frosting.
Sommelier Rae Doyle has also given the award-winning wine menu a makeover, and the signature cocktails that helped make the Court Avenue hot spot famous remain. All of the above and hospitable, attentive service make now the time to return to RōCA.