By Steve Dinnen
As investments go, 2022 year-to-date performance has been one for the record books. The Dow Jones Industrial Average is down around 13%, while the S&P 500 is off 18%. The Nasdaq composite is in even worse shape, off nearly 26% and deep into bear territory.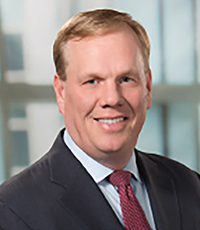 And as Mark Peterson (pictured), director of investment strategy and education at Blackrock Inc., noted, bonds are off to their worst start ever. Stocks are off to their fifth-worst start in history. To have both bonds and stocks in negative territory is a rare event: It last happened in 1969.
In a midyear review of the market that he presented at Gilbert & Cook, a West Des Moines-based financial planning firm, Peterson took note of several factors that have converged to stymie the markets. Inflation, market volatility, fears of recession. Russia did not help, with its invasion of Ukraine and subsequent upending of global energy and grain markets. And of course there still are supply chain problems.
This has created an enormous amount of volatility. Market swings of plus or minus 2% are big moves, and in 2021 we witnessed them seven times. (We went 680 days – nearly two years – without a 2% swing in 2004-05.) And now we've seen at least 15 since the end of April.

The Fed's lift of short-term interest rates has likely had the most impact on volatility, Peterson said. There is a concern that the Fed will raise interest rates too high, too fast. But Peterson, whose firm is the world's largest asset manager, said he does not think that will be the case.

"We don't believe the Fed will raise interest rates as much as the economy is expecting," he said. (But stay tuned to news out of the July 26-27 meeting of the Federal Open Market Committee; Fed Chairman Jerome Powell has already warned that another boost is due and 0.5-0.75% is not outside the realm of possibilities.)

So how do we move forward in the second half of 2022 and into 2023? Stocks don't seem to have a compelling story. Ditto for bonds. And cash has lost its luster as a safe harbor.

"Cash is losing to inflation like it hasn't done in 70 years," Peterson said. "It can feel like it's just a terrible time for the market."

This is where the power of a well-diversified portfolio comes into play. Stay the course. Tweak if need be. And try your best to ignore the froth of the market. As Peterson noted, of 26 days of 2% market swings he witnessed in 2022, 14 of them were negative – but 12 were positive.