By Steve Dinnen
Cryptocurrency—Bitcoin, Ethereum, Dogecoin, Quant and a host of others—seems to be the investing rage these days. Individual and institutional investors, including some insurers, banks and even some university endowments, are tucking them into their portfolios. When he queried his personal finance class at Drake University last spring, Toby White (pictured), a professor of finance there, found that nearly every one of his students had invested in cryptocurrency.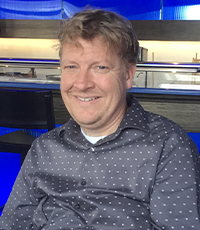 Should these college kids be there? Should anybody? This is very risky stuff, after all. The current price of Bitcoin is 73% below its high point of just a year ago, and day-to-day swings of a $1,000 or more per coin are common. But maybe it depends on your perspective. Kelly Flynn, founder and chief investment officer at Prospective Value Partners in Des Moines, said that on a personal level, he is rooting for cryptocurrencies as a competition for the current sovereign currencies. But on a professional level, he makes a distinction between investments and speculation. An investment is something with intrinsic value, which he can quantify. To him, speculation does not require intrinsic value; it is simply a bet that something will be worth more or less in the future. He sees crypto falling in that camp.
"Its value is impossible to quantify, and it is completely dependent on what someone else will pay for it (what some would call 'the greater fool')," he said.
For White, the main identifying characteristic of Bitcoin (he's using that as a proxy for all cryptocurrencies) is the high volatility, which is exactly what drew many young people to it while prices were skyrocketing.
Bitcoin comes with other major risks. First, there is regulatory risk as markets remain largely unregulated and vulnerable to fraud and manipulation. Second, there is security risk, as most cryptocurrency owners don't obtain it through blockchain technology (as was originally intended) but rather trade it on digital exchanges that are at risk of both hackers and glitches. (Wintermute, a London-based cryptocurrency firm, lost $160 million in a single hack earlier this month.)
Still, White is not necessarily advocating unequivocally against cryptocurrencies. There are certain types of investors, especially among the younger generation who have less to lose and more to gain, who may be legitimately suitable for, and attracted to, the prospect of high returns in the short run, despite the risks. Whether an investor can accept this type of foray depends on their risk tolerance, investment goals and experience, and overall personal makeup.
To better understand cryptocurrencies, check with the Iowa Blockchain Network, which explains the landscape in simplified terms.