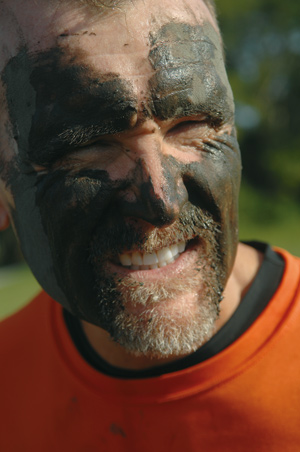 Written by Kyle Oppenhuizen
Photos by Duane Tinkey
Joel Duncan was minutes away, maybe seconds, from jumping into a Dumpster full of ice water.
He wasn't looking forward to it.
At this point, the pageantry of listening to a motivational speaker lead the event's participants in pump-up chants, the thrill of taking off from the start line—those things had worn off. The Tough Mudder challenge, this one near Tampa, Fla., was under way.
Tough Mudder events, held throughout the country, consist of 10- to 12-mile obstacle courses designed to test the physical and mental strength of participants. As they run the course, they tackle 22 to 24 extreme challenges. The event isn't a competition, however; participants are encouraged only to challenge themselves to complete the course and in the process overcome their own fears and limitations.
Going into the 2011 Tampa event, Duncan, president and CEO of Urbandale-based Merit Resources Inc., had done his research. He knew he could handle the 12-mile run—after all, he had been running for more than 30 years. He knew some of the other events in his first Tough Mudder challenge would be daunting, like climbing up a couple of 12-foot walls, darting through hundreds of electrical wires charged with 10,000 volts and literally running through fire.
He did, after all, sign a death waiver—albeit a somewhat tongue-in-cheek one—before the event.
But climbing walls and running through fire didn't sound so bad. Part of the reason the 47-year-old Duncan decided to put himself through the challenge was because of the thrill of uncertainty. Running was predictable. This was not.
Ice water, though, brrrrr. Duncan wasn't a fan of being cold. He had worked out for eight to 10 hours a week, but upping the number and intensity of his pushups, pullups and sit-ups really didn't prepare him for jumping into ice water. And it didn't help to watch others in front of him jump in, screaming and cursing as they walked through ice up to their necks.
He girded himself mentally, putting the situation in context. "I said, 'OK, people are doing this. If they can do it, I have a good chance of doing it,' " he recalls.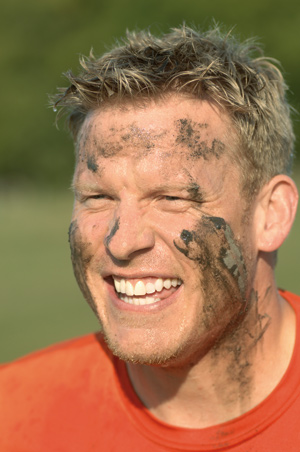 As thousands of spectators and hundreds of participants watched, Duncan jumped in, moving his way through the icy bath in two or three minutes, patiently (and painfully) waiting for the people in front of him to complete the obstacle before he was able to get to the end and climb out. He hoisted his freezing muscles out of the trash bin. His thighs were tight, his body was cold, but with nearly the entire Tough Mudder challenge still in front of him, his initial victory over fear gave Duncan the confidence he needed.
"When you get done, you say, 'I can do this,' " he says. "It's like, 'OK, that was not insurmountable.' "
Not insurmountable, but Tough Mudder events are not for the faint of heart. Participants get tired, wet, muddy, sweaty and distressingly uncomfortable.
So why in the world would people subject themselves to it?
"I think there is probably something deep-rooted in every man that that type of stuff might intrigue him," says Jason Kiesau, director of marketing at Merit Senior Living, a division of Merit Resources. Kiesau and Duncan completed their second Tough Mudder challenge in May at a course outside Minneapolis as part of an 18-person Central Iowa team that Kiesau organized.
"It's like being a little kid playing in the mud," the 35-year-old Kiesau says. "We don't get those opportunities very often, the older we get."
But Tough Mudder is about more than boys being boys—after all, women participate in the challenge as well. For Duncan, there's a certain satisfaction in overcoming the uncertainty that is prevalent in the event. In addition, sharing the experience with friends, teammates and even strangers, as well as watching other participants overcome the same anxieties, is as satisfying as completing the event yourself, he says. Duncan also was moved by the Wounded Warrior Project, which the event benefits. The project supports military personnel who were injured while on active duty.
For Central Iowa Mudders team member and self-described experience geek Matt Whitaker, part of the draw was that "not everyone can do it."
"I think a lot of it has to do with, why do people climb mountains or do anything else?" says Whitaker, managing partner and attorney at Whitaker, Hagenow & Gustoff LLP. "It's the idea that you are doing something unique or difficult."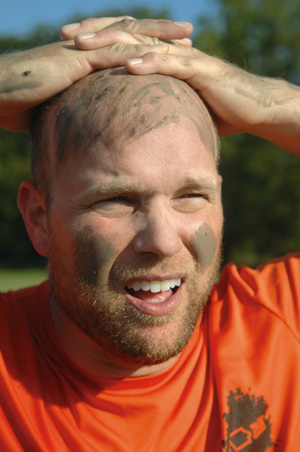 The 42-year-old Whitaker, who was the starting tight end for the University of Iowa football team in the 1991 Rose Bowl, lifts weights five days a week but admits he should have done more running to train for the event. Early on, he says, he found himself thinking, "How am I going to get out of this?" But in the true spirit of Tough Mudder, he decided he wasn't "going to be a quitter." Part of his motivation, he says, was the desire to share the story with friends over a beer.
Kiesau had very different experiences during his two Tough Mudder challenges. In the first, a 2011 event in Wisconsin, he let fatigue get the better of him, despite a daily 60-minute workout that included running and lifting leading up to the event. "My attitude was definitely challenged," he says.
But by his second Tough Mudder, he had learned that, as in life, he could control his attitude. So he decided to be a cheerleader for the rest of the team as he went through the challenge. His mission, in addition to completing the course himself, was to bring energy to the group and help keep spirits up, he says.
The result? "The whole day was a blast," he says.
It was so much fun that Kiesau is trying to get a group of Central Iowa Mudders to take a road trip to Florida or Arizona next year to complete a challenge. And he encourages anyone who is interested to give it a shot and leave the doubts at home. Even though it's a 12-mile course, everybody walks some of it, he says.
For Duncan, the fear of jumping into the ice tub followed him into the Minneapolis Mudder challenge. But so did the feeling of satisfaction upon completion.
"I think you find out a lot about yourself in dealing with adversity," Duncan says. "So any time you have adversity and still test yourself, it's a rewarding time."
Even if it can be a little chilly.