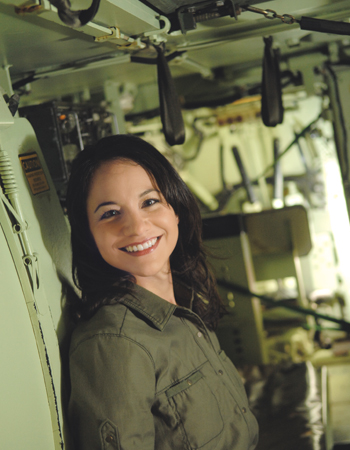 Written by Brianne Sanchez
Photo by Duane Tinkey
As a U.S. Army specialist serving in Iraq, Miyoko Hikiji drove a 5-ton truck across endless miles of sand. It was a dangerous job: Hikiji's unarmored truck was shot at as its slow-moving convoy crawled along bomb-riddled roads. Although technically a noncombatant, she was at risk on each mission in a war without front lines. Two from her company of 150 soldiers were killed and two seriously wounded in action.
Hikiji had enlisted in the Army at age 18 as a way to pay for college. After three years, she re-enlisted in the Iowa Army National Guard, and in 2003, she was deployed to Iraq for a year with the 2133rd Transportation Company. Although Hikiji felt comfortable with the discipline and rigor of military life—her father had served in the Army—the realities of combat rattled her.
"A core component of military training is the unspeakable act of killing another human," says Hikiji, who grew up in Cedar Rapids and now lives in Urbandale. "I don't think anyone leaves the service unchanged."
To cope with her wartime experiences, she turned to writing, a discipline she had studied at Iowa State University as a journalism student. Hikiji kept detailed notes of the 400 days she served—from Fort McCoy, Wis., preparing to mobilize, to Kuwait, then to Iraq and back—in a mission calendar, writing to maintain an active mind amid days that could range from mundane to horrific.
Those notes later served as a framework for a forthcoming memoir, "All I Could Be: The Story of a Woman Soldier in Iraq," which is scheduled to be released through History Publishing Co. in March 2013. "While I was (in Iraq), I was trying to survive it, but I always intended to write a book about (my war experience)," she says.
Her book tells the story of a minority female soldier in combat. Hikiji says she grew tired of hearing people say, "Well you don't look like it!" when they learned of her service. "That's offensive for me," Hikiji says. "They act like I'm too petite or delicate to be that brutal." Strength, she adds, doesn't always come from someone with a G.I. Joe torso.
Now an occasional model who stays home with two young daughters, the 35-year-old Hikiji wants to put another face to the Iraq War veteran. Her book highlights sensitive subjects, such as rapid deployment, from a female perspective. "There are moms who had to stop breastfeeding because they were being deployed," Hikiji says. "Moms coming home to kids they barely knew."
Hikiji says experiencing motherhood gave her a new lens through which to view military life. "I had to think about (how soldiers are) these whole people, and how they weren't existing in a vacuum," she says. "They had a lot of baggage." As she wrote the book, she felt responsible to the people she was deployed with—to tell their stories accurately and ultimately validate their service with her words, she says.
Although Hikiji's own children were born after she left the military, she says her war experiences have shaped her as a mom. Any woman who's attempted to shove an M16 into the overhead compartment of a plane might think about things a little differently than the other parents on the block. The war has helped Hikiji to appreciate the time she has with her family, she says; the two soldiers from her company who were killed were just starting their families when their lives ended.
In another way she feels the war's influence, Hikiji admits to being tough on her girls because she never knows how long she'll be able to protect them. "I want them to be physically strong, mentally tough, thick-skinned and self-sufficient," she says "Whether or not they become soldiers in a uniformed military, I want them to be soldiers at heart."