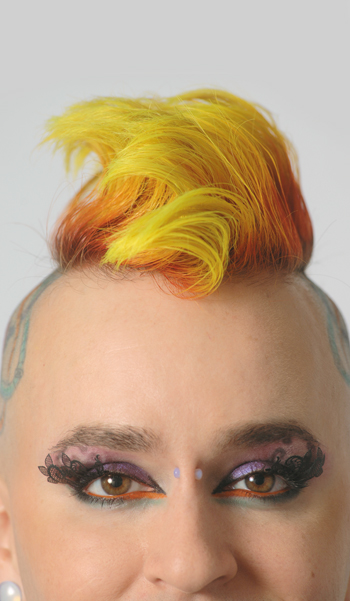 Photo by Duane Tinkey
Written by Chelsea Keenan
Patrick Boltinghouse, owner of Vanity and Glamour Cosmetics in the East Village, thrives on "pushing boundaries." Here are three things to know about him:
1 He loves comics.
Growing up, Boltinghouse was obsessed with the bright colors and figures of Marvel Comics, filling his bedroom walls with caricatures of Iron Man, the X-Men and Spider-Man. "Marvel Comics were just so bright," he says. "They were like giant rainbows." Drawing superheroes on walls and paper eventually led to painting faces with makeup. "I've always liked pushing boundaries," the Des Moines native says. "Makeup was a way to do that."
Over the past 13 years, the 29-year-old Boltinghouse  has worked on editorial photo shoots, prepared brides for their wedding day, and even made up several high-profile politicians, including President Barack Obama and U.S. Rep. Michele Bachmann. "With makeup, you can make up anything," he says. "Your body is your lab and only you are the chemist."
Another way he pushes boundaries is as a drag queen, an interest he developed in high school after seeing "The Rocky Horror Picture Show." He still performs and participates in pageants.
2 He created his own cosmetics line.
Boltinghouse says his cosmetics line started as a side project but quickly turned into a major portion of his business. He decided to embark on the adventure after he began experimenting with raw pigments. "I felt like something was missing," he says. "I was able to create something, but I couldn't put my signature on it."
Boltinghouse invested his time and money in the collection, a risk that appears to be paying off: His cosmetics line now accounts for about 95 percent of the products he sells in-house.
Although his business is built on selling beauty, he believes it's important for people to maintain their own identity. "I never want anyone to feel they must look like the cover of a magazine," he says. "That's when style becomes a prison and when people feel trapped."
3 He has an insatiable sense of curiosity.
When talking about the properties of makeup, Boltinghouse can, all in one breath, detail how chemicals react with one another as well as the Latin roots of their names. Well-read in history and philosophy and up-to-date on current events, Boltinghouse says the "biggest reason for my knowledge is that I have a great curiosity about what is going on."