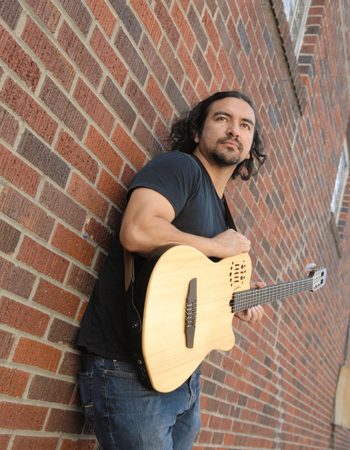 Written by Jim Duncan
Photo by Duane Tinkey
Since Ecclesiastes, there has been a well-established time to every purpose. It's not taboo for a young man to embrace the nightclub scene before maturing and settling into a career. Fernando Aveiga is doing it backward. The lead singer and guitar player for Salsa Vibe and Parranderos Latin Combo recently decided to give up a university teaching position and a job as a lobbyist to play music full time.
Fans no doubt will welcome the change; for several years, Aveiga has been a familiar contributor to Des Moines' nightclub scene and to local events, drawing increasingly enthusiastic crowds. "They're a huge draw and bring so much excitement," says Carter Hutchinson, owner of Star Bar, where Aveiga plays every Wednesday. "Now we're booking a reggae band (Leradee) that Fernando plays backup in on Thursdays."
At last year's World Food Festival, Salsa Vibe turned an East Village intersection into perhaps one of the largest dance floors in Iowa history as a multicultural group of people congregated to dance to the infectious rhythms.
But Aveiga, who will turn 30 this November, didn't emigrate from Ecuador to play music. Instead, he moved to Iowa in 2001 on an athletic scholarship to play soccer at North Iowa Area Community College in Mason City. "I was young and planned to change the world," he recalls.
To that end, he earned a master's degree in international development from Iowa State University in 2007 and has been working on a Ph.D. in multicultural education while teaching courses in anthropology at ISU. For five years, he also held a comfortable mid-five-figure job as a lobbyist and educational specialist for Master Builders of Iowa.
Still, Aveiga never thought of his music and day jobs as being disparate. "I think holistically," he says. "My parents grew up in poverty but became successful enough to send their children to private academies. They moved away but they always kept closest to their old friends and family. So growing up, I saw life from both sides."
Music is a family tradition. Aveiga learned folk music and guitar from an uncle who had learned from an uncle who had learned from an uncle …
"I also learned that being the guy who played guitar made me popular," Aveiga jokes.
When Aveiga discovered Silvio Rodriguez (known as "The Cuban Bob Dylan"), he realized that music could influence people and perhaps even change the world. While studying in Ames, he played with several Latino musicians but despaired about their lack of commonality. Meeting Ryan Mullin of Toque Music Management in Des Moines convinced him that music could unite people.
"Ryan and (his wife) Goizanne (Essain) were the biggest influences on me," he says. "He was doing all this different hybrid stuff with the most accomplished musicians I ever met. That convinced me to move to Des Moines. They let me organize the event side of productions and I got to learn music from them."
Mullin says Aveiga brings "roots cred" to the Toque roster. "He's a self-taught folk musician playing with all these people who studied music seriously for a decade or longer," he says. "Crowds really respond to him. I don't think they can believe anyone has so much energy."
Aveiga's wife came into his life as a fan of the music. Miki Matsufuji is a court clerk who hails from a famous Peruvian restaurant family. Her Japanese-Peruvian dishes are legends in Des Moines potluck circles.
"It amazed me how she could come to my concerts and dance til late and then go to work early in the morning," Aveiga says. The two married last June.
Convinced now that music is his calling, Aveiga left his Master Builders position last year and now he's giving up his ISU job. "Miki and I dream of owning our own place, combining her cooking with a Latin hybrid music club," he says. "Until that's possible, I will bartend and play music."