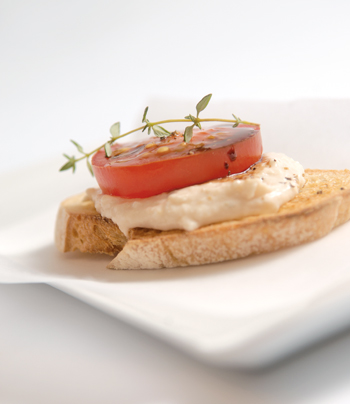 Written and Styled by Diana McMillen
Photos by Duane Tinkey
As the holiday party season begins, the smart host turns to local food purveyors to lend a hand. Here are three easy ways to create an inspired appetizer buffet.
Easy:
Try these options if you want to do a little cooking, but not much.
Bruschetta
Toast baguette slices and top with Trader
Joe's remarkable Tuscan white bean hummus ($3.99 for 16 ounces) and thin-sliced fresh Roma tomatoes that were marinated in a bath of balsamic vinegar mixed with olive oil and a dash of black pepper.
Herbed Roast Pork Loin
Choose one of those tube-shaped pork loins for this dish ($8.99 for 1-1/2 pounds at Hy-Vee). Brush it with olive oil, sprinkle with herbs—such as an Italian blend or a garlic-pepper combo—and roast on the grill or in the oven. Slice thin and serve warm or cold with baguettes. On the side, serve purchased chutney, fig jam, or some quince and apple jam.
Easier:
Some hands-on effort goes into these choices, but they're still simple to prepare.
The Dip
Zip up your dip by combining two parts sour cream (use regular or light) with one part salsa. We stirred up two dips—one with Trader Joe's red Salsa Authentica ($1.69 for a 12-ounce jar) that adds a holiday pink tint to your table, and another with Trader Joe's Salsa Verde ($1.99 for a 12-ounce jar) for a very light green dip. Dippers? Try whole-grain chips such as Trader Joe's multigrain tortilla chips ($2.49 for a 12-ounce bag).
Ham and Cheese Ciabatta
Make it easy on yourself by preparing one big sandwich and then slicing it into 1-inch pieces. Serve on a long platter, an attractive cutting board or a sheet of parchment. Include mustard and mayonnaise along with a bowl of pickle slices. Keep it cold for easier service.
The ham: We like the Boarshead ham ($8.99 a pound from Gateway Market). Get it very, very thinly sliced to stack up on ciabatta with cheese.
The ciabatta: La Mie bakes top-notch ciabatta that makes for a memorable layered sandwich ($5 per loaf).
The cheese: Tarentaise Spring Brook alpine cheese matches the ham with creamy, buttery perfection and a splash of spiciness ($24.99 a pound at The Cheese Shop of Des Moines).
Fruit and Meat Kabobs
Forget the expected prosciutto-wrapped melon; instead, pick up La Quercia—the very thinly sliced, melt-in-your-mouth prosciutto made in Norwalk—and weave it around red or green apple wedges and citrus wedges on a skewer (starts at $9 for a 3-ounce package; available at several locations, including Gateway Market and Whole Foods Market).
Easiest:
Consider it a gift to yourself. Buy the food, open the package and serve.
The Sweet Side
Aim to balance the savory with bite-sized sweets. Local shops have rallied to this trend with small indulgences of all kinds. Here are three:
French macaroons, preferably the red with raspberry center (you can get green and white, too) ($1.25 each for the smaller size at La Mie Bakery).
Plymouth Shock creamy mini pumpkin spice cheesecakes, two-bite sweets with a whipped cream topping ($1.70 each at Flarah's).
Salted caramel chocolate mini cupcakes ($1.50 each at Whole Foods Market).
It's Smokin'
Tray up a smoked salmon from Waterfront Seafood Market ($15.99 a pound) on a bed of fluffy greens. Ring the platter with bite-sized, vegetarian takeout sushi ($5.99 for eight slices at Whole Foods Market).
The Cheese and More Tray
Expand this traditional favorite to include more than cheese. Start with a stellar sampler from local cheesemongers, then round it out with some sausage and olives. Label the cheeses so your guests can discuss what they're tasting.
Roth Käse Buttermilk Blue: This mildly tangy and creamy cheese from Wisconsin brings a hint of blue that pairs well with fresh figs or pears
($3.99 for 4 ounces at Hy-Vee; also available at other local food stores).
Goat cheese-stuffed peppadew peppers: Winsome tangy-cheesy bite-sized appetizers in orange and red peppadews add focus to a cheese tray ($19 a pound at The Cheese Shop of Des Moines).
Creamy Toscano with Cinnamon: Brings an unusual marriage of this favorite spice and a mildly tangy cheese
($7.99 a pound at Trader Joe's).
Kalamata olives: These plump olives burst with piquant taste, providing a flavor contrast (about $5 for 8 ounces at Gateway Market).
Fully-cooked Sopressata Salame
bias-sliced: A ready-to-slice old-world salami with a savory no-garlic taste ($3.99 for 8 ounces at Trader Joe's).
Open-and-Pour Snacks
Spanish Cocktail Mix: A conversation-starting combination of crunchy corn kernels, pistachios, almonds, fava beans and chickpeas ($10 a pound at The Cheese Shop of Des Moines).
Cinnamon almonds: Play up the sweet side of nuts with this favorite spice ($4.99 for a 16-ounce package at Trader Joe's).
Popcorn: Chocolate-drizzled (dark and light) caramel corn brings new meaning to popcorn. Makes a great gift, too. ($7.95 for about 10 ounces at Chocolate Storybook).
Crackers: Serve up an assortment of fun crackers, such as a basic multigrain cracker that's a good base for any appetizer and a Gorgonzola cracker ($1.99 each for a 10-ounce box from Trader Joe's).
The Drinks
Spike the eggnog
Stir almond or chocolate liqueur into your favorite local eggnog, such as Anderson Erickson.
Warm chocolate heaven
Chocolaterie Stam's hot cocoa (just add hot milk to the dry mix) served with homemade marshmallows from Beaverdale Confections is dessert in a mug.
A pot of calm
Stop in at Gong Fu Tea in the East Village for its chocolate mint or spiced blend tea or chai.