Written by Chelsea Keenan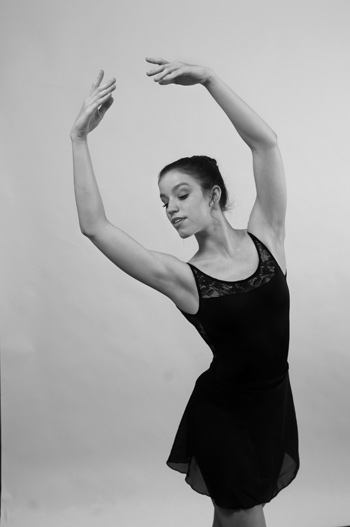 A new resident dancer with Ballet Des Moines, Trumbo isn't your typical "bunhead."
Three things to know about CarrieRuth Trumbo
1. She loves playing dress-up. Trumbo began dancing as a girl, but at that point, it was just another activity in her busy schedule, along with basketball and soccer. "The other things eventually fell by the wayside and ballet was left," she says, adding she became more serious about dancing when she was 14.
A native of New Smyrna Beach, Fla., she drove an hour to and from Orlando six days a week to practice. Dancing "really takes hold of you and sucks you in before you realize it," she says.
Before moving to Des Moines last fall to dance for Ballet Des Moines, Trumbo danced for companies in Charlotte, N.C., and Tulsa, Okla. Her favorite role was in "The Merry Widow," the 1905 comedic operetta by Franz Lehár. "We had all of this elaborate costuming–big hats, wigs," she says. "I always feel like a little kid who gets to play dress-up for a living."
2. She wants a second act. Because Trumbo decided to pursue a career in dance, she didn't attend college like many of her high school friends. But the avid reader who named her cat Clive after author C.S. Lewis says she plans to return to school once she retires from dancing. "I want to go to school in a big city," she says. "You don't really have much of a choice when it comes
to dancing. You have to go where the jobs are."
Unlike many retired dancers who decide to teach, she says she wants to do something different, but stay in the arts. She also wants to move around: "I don't like the idea of being stagnant."
3. She wants to be more than a "bunhead." The life of a dancer isn't easy: little pay, long hours. When she's not dancing, Trumbo works at Chow's Gymnastics & Dance Institute to supplement her paycheck from Ballet Des Moines. She's already had knee surgery and has torn her ACL but "didn't want throw in the towel," she says.
Although dancing is both her vocation and passion, she doesn't want ballet to be the only thing in her life. "I don't want to be a bunhead," she says, describing dancers who talk only about ballet. "It's important to have balance and to have a life outside of ballet because that's what gives you perspective and inspiration."