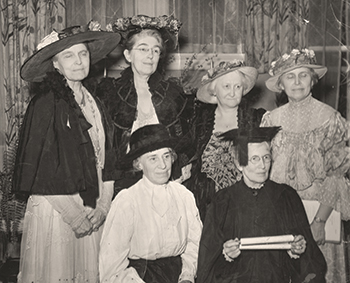 In the fall of 1896, a group of seven smart young Des Moines women in long skirts and high-boned collars formed Proteus, a club aimed at intellectual improvement. Fresh from exciting European tours and eager to continue their educations, the recent college graduates began taking turns presenting papers they had researched and written. They called their group "Proteus" after Greek mythology's knower of all things—past, present and future. Unlike the shape-shifting prophetic old man of the sea, however, the founding ladies of Proteus sought to share their knowledge.
Nearly 25 years later, Comment Club, a different group with the same function, formed at a time when chautauquas were a cultural staple, cable cars crisscrossed the city and the cattle barn was the newest landmark at the Iowa State Fairgrounds.
Today, both groups not only still exist but are thriving. Each month, the women gather as lifelong learners to explore topics that range widely—and wildly—from Genghis Khan to the origins of the family christening bowl (see story, opposite page).
"The interesting thing is that (the Comment Club) continued, and the question would be 'Why?' I think it's about fellowship. Comment Club is relevant, collegial and social as well as intellectually stimulating," says the club's current president, Kathy Stuart, a remark echoed by those in Proteus.
Comment Club maintains a roster of about 30 members, while Proteus has 60. The women typically range in age from around 40 to more than 80, and both clubs have had many "sustaining" members whose involvement spans several decades. When a spot opens up, new members are nominated and sent a formal invitation to join after receiving additional endorsements from within the club.
Some women, like Mary Kelly, are invited to, and make time to participate in, both Comment Club and Proteus. "It's a dying art for people to put time and effort into presentations like these, to share something interesting with their friends and incite discussion," Kelly says. "People used to have salons in their homes. With technology being so prevalent today, it doesn't always allow for a face-to-face exchange of ideas. For people who find this kind of thing challenging and interesting, (these clubs) are a real opportunity. The dynamic changes depending on the current membership."
Comment Club's monthly program involves a simple yet elegant luncheon, social time, a brief business meeting during which the women share news on upcoming events, and then the presentation of a paper, which typically is around 15 minutes in length, says Marion Jacobs, a Comment Club member since 1972. Finally, as the club's name suggests, members comment on and discuss the topic presented. Proteus follows a similar format.
Duties as hostess, co-hostess and presenter rotate. "If you join, you're expected to be there," Jacobs says. "It's not something one takes lightly."
Over the years, the clubs' rosters have included such well-known and influential names as Rollins, Hubbell, Polk, Jewett, Nollen, Kruidenier and Weeks. Often, invitations extend from mothers to daughters and in-laws and even granddaughters. But members are eager to keep their group alive and expand the circle.
"One of the things we're hoping to do is interest young women," says Proteus member Mary Fanter. "It's not as insular … as it might sound, and it's a wonderful task to undertake when it's your turn to present."
Proteus member Carole Villenueve says despite the close ties among many members, anyone who brings new ideas, can contribute to the discussion and isn't intimidated by the task of hosting several dozen prominent ladies at a time is a welcome addition to the group. "These are incredibly intelligent women who are also well-traveled, fun to talk to and so full of wisdom," she says.
---
From Basketball to Voodoo
Art, science, history, human nature—nearly anything that piques a presenter's curiosity is fair game for a presentation, save book reports or travelogues. Papers often bear intriguing or witty titles that draw the listener in. A few sample subjects explored in the two clubs in recent years:
"Haitian Voodoo Spirit Flags"
(Ellen Hubbell for Comment Club)
"Christmas in 18th-Century Virginia"
(Julie Linn for Comment Club)
"Six-on-Six Basketball"
(Kathy Stuart for Comment Club)
"Caucuses in Iowa"
(Janis Ruan for Comment Club)
"The Mayan Mystery"
(Brenda Mouw for Comment Club)
"Funny Bones in the White House"
(Cynde Fanter for Proteus)
Excerpt: Why is humor important to a president or any leader? For one thing, it's important to a president's equilibrium. The presidency is perhaps the most taxing, tension-filled job in the world. Franklin Roosevelt's White House was like Lincoln's in its reliance on
humor as a way of lighting a path through dark times. Lincoln once said, "Were it not for my little jokes, I could not bear the burdens of this office." Asked how he could tell jokes at a time when the nation was bleeding, Lincoln replied, "I laugh because I must not cry."
"African Trading Beads"
(Kimberly Shadur for Comment Club)
"Women in War"
(Nancy Bone for Comment Club)
"The Demise of Small-Town Iowa"
(Connie Issacson for Comment Club)
"Impressionist Vincent van Gogh"
(Harriet Macomber for Comment Club)
Macomber, a Des Moines Art Center honorary trustee, was inspired by the van Gogh etching she helped the museum acquire in memory of her late husband.
"Salt: Historical, Health and Culinary Perspectives"
(Martha James for Proteus)
Excerpt: Historically, salt also has been associated with fertility. In early Rome, a man in love was termed "salax," in a salted state—and from this our word "salacious" is derived. In the Pyrenees, a bridal couple went to the church with salt in their pockets to guard against impotence. In Egypt, priests abstained from salt because they believed it excited sexual desire. And a Paris engraving made in 1157 entitled "Women Salting Their Husbands" depicts women rubbing salt on a naked man to make him more virile.
"Dogs in the Military"
(Diane Swieskowski for Comment Club)
"History – What Side are You On"
(Carole Villenueve for Proteus)
Excerpt: As a French-educated pupil in Quebec in the '60s, I learned that Jacques Cartier discovered Canada in 1534. Years later, when I asked my English-speaking friends who discovered Canada, I got a hodgepodge of answers ranging from Christopher Columbus, who landed in Hispanola in 1492; to John Cabot, who claimed the New Found Land for the English King Henry VII in 1497, but never set foot on land and disappeared during his second voyage to the continent; to Amerigo Vesspucci, who was an Italian merchant and cartographer, and whose trips to the new world have been shrouded in controversy but who in any case would have reached Venezuela in 1499; and finally to Magellan, who, though first to circumnavigate the globe, only reached Rio de Janeiro in 1519.
---
Fun Facts
Attention, please
The clubs have few rules and regulations, but the Comment Club handbook expressly prohibits doing needlepoint or knitting during a presentation. As to texting or tweeting during a talk? Such 21st-century distractions haven't been explicitly banned just yet.
Artifacts
A collection of historical Proteus materials, including turn-of-the-last-century correspondence and photos, a cookbook, a recipe box, former papers and administrative files, is preserved in the Iowa Women's Archive at the University of Iowa and open for public access.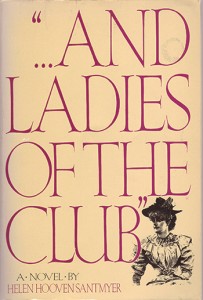 Book Club
For those interested in the historical element of these groups, Proteus member Ginny Hancock recommends a fictional account that portrays a women's study club in Ohio similar to the ones established in Des Moines. The best-selling novel "…And Ladies of the Club" by Helen Hooven Santmyer chronicles the lives of its characters spanning the years 1868 to 1932, and the changes in their families, town and society through the decades.
A Family Affair
Cynde Fanter joined Proteus 100 years after her paternal grandmother, Vassar College alumna Della Marquardt Coggeshall, helped found the group. Coggeshall remained a member of the group for 68 years, until the year before her death in 1965, at age 90. Fanter's sister-in-law, Mary Fanter, and cousin, Lea DeLong, are now also members. "Keeping this legacy alive is very inspiring," Cynde Fanter says. "It seems important because there are fewer and fewer opportunities for women to get together and learn from each other and have fun at the same time. This club has women who are 90 and women who are 45. It's enriching to have such a variety of ages and perspectives."
Reflections
Mary Kelly, a dedicated member of both Proteus and Comment Club, made the following remarks at a Proteus annual meeting in 2012, at the end of her tenure as president:
"While our world has changed and our daily lives are vastly different from those of our founders, there is still a need (perhaps greater than before) for us to come together to exchange ideas and enrich each other's lives. While our earlier sisters needed an outlet because society offered them few, we feel the need because society has offered us myriad choices and opportunities. Many of them make it more difficult to connect with each other on a personal level. …
That is why, for me, the circle on my calendar marking the first Monday of the month for Proteus is increasingly important. It is the time when I know I will connect face to face in a meaningful way with women I admire and appreciate."

Comment Club Members
Connie Beasley
Patsy Bettendorf
Nancy Bone
Susan Bridgford
Anne Broderick
Barb Carlstrom
Paula Duncan
Louise Gately
Brenda Mouw
Dixie Hoekman
Charlotte Hubbell
Ellen Hubbell
Connie Isaacson
Marion Jacobs
Mary Kelly
Jane LaMair
Julie Linn
Kaye Lozier
Harriet Macomber
Maddie Maxwell
Tracy Mullen
Judy Quick
Janis Ruan
Kimberly Shadur
Jean Stauffer
Kathy Stuart
Dianne Swieskowski
Nancy Vernon
Marie Walker
Michele Whitty
Proteus Members
Karin Ahrold
Lois Beh
Mary Beh
Jeanne Bloodgood
Nancy Cheeseman
Kaye Condon
Patty Cownie
Judy McCoy Davis
Lea De Long
Karin Edwards
Karen Engman
Elaine Estes
Cynde Fanter
Mary Fanter
Allison Fleming
Joan Ghrist
Mary Susan Gibson
Ginny Hancock
Phyllis Hansell
Barbara Hein
Robin Heinemann
Elizabeth Hoak
Martha James
Marie Louise Kane
Mary Kelly
Susie Kimelman
Linda Koehn
Caroline Levine
Kristi Lozier
Kay McCollum
Judy Milligan
Katie Peverill
Susy Robinette
Jessica Rowe
Lyn Shiffler
Patsy Shors
Ann Sokolowski
Libby Stanton
Cheryl Sypal
Debbie Thornton
Carole Villeneuve
Kristine Winber
Karen Worth
Amy Worthen
Sustaining Members:
Patricia Baldwin
Babette Brenton
Sue Brenton
Elsa Harmon
Sara Hill
Martha Hippee
Ellen Hunter
Shirley Michel
Bonnie Percival
Mary Urban