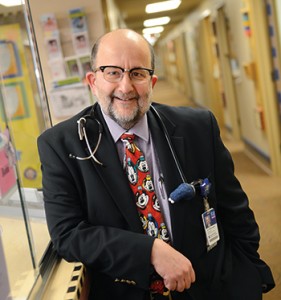 Written by Joe Gardyasz
Photos by Duane Tinkey
Dr. Peter Hetherington
In late 1997, Dr. Peter Hetherington took on seven new pediatric patients whom he'll never forget: Alexis, Brandon, Joel, Kelsey, Kenny, Natalie and Nathan, better known as the McCaughey septuplets.
"I didn't know the family at all until after the septuplets were born," says Hetherington, who sports a stethoscope with a Cookie Monster cover. "We were all kind of wondering who was going to take care of them when they got discharged. … The parents were given some choices of doctors. Luckily, I must have had some friends in the (neonatal intensive care unit)."
The pediatrician, who has practiced in Des Moines for more than 25 years, recalls fondly how the family would bring all seven kids to the Pediatrics Clinic at Blank Children's Hospital—usually on a Saturday—for their checkups. "It was a two- or three-hour ordeal by the time you got everybody in and measured," he says.
For the first year or so, Hetherington made house calls to the McCaughey home in Carlisle and also saw them at the clinic every month for infusions of medication to ward off respiratory conditions that can be common in multiple births.
"The surprising thing is that they've been some of the healthiest children in general," says Hetherington, who also cared for the septuplets' older sister, Michaela. "It's funny—they all used to like to see me except Alexis. The minute she would hear my voice when I'd go to the house, she would start to cry. We used to joke about that."
As the pediatrician of the nation's only surviving septuplets, Hetherington often found himself as much in the media spotlight as the family.
"One time I got flown to New York to be interviewed by NBC. I was on 'Dateline' a few times; and actually the people from 'Dateline' sent some baby gifts when my daughter was born," he says. "I did enjoy it, (and) I got some good media training, too."
Ann Curry with "Dateline NBC," who actually shares the same birthday as the septuplets—Nov. 19—was a particularly tough interviewer, Hetherington recalls. "I carefully watched what I said," he says. "It's almost like being interviewed by the police—they ask you one question and then they eventually get back around to it." Hetherington, who has some former patients who now bring their own children to him, hopes he'll practice long enough that he might see some of the septuplets' kids. "Knock on wood, that would be nice, but I hope they take their time," he says.
"That's the nice thing in pediatrics; in a sense, you take care of the whole family," Hetherington adds. "When the children are young, obviously the parents speak for them and are the advocates, and then it's nice to see the kids as they grow up."
---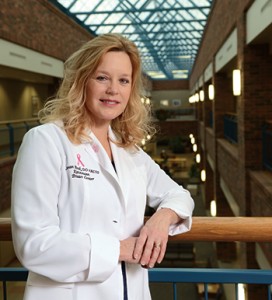 Dr. Susan Beck
Dr. Susan Beck, a surgeon who specializes in breast surgery, can recall many fulfilling cases in her career when she helped women beat breast cancer. But two particular patients who didn't heal will always stand out to her.
A board-certified osteopathic surgeon, Beck has practiced at the Katzmann Breast Center at Mercy Medical Center—Des Moines since 2000 and has served as the center's director since 2007. She has advanced training in minimally invasive techniques in breast surgery and is also trained in breast ultrasound, a diagnostic tool she uses extensively in her practice.
"What spiked my interest in breast surgery was that there really needed to be standardization of breast surgery across the country," Beck says. She earned her medical degree in 1984 from what's now Des Moines University, where she currently serves as chair of the department of surgery.
Within the past two years, two patients, one right after the other, came to her seeking treatment for advanced
breast cancer after relying on alternative healing techniques.
The first woman, so thin and weak that her husband had to lift her onto the examination table, was in her second trimester of pregnancy. After she spent two years trying to heal her breast cancer through prayer with her church congregation, the cancer had advanced to stage four and had spread throughout her body, Beck recalls. Beck shared her own Christian faith with the woman, but there was nothing she could do for her medically. The woman and her baby both died about 10 days later.
Not long after that, Beck examined another woman with advanced breast cancer who had been trying alternative healing options.
"The magnitude of the tumor was actually wider than her body, but we were able to remove it," Beck says. However, the woman opted not to have the therapy needed to keep the cancer from coming back. When she did return, her tumor had grown back, but "this time, there was nothing I could do," Beck says.
She adds that she and her colleagues have seen a 7 percent increase in more advanced stage three and stage four breast cancers in the past few years. A message Beck wants to pass along to all women who have been diagnosed with breast cancer: They don't have to choose between conventional and alternative treatments.
"There are some things that are just not safe, and (women) should know that," Beck says. "But there are other things that can be used as complementary techniques and aren't negative to the treatment in any way. So women (shouldn't) feel they have to choose one or the other; there are physicians who embrace both."
---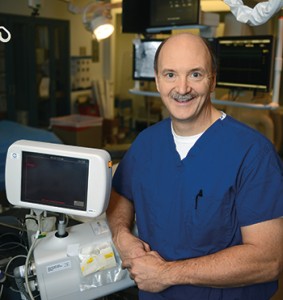 Dr. Jim Lovell
All of his medical knowledge and experience told Dr. Jim Lovell that this patient wasn't going to make it. But he hadn't counted on the persistent faith of the woman's family and friends.
"She was in her 50s at the time," recalls Lovell, a cardiologist who has practiced at The Iowa Clinic for the past 22 years. "She came in to the hospital with an acute heart attack—a really big heart attack. And by the time she got to the hospital, there really wasn't a lot we could do for her. It looked like the damage had already been done."
As her blood pressure plummeted and her lungs filled with fluid, she had to be put on a ventilator, and she languished for days on life support.
"I can remember at one point pleading with her husband, telling him that there was just no hope for her to survive, and that we should consider discontinuing life support and letting her die," Lovell says. "I'll never forget what he said: 'If there's any hope, if there's any possibility of her surviving, we should go on.' "
As her family and friends prayed for her, she continued on life support for more than two weeks with no sign of improvement. Then, for no apparent reason, she began to come around, and within a week, she had recovered.
"Clearly, in my thinking, it was miraculous," says Lovell, who has since seen her as a patient for about six years. "She was just one of those purely miraculous situations where she should not have survived, yet she did. What really struck me about the whole thing is that there are times when you just need to continue doing what you need to do."
It was a lesson in hope—and persistence, Lovell says. "Every situation is different, of course, but it certainly gives you the will to be persistent, absolutely," he says. "It's things like this that help you to learn to listen to patients and family members. Clearly, in this woman's case, her husband is the reason she's around; he provided the faith for us to continue."
---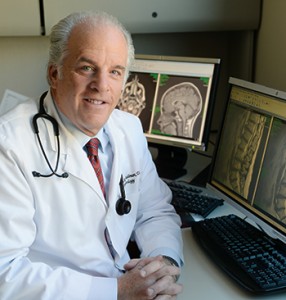 Dr. Steven Adelman
As a neurologist, Dr. Steven Adelman treats patients who in some cases face the loss of their motor skills or even their cognitive abilities—issues that, as he puts it, cut to the heart of their humanity. "These are ordinary people doing extraordinary things," says Adelman, a physician with 30 years' experience who practices at Mercy Ruan Neurology Clinic.
One such patient, whom he has treated for more than 20 years, demonstrates the strength of the human spirit. When he first diagnosed her with multiple sclerosis, she was "a very active and engaging energetic woman" working for a major insurance company in Des Moines.
Despite the toll the disease has taken—she's now in a wheelchair and has difficulty breathing—she always greets Adelman with a smile and inquires how he and his family have been. "Despite all the difficulties, she is still her own person and still has her own spirit," Adelman says.
The advances that have been made in treatments for neurological conditions in the past three decades have been encouraging, Adelman says: "We've made a significant impact on people with migraines, epilepsy, Parkinson's. Certainly (there has been progress) in the fact that we're able to provide diagnoses for conditions that may be unclear, and in helping people to understand their condition and setting a course for their treatment."
Adelman counts himself fortunate that people trust him to provide their care. "In this woman's case, we may not have cured her, but perhaps we've made her life a little easier and a little more worthwhile," he says.